Portrait Of War Reminds Us Of The Ongoing Devastation On Families In Ukraine
Bonhams' auction of Zhenya Gershman's compelling oil painting to raise money for United Help Ukraine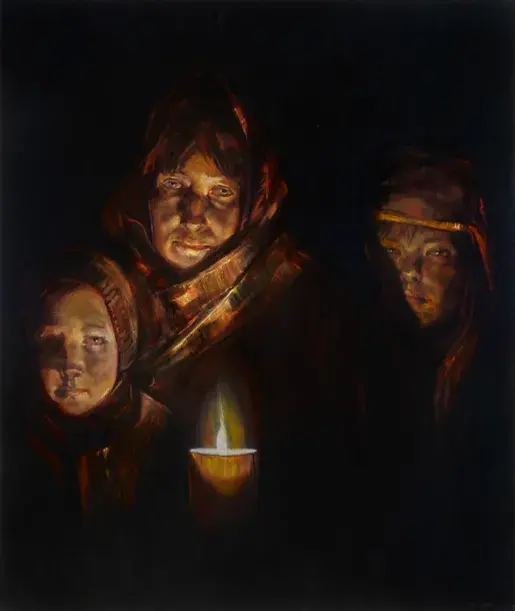 Los Angeles – Internationally recognized artist, Zhenya Gershman, debuts a new painting of a family devastated by the ongoing conflict in Ukraine, hiding underground during the Russian siege of Mariupol, where residents suffered one of the worst attacks of the war. The painting has been donated to United Help Ukraine and will be offered at an estimate of $80,000 – 120,000, through an online auction at Bonhams from October 7-14. With bidding starting at $100, the auction will raise money for humanitarian welfare for Ukrainian civilians who have been displaced and affected by Russia's war in Ukraine. The Los Angeles-based artist with Ukrainian roots, has been recognized for her emotional portraits of war that have continued to raise awareness to the ongoing suffering in Ukraine and funded campaigns to help the people she captures so powerfully.
Arguably one of her best works yet, Gershman's large oil painting captures the emotional condition and harrowing story of a mother, Elena Kravtsova, with her two children, an 8-year-old son and 15-year-old daughter. All three suffered severe wounds after a massive attack on Mariupol by Russian forces, that resulted in the loss of their grandfather and their home. Forced to relocate, without any belongings, Elena's family sought shelter with her uncle Evgeny Sosnovsky, an amateur photographer who documented their experiences and what remained of their city. For two weeks, the family lived underground in the darkness, with wounds that made traveling impossible and survived off scarce amounts of food and water. Their story gripped the world when Evgeny shared his photographs and the diary of Elena's son Igor, who documented experiences that no child should go through with illustrations and writings such as "my city has died".
When Gershman saw the photograph – released after Elena and her children had finally found safety three months following the attack that left them homeless – she created a striking pastel sketch and shared it with the family. Moved by the work, Elena and Evgeny shared their story with Gershman, who then was compelled to expand on the work and create this moving portrait of a family scarred by war. The faces of a pained-mother and two children trying to be brave are illuminated by a single-source of light from make-shift oil lamp. Titled Mariupol Diary, the painting magnifies the original photograph, allowing the viewer to imagine the feelings of a mother and the experience from a child's eyes.
"I felt a sense of urgency and gravity of the task and I couldn't pull myself away from this painting until it was complete," said Zhenya Gershman. "As I painted into the night, I could only hear one phrase in my head repeating 'this catastrophe must be stopped.' This family's struggle is just one example of the countless victims of war and Elena and Evgeny are honored that their story, and this painting, can bring vital relief to families that continue to suffer every day."
Born in Moscow, with Ukrainian roots, Gershman was deeply impacted when the war broke out, intimately understanding the devastation that would fall on her former neighbors. Using her skills as a painter, she took to the canvas to recreate the photos emerging from the devasted country. Over the past seven months, her paintings have been sold to raise money for relief efforts in Ukraine. Notable paintings have included First Face of War, based off a photo by Wolfgang Schwan, depicting Elena Kurillo, whose head was badly injured and wrapped in bandage, as well as a portrait of Ukrainian President Volodymyr Zelensky during his visit to Bucha taken by photo-journalist Ronaldo Schemidt, which went viral across social media.
United Help Ukraine is a charitable non-profit organization founded in 2014, following the first Russian attack on Ukraine.It began with protests in Washington, D.C. in an attempt to warn the US about Russia's imminent invasion on Ukraine. Since then, the organization has developed a network of trusted partners in the US and Ukraine and when Russia invaded Ukraine on February 24, United Help Ukraine was enabled to respond quickly with minimal friction. In the past seven months, United Help Ukraine has deployed over $22.8 million in aid. A much-needed area of support is humanitarian aid to internally displaced Ukrainians and refugees, in advance of winter. Even as cities become liberated, Ukrainians will return to destroyed homes without water and power for many months.
"We always encourage people to leverage their capabilities to help, and this partnership with Bonhams and Zhenya Gershman delivers exactly that," commented Maryna Baydyuk, President of United Help Ukraine. "We will use this donation to bring aid to same suffering that is portrayed in this compelling painting."
"Zhenya Gershman captures the brutality of the war in Ukraine magnificently in this stirring portrait," commented Sharon Squires, Senior Director of Contemporary Art at Bonhams Los Angeles. "To be able to capture such horror and such family warmth takes the hand of an expert and thoughtful painter. This painting is a stunning reminder that this war, its brutality continues, and that the bravery of the Ukrainian people cannot be underestimated."
The auction will take place online at Bonhams.com from October 7-14, with bidding starting at $100. Bidders are kindly advised that the purchase price for the lot will not be treated (neither in whole nor in part) as a charitable contribution.
United Help Ukraine is a charitable non-profit 501(c)(3) organization based in the DMV area that has been dedicated to providing life-saving aid to the individuals of Ukraine since 2014. The organization has four main initiatives; providing humanitarian assistance for internally displaced persons, delivering medical aid to hospitals and wounded warriors, supplying defenders on the frontlines with medical supplies and tactical gear such as first aid kits, tourniquets, drones, radios, and uniforms, and raising awareness for Ukraine's fight for freedom through community action
Over eight years of existence, United Help Ukraine has developed extensive working relationships with Ukrainian NGOs, hospitals, and other organizations. United Help Ukraine works with a trusted network of partners in America to support supplies and logistical operations. This has enabled the organization to help quickly and with minimal friction. For more details, please visit unitedhelpukraine.org
Bonhams, founded in 1793, is one of the world's largest and most renowned auctioneers, offering fine art and collectables, motor cars and a luxury division, including jewellery, watches, wine and whisky. The main salerooms are in London, New York, Los Angeles, Paris and Hong Kong, with auctions also held in Knightsbridge, Edinburgh, and Sydney. With a worldwide network of offices and regional representatives in 22 countries, Bonhams offers advice and valuation services in 53 specialist areas. For a full list of forthcoming auctions, plus details of Bonhams specialist departments, please visit bonhams.com
Media Source
Follow
More in the auction industry