Pictorial Rugs and Carpets: A Global History on Display at Nazmiyal Auctions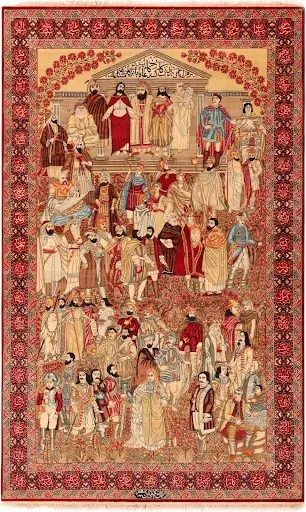 This June, Nazmiyal Auctions will present a globe-trotting sale of vintage and modern rugs. The lots trace the history of weaving across cultures and rich traditions. One common thread in the listings is pictorial rugs that depict people, places, or scenes. These items were most frequently displayed on a wall. Pictorial carpets have an extensive history, from Persian Mashahir rugs to Flemish tapestries.
Before the bidding begins, Auction Daily explores several notable pictorial rugs and carpets that will cross the block this June.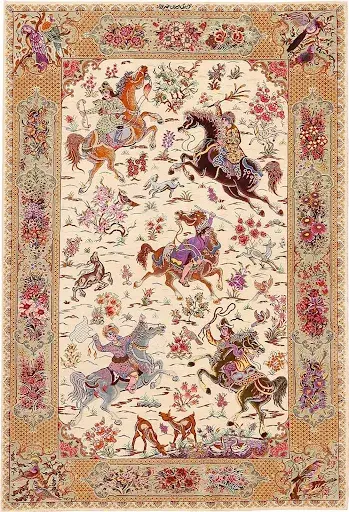 Persian Pictorial Rugs: Mashahir and Hunting Carpets
In the rich world of Persian rug-making, Mashahir carpets stand in a league of their own. Noblemen and kings often commissioned these highly detailed rugs. Translating to mean "famous people of the world," Mashahir rugs captured the faces of the rich and powerful. Figures in these rugs were often shown gathering in small groups, conversing with each other, and displaying their finery. They stand or sit in stacked rows before a structure with columns and an Arabic inscription. Surrounding inscriptions sometimes name the figures depicted in the rug. To achieve the necessary level of detail, Mashahir and other pictorial rugs require a high knot density and careful attention from the hand of a master.
The upcoming Nazmiyal Auctions event features a notable Mashahir rug that measures eight feet long (lot #5164; estimate: USD 40,000 – $60,000). Its colors are notably more vibrant than similar examples from the same period. The auction house also presents a vintage Persian Qum hunting carpet with an estimate of $8,000 to $12,000 (lot #5139). This pictorial rug invokes the glory of the Persian Empire, as well as the excitement of the hunt.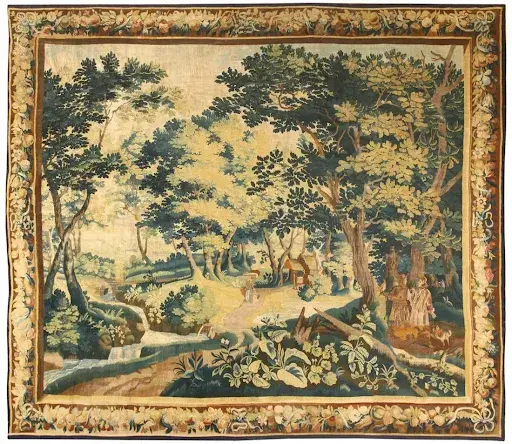 European Tapestries and Pictorial Rugs
Far from 16th-century Persia, a different type of weaving was on the rise in Europe. Tapestry production grew to new heights during the late Middle Ages. Textile weavers developed new techniques for their craft, including tucking the thread ends inside the weft. This created reversible tapestries that looked beautiful on both sides. The artisans also established close connections with visual artists. They reproduced luxurious paintings, bringing religious, natural, and historical images from one medium to another. In this way, "the thread became the equal of the paintbrush," writes Marielle Brie in La Gazette Drouot.
Flemish tapestries reached new heights during the Renaissance. Funding from royals placed tapestries in both political and artistic spaces, and weavers grew more inventive. They explored fresh subjects and brought in painterly techniques like perspective. A highly detailed Flemish tapestry from this period will soon come to auction with Nazmiyal (lot #5110; estimate: $30,000 to $50,000). It uses varied shades of green to show the pastoral landscape of Flanders. Its creator employed light and shadow, layering, and perspective to capture an idyllic path winding through the woods.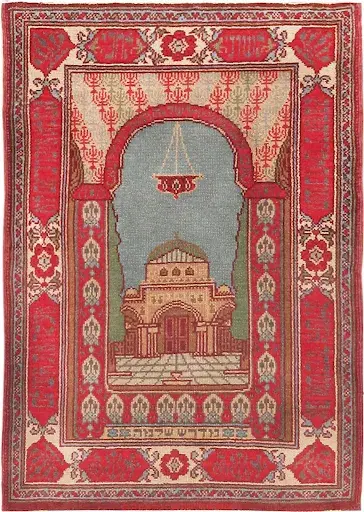 20th-Century Israeli Marbediah Rugs
Rug-making, in all its forms, fell in popularity as modernization rose in the early 20th century. People saw European tapestries as antiquated, and true appreciation for fine Persian carpets was still spreading across oceans. At the same time, a new generation of weavers took up the loom. A particularly robust crop of pictorial rugs emerged from the Marbediah rug workshops of early 20th-century Jerusalem. These artists placed their work at the center of the rising Art Nouveau movement. The craftsmanship, deep history, and religious significance of Jewish art came into the international spotlight.
A lush pictorial rug from the Marbediah workshops is currently available with Nazmiyal Auctions (lot #5007; estimate: $6,000 – $8,000). It depicts the Temple of Solomon from a distance. Twin trees flank the grand and holy Temple. A Hebrew inscription praising the beauty and holiness of Jerusalem surrounds the center image. The auction house notes that the inscribed passage is often read during wedding ceremonies, possibly indicating that the rug was once a wedding gift.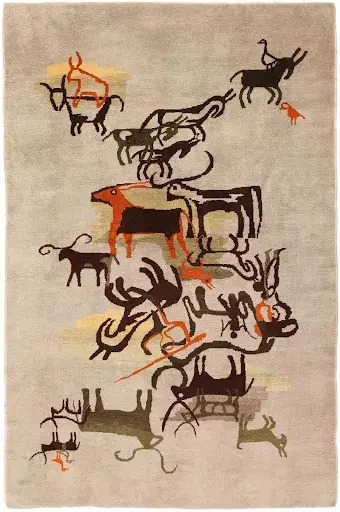 Other pictorial carpets in the catalog include an Ecuadorian rug from Hungary-born artist Olga Fisch, Chinese silk carpets with swirling dragon patterns, and a pastel-colored area rug from the French weaving workshops of Aubusson. Nazmiyal Auctions' Vintage & Modern Rug event will begin on June 12, 2022 at 11:00 AM EDT. Browse the complete catalog and register to bid on the auction house's website.
Looking for more coverage of woven collectibles? We explored other rug styles in Nazmiyal Auctions' February 2022 sale, including Persian rugs, Märta Måås-Fjetterström carpets, and oversized Indian spreads.
Media Source
Follow
More in the auction industry