Nazmiyal Auctions Offers Persian Rugs, Märta Måås-Fjetterström Carpets in Upcoming Sale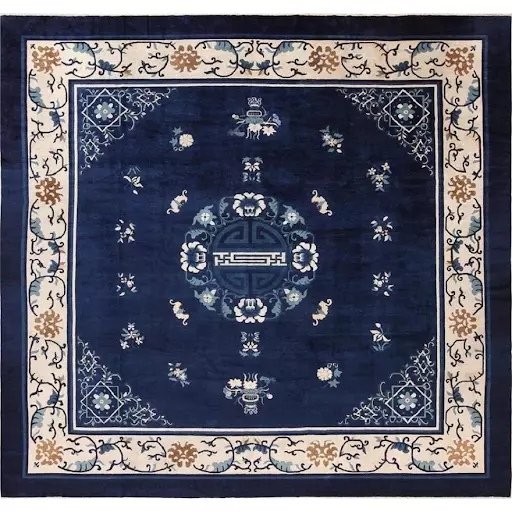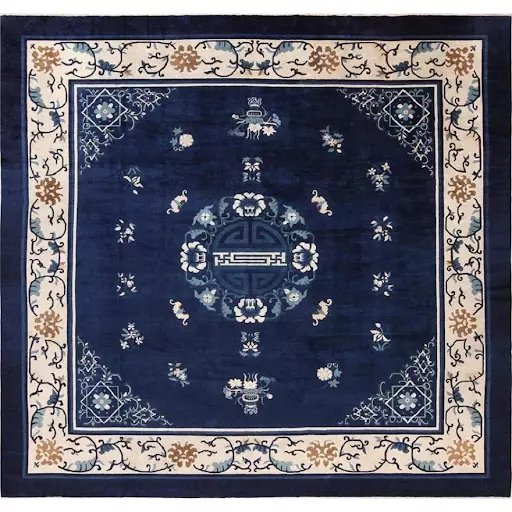 This March, Nazmiyal Auctions will present an online sale of over 150 vintage and modern rugs from around the world. The catalog highlights the distinct artistic qualities, styles, and techniques of weavers in each corner of the globe. Bidders will find a selection of Persian rugs alongside examples from China, India, Sweden, and elsewhere. This curated collection comes from Nazmiyal's stores and numerous private estates. Live bidding starts at 11:00 AM EDT on March 13, 2022. Before the sale starts, Auction Daily examines some of the key lots.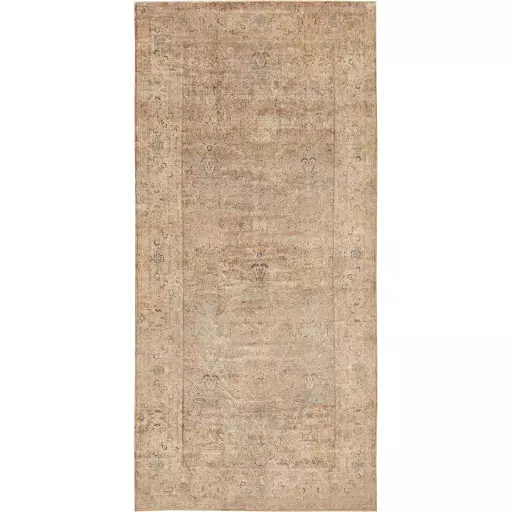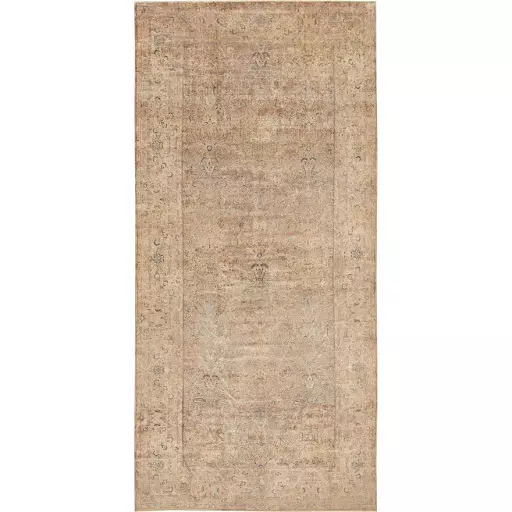 Kerman Persian Rugs
The Persian rug market has long influenced the world's carpet production. Persian weaving techniques stretch back hundreds of years. Within the borders of what is now Iran, craftspeople created luxurious carpets in every color, proportion, and pattern. These masterpieces covered the floors of palaces and other interiors before making their way into both Eastern and Western homes. The city of Kerman rose to prominence in the Persian carpet-making world during the 17th century. Rug producers created extremely detailed works that defined the look of Persian rugs as a category. Rich details and expert use of color set Kerman Persian rugs apart.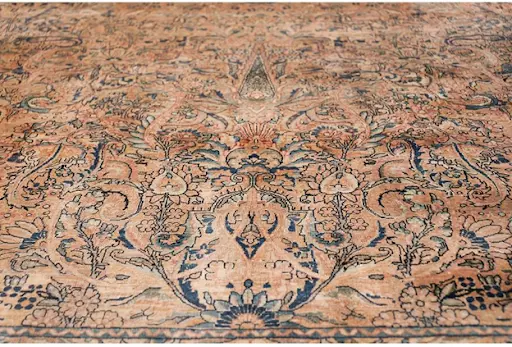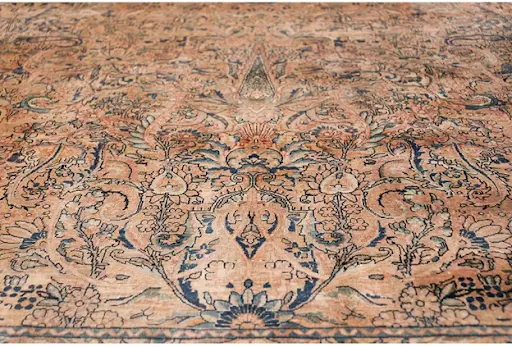 One of the top lots in Nazmiyal's upcoming auction is an antique Kerman Persian rug offered with no reserve (lot #4096; estimate: USD 30,000 – $40,000). It dates back to the early 20th century from the hand of an unknown master. The carpet utilizes soft colors and garden motifs to create a cohesive, soothing design. It measures over 25 feet by 12 feet.
Other notable Persian rugs in the auction include a Tabriz carpet featuring a palace scene (lot #4073; estimate: $60,000 – $80,000) and an oversized Khorassan rug (lot #4090; estimate: $50,000 – $80,000). Both feature subdued palettes and complex all-over designs. Those seeking bold Persian rugs have many to choose from as well, including jewel-tone Sarouk carpets and striking Serapi rugs with radiating medallions.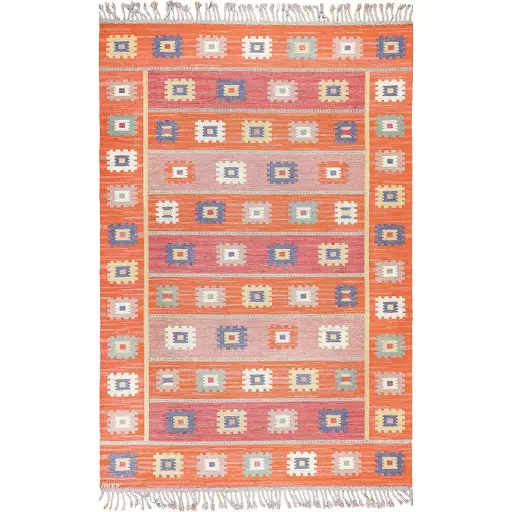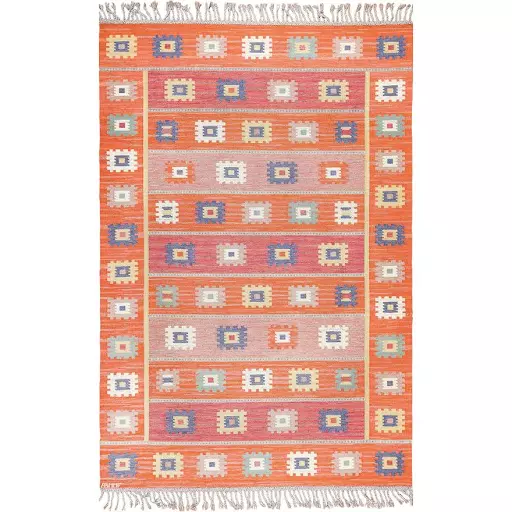 Scandinavian Rugs by Märta Måås-Fjetterström
Among the available Scandinavian rugs in this auction are examples from the workshop of Märta Måås-Fjetterström. Lot #4043, a vintage carpet by Barbro Nilsson in shades of green and blue, is particularly notable (estimate: $25,000 – $35,000). It has a neutral and timeless look that points toward the sleek modernism of contemporary design. Other Märta Måås carpets in this auction embrace bold colors and patterns. Lot #4040 is a vintage flat woven kilim rug with whimsical geometric shapes, bright colors, and a wide fringe along two edges (estimate: $15,000 – $20,000).
Born in a small Swedish town in 1873, Märta Måås-Fjetterström brought a background in illustration to her studies of weaving. She combined traditional Scandinavian motifs with the rising tide of modernism. The results influenced a century of interior design. The company that Märta Måås-Fjetterström founded continues to carry out her vision. Many rugs produced after her death in 1941 directly utilize or reference her vast collection of sketches, illustrations, and samples.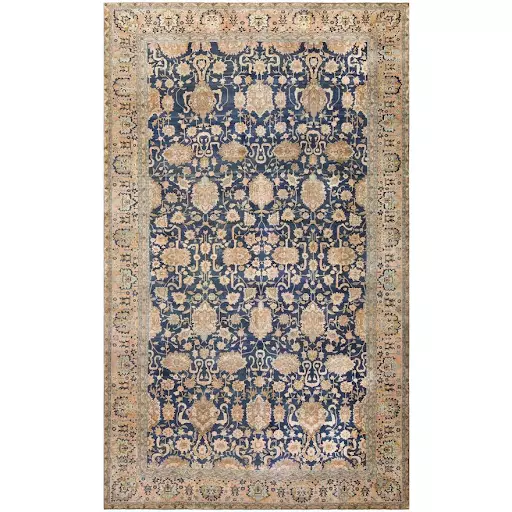 Oversized Indian Rugs
Carpet weaving in India has a long and rich tradition. When some techniques from Persia migrated East in the 16th century, Indian craftspeople developed a spectrum of localized styles. The cities of Agra and Amritsar became hubs for carpet weaving under the Mughal Empire. Rug designers drew from Persian sources of inspiration, catered to the tastes of British colonizers, and supported the development of the arts.
One notable Indian rug in this auction is an oversized blue floral carpet from the turn of the 20th century (lot #4064; estimate: $40,000 – $60,000). It features a delicate series of borders around an all-over design of stiff flowers and branching vines. A royal blue background adds additional visual interest.
Nazmiyal Auctions will present these vintage and antique rugs exclusively online, and some are offered without a reserve. Previews can be made by appointment. Alternatively, Nazmiyal's new augmented reality feature allows interested bidders to digitally place any rug in a real room. Bidding will begin at 11:00 AM EDT on March 13, 2022. Collectors may participate by visiting Nazmiyal Auctions' website, LiveAuctioneers, Invaluable, or Bidsquare. For more information, check out Auction Daily's preview of the event.
Media Source
Follow
More in the auction industry