Paintings by Corot and Pasini Lead Akiba Antiques' Lucky Number Event
A major Jean-Baptiste-Camille Corot painting, several antique Buddha statues, and a wide variety of other collectibles will soon come to auction with Akiba Antiques. The Florida-based auction house will offer nearly 650 lots in its Lucky Numbers sale, which will take place on March 29, 2022 at 12:00 PM EDT.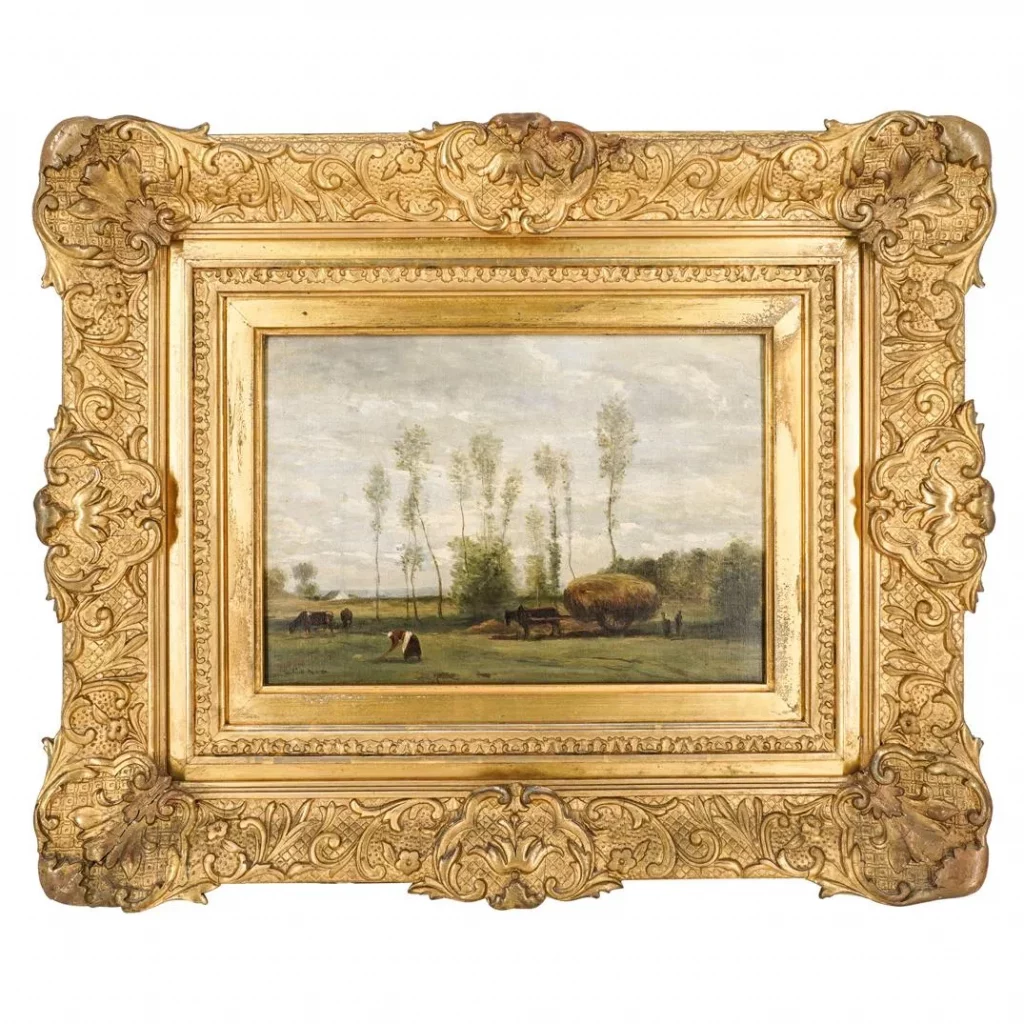 Jean-Baptiste-Camille Corot's untitled oil painting leads the listings with a pre-sale estimate of USD 20,000 to $40,000 (lot #66). The legendary French painter worked in the liminal space between Neo-Classicism and Impressionism. His plein-air works captured the muted delicacy of the French countryside, which features in the available work. In this framed piece, a farmworker labors in the foreground. Cows linger near a grove of tall, twisting trees.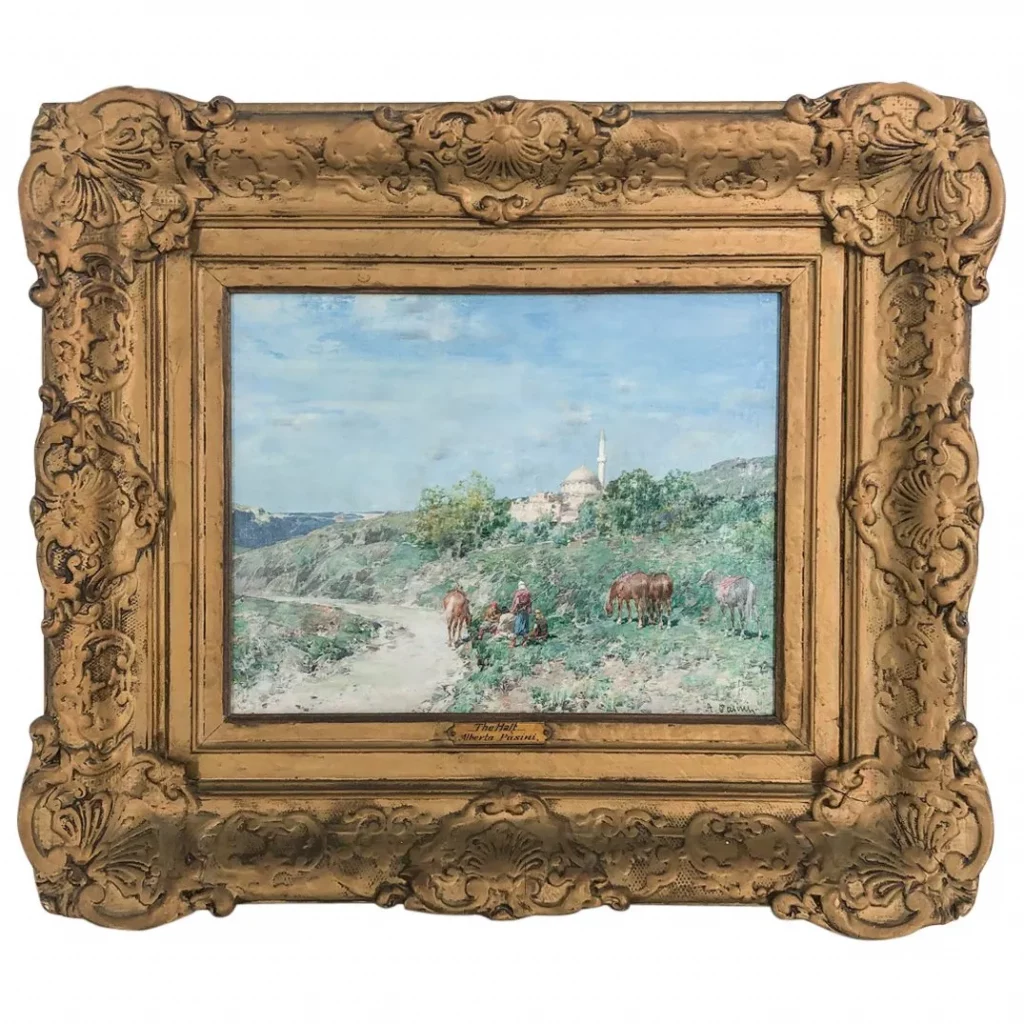 Another notable painting in the catalog is from Italian Late-Romantic artist Alberto Pasini. This ex-Sotheby's oil painting shows a hilly landscape beneath a delicate blue sky (lot #65; estimate: $50,000 – $100,000). To the left of the pastoral composition, a dirt road winds just out of frame. Pasini traveled widely in the 1850s while serving under France's diplomat to then-Persia. He favored the vistas of Egypt, Istanbul, and the Red Sea and focused his artistic output on those areas. The available work shows a Turkish hill town with detailed architecture in the background.
Various Viennese clocks of historic and artistic significance will cross the auction block this March with Akiba Antiques. Vienna was a destination for regulator clocks during the 18th and 19th centuries; Viennese clocks remain a standard of excellence in the collecting world. Among the available examples is an enameled silver clock with intricate floral designs covering its base and surrounding the clock face (lot #20; estimate: $1,000 – $5,000). Another makes extensive use of figural details. On lot #19, a finial shaped like a young boy decorates the clock's top (estimate: $1,000 – $5,000). He plays the bagpipes while his attentive dog looks forward. Other Viennese clocks from the 19th century include a colorful jeweled rooster clock (lot #13; estimate: $1,000 – $5,000) and miniature bronze clocks.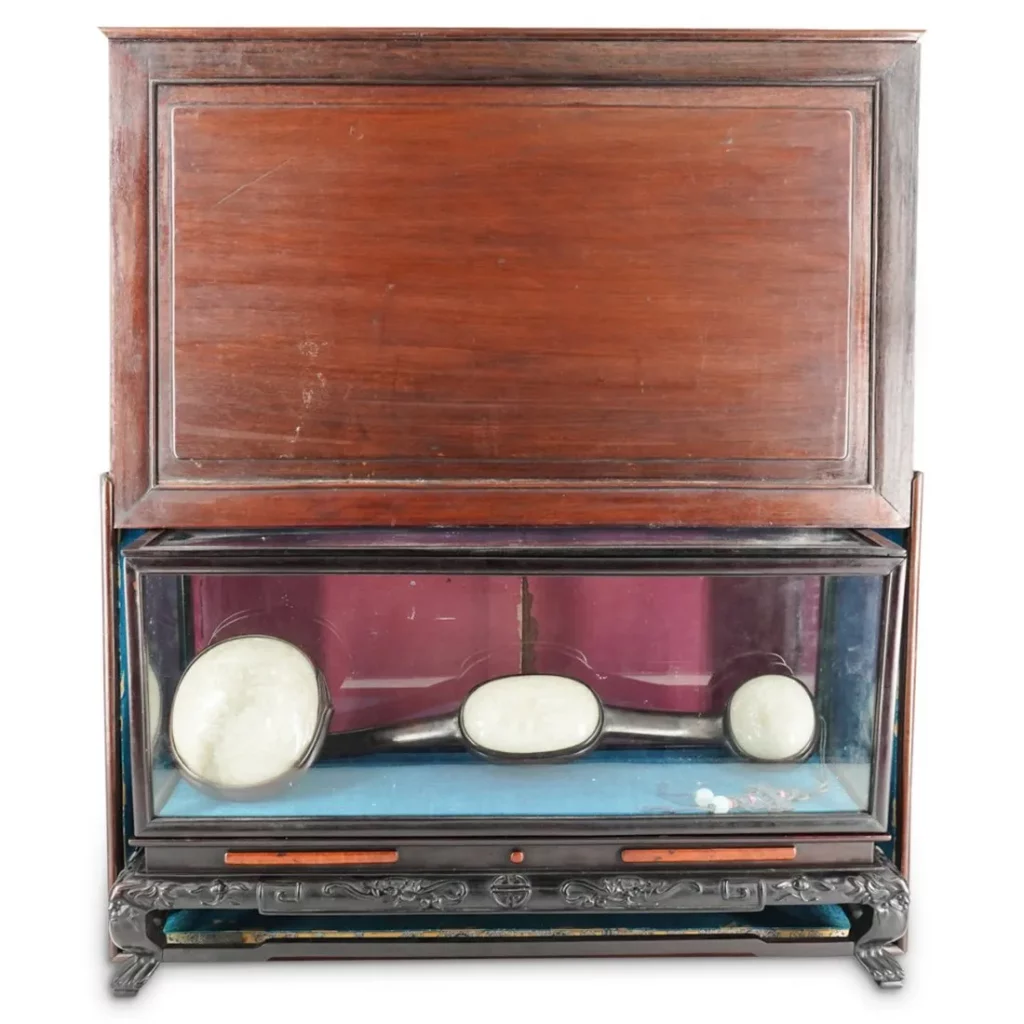 Key lots from Asia include a Chinese jade and carved Zitan wood ruyi scepter (lot #29; estimate: $5,000 – $50,000). This scepter features three white jade plaques that show the Eight Immortals of Chinese mythology. It comes with a wood and glass display case, as well as a travel case, braided cord, and a silk lining.
This sale includes several other lots of interest:
* French Empire ormolu bronze plateau mirror with patterned border (lot #58; estimate: $15,000 – $30,000)
* Pair of 1930s-era Cartier jadeite and silver candelabras with koi fish details (lot #9; estimate: $5,000 – $25,000)
* Meiji-era Japanese bronze vases from a Long Island estate (lot #155A; estimate: $2,000 – $20,000)
* Late 19th-century set of Meissen porcelain in glazed turquoise blue (lot #240; estimate: $2,000 – $8,000)
* Tibetan-style bronze Buddha statues (estimates: $1,000 – $5,000 each)
Charles and Franceska Akiba founded Akiba Antiques in Paris, France during the 1980s. Their joint collecting and selling experience was in French furniture and European fine art. The couple eventually moved to the United States and settled in Dania Beach, Florida, where the auction house continues to host regular sales both live and online.
Akiba Antiques' Lucky Numbers event will run at 12:00 PM EDT on March 29, 2022. Find the complete listings and register to bid on LiveAuctioneers.
Media Source
Follow
More in the auction industry