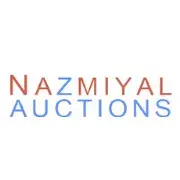 Nazmiyal Auctions Offers Antique Persian, Turkish, Chinese, and Scandinavian Rugs This March
Mar 13, 2022 11:00 EDT
Updated on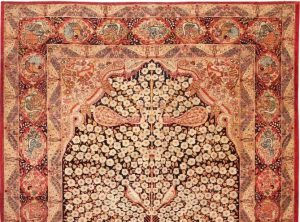 Nazmiyal Auctions will bring a wide-ranging and carefully curated selection of antique rugs to the market this March. A mainstay of Manhattan, Nazmiyal will present over 150 lots of fine vintage and antique carpets from around the world. Among the top lots is an antique oversized Persian Khorassan rug from the 1920s. This piece measures 28 feet by 14 feet and is emblematic of the soft room-sized carpets produced in the Khorassan region of northeastern Persia (modern-day Iran). Several detailed borders surround the central expanse of twisting flowers and leaves. Shades of royal blue, light brown, and cream give this rug a calming effect. Other notable Persian rugs on offer include a pair of antique Mohtashem Kashan rugs with rich, warm colors, as well as a large Tabriz rug showing a palace scene.
From 20th-century Turkey comes a large antique Oushak rug with a bold medallion. Surrounding the geometric center is an uninterrupted field of light blue that evokes the ripples of a reflecting pool. Other rugs in the sale come from weavers further to the East. An antique Indian Agra rug in burgundy rose, and pale blue is available alongside Qing dynasty rugs from 19th-century China. A large Chinese carpet shows several dragons flying through a midnight blue sky; a border of clouds, flowers, and geometric shapes add interest to the story.
A selection of Scandinavian rugs, particularly from Swedish designer and brand Marta Maas, round out the offerings. Lot #4043 is a vintage Barbro Nilsson rug for Marta Maas. It has contemporary blue and green patterns, and black lines that subtly swirl together. Before placing a bid, interested collectors can make use of the auction house's new augmented reality feature to view the available carpets in any room. For more information and to register to bid, visit Nazmiyal Auctions.
Price Range:
$3,000 - $80,000
Interesting lots include:
| Item Image | Item Name | Estimate |
| --- | --- | --- |
| | ANTIQUE OVERSIZED PERSIAN KHORASSAN RUG. 28 FT X 14 FT 4 IN (8.53 M X 4.37 M). | Estimate: $60,000 - $80,000 Starting Bid:$30,000 |
| | LARGE ANTIQUE TURKISH OUSHAK RUG. 16 FT 8 IN X 10 FT 7 IN (5.08 M X 3.23 M) | Estimate: $40,000 - $60,000 Starting Bid:$15,000 |
| | ANTIQUE INDIAN AGRA RUG. 20 FT X 15 FT (6.10 M X 4.57 M) | Estimate: $30,000 - $50,000 Starting Bid:$5,000 |
| | VINTAGE SCANDINAVIAN MARTA MAAS RUG. 10 FT 1 IN X 7 FT 5 IN (3.07 M X 2.26 M). | Estimate: $25,000 - $35,000 Starting Bid:$10,000 |
| | PAIR OF ANTIQUE PERSIAN MOHTASHEM SILK KASHAN RUGS | Estimate: $10,000 - $20,000 Starting Bid:$4,000 |
| | ANTIQUE CHINESE DRAGON DESIGN RUG. 11 FT 5 IN X 9 FT (3.48 M X 2.74 M). | Estimate: $8,000 - $12,000 Starting Bid:$2,000 |
Contact Info
Nazmiyal Auctions

31 East 32nd Street, New York, New York 10016
212-545-8029