Native American Art to Hit Bonhams' Block, From Louisa Keyser Baskets to Contemporary Paintings
On June 29, 2022, Bonhams' Native American Art department will present a curated sale of historical and antique items. The available lots acknowledge the diversity of Native American art, which includes countless mediums and distinct styles. "'Native American art' is a very broad term. Plus, there are people who collect regional objects, while others who collect a little bit of everything," the Director of Bonhams' Native American Art Department in Los Angeles, Ingmars Lindbergs, told Auction Daily. "It can seem a bit eclectic at times."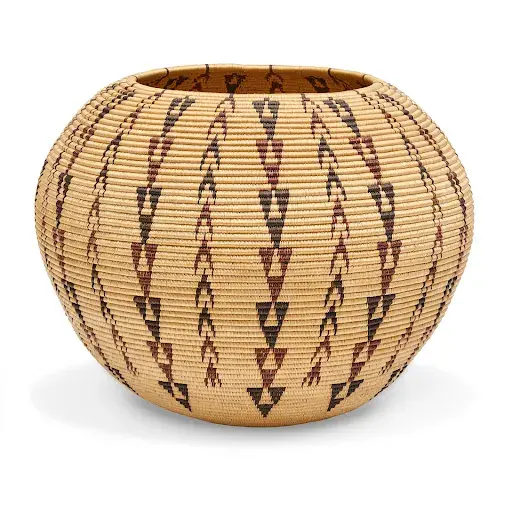 Native American jewelry, pottery, Southwest paintings, textiles, and more will be available this June. Many of the objects date back at least 100 years. One portion of the catalog is devoted to Inuit ivory objects excavated from St. Lawrence Island, located west of mainland Alaska. The lots were primarily sourced by authorized Inuit people living on St. Lawrence Island who sell the antiques for revenue. These small figures and utilitarian objects are between 500 and 2,000 years old.
"We have a very fine selection of baskets from a number of different sources, including what I believe to be the largest single-owner collection of Northern California basketry hats. An elderly couple in Oregon consigned the items after spending the last 30 to 40 years building their collection," Lindbergs said.
Among the top lots is an exceptional degikup basket from Louisa Keyser, also known as Dat-so-la-lee (lot #149; estimate: USD 150,000 – $200,000). This slightly oval basket features a stitched design of concentric triangles and chevrons. The artist favored this form between 1898 and 1916. She produced approximately 40 major ceremonial baskets like the available lot while under the patronage of Abe and Amy Cohn.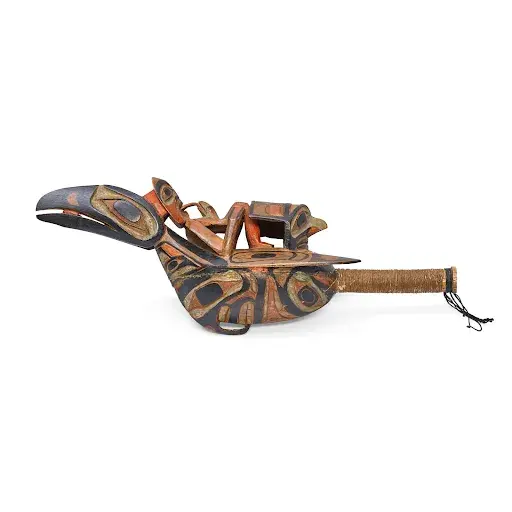 Another section of the sale is devoted to Pacific Northwest Coast art, which includes recognizable design elements and careful artistry. One notable piece of Pacific Northwest Coast art in the sale is a pipe bowl from the 1820s or '30s (lot #73; estimate: $15,000 – $20,000). It showcases the classic Northwest Coast attention to detail and formal design structure. Also notable is a Northwest Coast raven rattle used to indicate the owner's position within the tribe (lot #72; estimate: $20,000 – $30,000).
"I must admit that I have a soft spot in my heart for Pacific Northwest Coast art, but I really appreciate all of it. There is material we handle that was strictly made for sale, weavings for the most part or almost all of the baskets. They were all things made to sell, primarily to non-Native people, as a source of revenue," said Lindbergs.
Some items in the Native American art market were not made to be sold, leaving behind a complicated legacy. Lindbergs noted that cultural perceptions of Native American antiques have changed in recent years. There is a greater respect and understanding for culturally sensitive objects, including items that were legitimately acquired decades ago but should now return to tribal ownership. The Authentic Tribal Art Dealers Association (ATADA) is one group bridging the gap between tribes, art dealers, and collectors. Auction houses increasingly have a seat at ATADA's table. The secondary market has started to accept responsibility for verifying authenticity, properly representing material, and thoroughly vetting objects before auctions.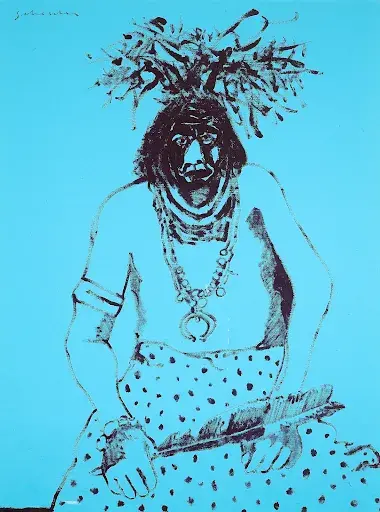 Bonhams will also present a sale of modern and contemporary Native American art on August 31, 2022. This sector has been on the rise within recent years, particularly as older collectors seek to downsize and new tastes take hold. And while younger collectors have embraced modern and contemporary Native American art above antiques, some types of fine art still perform better at auction than others. The secondary art market favors canvases depicting Native American subjects. Artists of Native descent face different outcomes for their own work; there is great interest in pieces exploring their Native heritage and cooler prices for everything else.
One modern artist, Fritz Scholder, experienced this dichotomy firsthand. An enrolled member of the La Jolla Band of Luiseño Indians, Scholder also identified with his German heritage. He traveled widely and explored a variety of themes during his long career. "I look at him as a colorist who was influenced by Francis Bacon. He was tainted by Warhol," Lindbergs said. "He was very much walking in step with the modern art world of the 1960s and '70s and '80s, but ultimately what drives the market are his canvases with Native American subjects."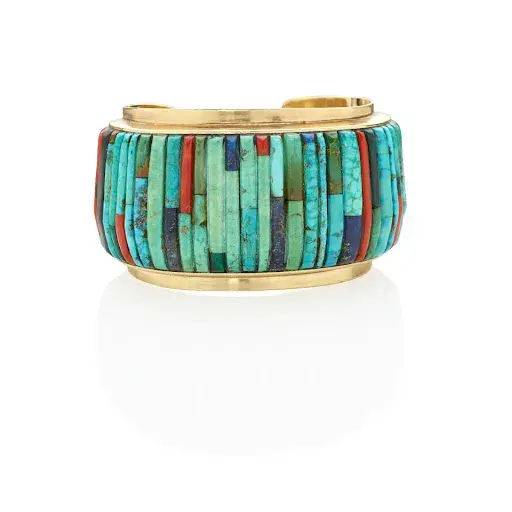 Some artistic mediums have always been popular– jewelry, for instance. "It transcends," Lindbergs told Auction Daily, "and people go for the boho Southwest chic older jewelry." After long enjoying the support of Native American art collectors, jewelry designer Charles Loloma and others even broke through to access a much larger collecting community. And according to Lindbergs, the rest of the world is starting to realize, "Oh, we've really missed out on something."
Preview lots for the August 31 Modern Native American Art sale include work by Kevin Red Star, Charles Loloma, and Ramona Sakiestewa. The Native American Art auction of antiques and historical items will begin at 11:00 AM PDT (2:00 PM EDT) on June 29, 2022. For more information and to register to bid, visit Bonhams.
Media Source
Follow
More in the auction industry