Nadeau's Auction Gallery's Annual New Year's Day Event Welcomes 2022 With Over $2.7M In Sales
This signature sale featured over 700 lots of fine, decorative, contemporary, and tribal art; silver, watches, and jewelry; and furnishings and rugs – many from premier East Coast estates.
Windsor, CT, January 5, 2022 – Nadeau's Auction Gallery, Connecticut's largest and fastest growing auction house, is excited to announce the results of their January 1, 2022 New Year's Day event. This remarkably successful sale – the company's ninth consecutive New Year's Day Sale surpassing the seven figure mark – had a 95% sell through rate, with breathtaking results across all categories. When the hammer fell silent after a long day of competitive bidding, 92 lots realized $5,000-9,999; 56 lots made $10,000-$99,999; and 2 lots topped the six figure mark. Prices noted include the company's buyer's premium.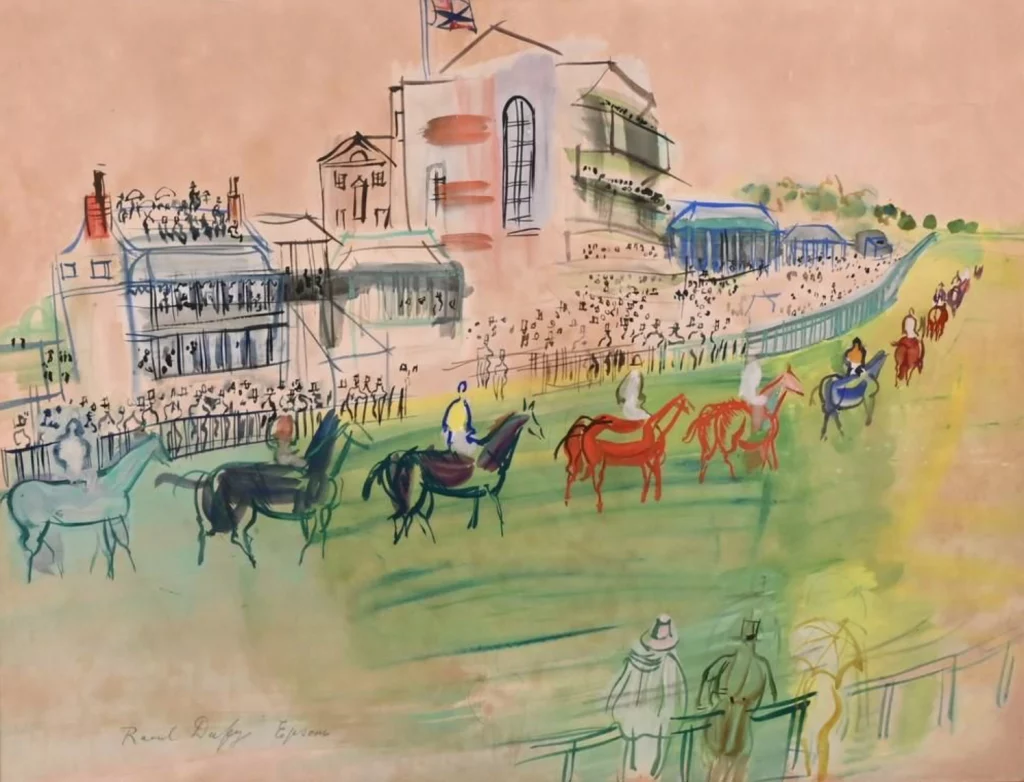 Fine art featuring landscape, still life, and abstract images by important 19th and 20th century artists took several of the top lot slots in this sale.
* Lot #350, Raoul Dufy's (French, 1877 – 1953) Araut La Course: Epsom, was the big winner here – trading hands at $125,000. This provenanced watercolor and gouache on paper work was signed and titled by the artist, and featured the inscription "Mr. Furse 925 Park 7C" on its cardboard backing paper.
* Lot #370, a signed, 3D work by artists Christo & Jeanne-Claude (1935 – 2020) titled Package on Carozza, Project for A Chile Berdinger, Taranto, Italy, made $51,200. It was rendered in pencil, cloth, and string and was mounted in a plexiglass box. It was from the estate of Alexis Gregory and was sold to benefit the Alexis Gregory Foundation.
* Lot #300, Jane Peterson's (American, 1876 – 1965) Road to Rocky Neck, East Gloucester, realized $43,200. This oil on canvas work featured a country road with Gloucester Harbor in the background and was signed by the artist on its lower left.
* Lot #352, Edward Lear's (1812 – 1888) Jerusalem, April 24, 1858, realized $24,000 – nearly ten times its high estimate! This watercolor and pencil on paper example included copious notes by the artist around the image, and retained its Pitt and Scott London, Ltd. label.
* Lot #288, Giuseppe Santomaso's (Italian, 1907 – 1990) untitled abstract work from 1961, was estimated at $4,000-8,000 and sold for $20,910. This signed, gouache on paper example was also from the estate of Alexis Gregory and sold to benefit his foundation.
* Lot #390, Bernard Cathelin's (1919 – 2004) Roses d' Inde au Fond Gris, 1966, was estimated at $4,000-8,000 and made $17,500. This oil on canvas floral still life was signed, dated, and titled, and retained its David Findlay Gallery label.
Fine art showcasing people and portraits also caught the eye of collectors worldwide.
* Lot #377, Stanley Royle's (Canadian, 1888 – 1961) Spring Morning Among the Bluebells, was estimated at $6,000-12,000 and scored $30,720. This signed and dated oil on canvas painting from 1913 depicted the artist's wife. This fully provenanced work, with ties to the artist's family, was acquired from a private New York collection and included its Richard Green Gallery label and sales receipt.
* Lot #289, Leonidas Gambartes' (Argentina) Personajes, was estimated at $6,000-12,000 and soared to $30,000. This signed, chrome gesso on board work from 1962 featured three dressed characters in ethic clothing and masks.
* Lot #320, John Singer Sargent's (American, 1856 – 1925) full length portrait of a woman in a long flowing black and red dress, realized $25,000. This oil on canvas work measured 36-1/4 x 24 inches and was signed by the artist on its upper right.
Premier watches as well as extraordinary rings, bracelets, and necklaces were also well represented in this top tier sale.
* Lot #140, a lot including a chalcedony bracelet mounted with cabochon cut stones, a 14k gold ring mounted with chalcedony and amethyst, and a white gold and chalcedony shoe clip, was estimated at $800-1,200 and realized an astonishing $114,000.
* Lot #100, a platinum and diamond link bracelet, closed the loop at $21,600. It featured rectangular, Gucci style, and square shaped hinged links. The piece itself weighed approximately 39.10 dwt in total, and featured 21.5 carats of diamonds.
* Lot #80, a boxed red and black Rolex Coke GMT men's wristwatch with a Jubilee bracelet, was estimated at $6,000-12,000 and sold for $19,200. It was model #16710, serial #X545241, and included its original papers and tag.
* Lot #213, an 18k white gold and diamond ring, doubled its high estimate to sell for $18,000. It featured two diamonds – one at 2.20 carats and the other at 2.07 carats – and measured approximately 8.3 millimeters.
This sale also featured notable selections of silver, service, and decorative items from the most desirable names in the industry.
* Lot #262, a Tiffany & Co. Chrysanthemum sterling silver seven piece tea and coffee set, served up $28,290. The grouping had a total weight of 445 troy ounces and included a tilting hot water pot, coffee pot, teapot, covered sugar bowl, creamer, waste bowl, and a two handled tray measuring 28 inches.
* Lot #640, a Herend Queen Victoria porcelain dinnerware set decorated with flowers and butterflies, was estimated at $5,000-10,000 and made $23,750. This extensive grouping included platters, plates, cups and saucers, full tea and coffee services, gravy boats, tureens, and multiple serving bowls and vessels, among many other dining items.
* Lot #218, a Gianmaria Buccellati silver center bowl sitting on a footed glass tray, was estimated at $5,000-10,000 and realized $16,640. This example was in the form of a woven circular basket inset within a wreath of fruits. It was marked Gian Maria Buccellati Italy and weighed 59.7 troy ounces.
This important sale came full circle with museum quality selections of furniture, contemporary and ethnic arts, and treasures that bridged traditional auction categories.
* Lot #600, a sideboard by Emile Jacques Ruhlmann (French, 1879 – 1933) from 1930, brought $48,000. This signed masterpiece was detailed with doors opening to a shelved interior and a brown marble fitted top on a gilt bronze pedestal base. It retained its original R.J. Ruhlmann receipt.
* Lot #675, a turn of last century ceremonial New Ireland mask from Papua New Guinea, was estimated at $10,000-20,000 and sold for $28,800. It retained its original paint and hair and featured jumping fish on top and black snakes circling the face. Before WWI, these masks fascinated avant-garde artists and intellectuals. After 1918, the Surrealists in France were instrumental in including several of them in important shows.
* Lot #605, Jeff Koons' (b. 1955) Puppy from 1998, was estimated at $5,000-10,000 and delivered $17,920. This signed and dated white glazed porcelain vase measured 17-3/4″ tall and was numbered 2061/3000.
* Lot 584, a Steinway model #439016 walnut baby grand piano, was estimated at $5,000-8,000 and realized $16,605. It was set on carved cabriole legs and included a needlepoint top bench
According to Eddie Nadeau, President of Nadeau's Auction Gallery, "Our annual New Year's Day Auction always produces eye-popping results… plus a few surprises! The chalcedony jewelry trio is one lot I'll never forget. With over 90 bids placed on it, it would go on to realize 100 times its high estimate! I almost forgot to breathe as the bids escalated through the roof! I was also really pleased with our fine arts results too, as we worked for nearly a year to assemble the best of the best in that category specifically for this signature event. Thank you to our customers and to everyone who bid in person or online in this sale. From my family to yours – here's to a happy and healthy 2022!"
About Nadeau's Auction Gallery Inc.:
Nadeau's Auction Gallery is a full-service auction house providing a complete range of estate offerings, nonprofit deaccession management, and fine art and personal property appraisals. The company presents about a dozen premier sales annually, with a focus on art, furniture, accessories, and important antiques. A second-generation family company, Nadeau's enjoys a well-deserved reputation for outstanding merchandise, top-tier personalized service, and helping sellers realize the realize the maximum value for their collections. The company has been in business since 1985 – with the family start in the antique business in 1945 – and today is one of the largest and fastest growing auction houses in New England. Its state of the art auction facility is conveniently located right off Route 91 and easily accessible from all points in the mid-Atlantic and northeast.
Nadeau's Auction Gallery is located 25 Meadow Road, Windsor, CT 06095 and can be reached by telephone at 860-246-2444, fax at 860-524-8735, or email at [email protected] For more information on this sale and Nadeau's Auction Gallery, please see www.nadeausauction.com.
Media Source
Follow
More in the auction industry