Morphy's June 8-10 Fine & Decorative Arts Auction features 75 art-glass lamps including extraordinary Tiffany Studios 'Poppy' with rare Favrile-glass base, and choice Amphora pottery
Other highlights: fresh-to-market paintings, art glass, bronzes, silver, cylinder & disc music boxes; collections of antique sleigh bells, figural & mechanical canes, napkin rings, wedding bells
DENVER, Pa. – A fine and decorative arts selection of incomparable quality awaits bidders at Morphy Auctions on June 8, 9 and 10. The gallery is at its shining best, with rare and beautiful objects at every turn, including 75 leaded and stained-glass lamps, 100 pieces of art glass, 100+ paintings, 50 figural bronzes, 50 lots of silver, and 30 pieces of coveted Amphora pottery. Additionally, there are 30 cylinder and disc music boxes; 15 bird boxes, and long-held private collections containing 100 figural napkin rings, 80 antique hand-blown colored-glass wedding bells; 50 figural and mechanical gadget canes; and the acclaimed Don and Mary Ann Livingston collection of antique sleigh bells. On day three, Morphy's will unveil a sumptuous array of fine jewelry plus 30 pocket and wristwatches. Those who are not able to attend in person are invited to bid absentee, by phone or live via the Internet through Morphy Live.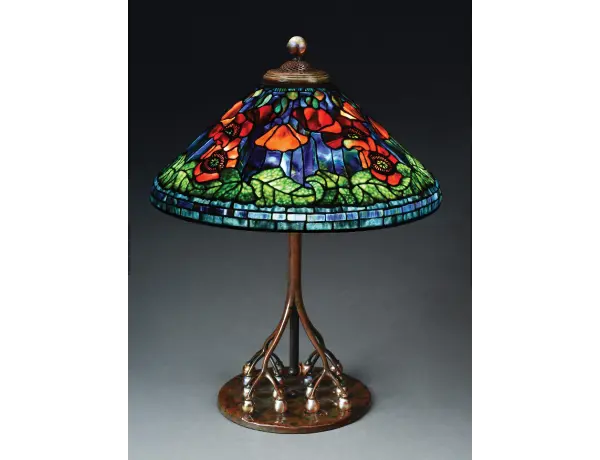 Expertly curated, the 1,308-lot auction of fresh-to-market art and antiques is for those who appreciate the very best of any given category. That includes Tiffany Studios, the name that set the standard for excellence in American art glass over a century ago. The June event includes not only 25 exquisite Tiffany lamps but also 50 pieces of Tiffany decorative glass and metalwork. Towering over the list of entries is a lamp many Tiffany collectors are already watching with anticipation: a highly important and unusual Poppy leaded-glass table lamp.
"It's from a longtime Florida collection and is unquestionably the finest Tiffany lamp Morphy's has ever handled. We expect it to sell well above the $400,000 mark," said Dan Morphy, president of Morphy Auctions. "We've sold other Poppy lamps in the $70,000-$125,000 range, but this one is different. Only Tiffany's most highly skilled artisans could have produced an example like this one, carefully laying out the design piece by piece and using intense cobalt blue glass that is rarely seen in art-glass lamps. Ever since posting pictures of the lamp on social media, we've had nonstop compliments and enquiries. Seasoned collectors know when they're looking at something that's above and beyond even Tiffany's uncompromising standards."
The 20-inch conical shade is a complex masterpiece with a colorway that incorporates ruby-red poppies with streaked multicolor accents against a ground of rich purples, greens, browns. It is deserving of no less a counterpart than its stunning and exceptionally rare bronze base, whose 16 iridescent Favrile-glass balls support the telescoping stem. With Tiffany stamps to both the shade and base, this once-in-a-lifetime showpiece is estimated at $350,000-$450,000.
Over the years, Morphy Auctions has handled many important pieces of Amphora and other European pottery, securing world-record prices for many forms. The June 9 session not only meets but exceeds the levels of rarity and quality seen in past offerings, with 40 lots of exotic Amphora designs. A top entry is a 29-inch-tall Eduard Stellmacher horned-dragon vase of a type illustrated in the references Monsters and Maidens: Collectors Edition (Vreeland) and The House of Amphora (Scott), as well as the 1905 Stellmacher catalog. It has all of the requisite markings collectors look for: a raised medallion, Stellmacher monogram, red Stellmacher mark. Further, its base is incised 13, 2, Stellmacher, Teplitz. The pre-sale estimate is $20,000-$30,000.
Masterful creations by Galle, including several "blown-out" designs, figure prominently in the art glass selection. One such piece, standing just over a foot tall, features soft red hyacinth flowers against a frosted yellow ground. In excellent condition, free of chips or cracks, this lovely Galle-signed vessel is expected to make $7,000-$10,000.
One of the unquestionable stars of the decorative arts category is a Demetre Chiparus (Romanian, 1886-1947) cold-painted and parcel-gilt bronze figure on an illuminated onyx base. Sized 21¼ inches high by 14½ inches wide by 9½ inches deep, it is titled Civa. The circa-1928 bronze is signed "Chiparus" and bears a partial "MADE IN FRANCE" imprint. It is pictured in Alberto Shayo's 1993 reference Chiparus: Master of Art Deco. Estimate $100,000-$150,000
A wonderful private collection of 100 figural napkin rings offers collectors the opportunity to acquire some the most elusive and sought-after examples. Themes include animals, athletes, fictional characters and children, including some created by Victorian children's book author Kate Greenaway. An especially rare "triple" Kate Greenaway napkin ring by Simpson, Hall, Miller depicts a girl teaching two younger children their ABCs. Estimate $2,000-$2,500
Many genres are represented in the selection of American, European, Latin American, and Asian paintings. The pleasing variety includes a late-19th/early 20th-century George Gardner Symons (American, 1861-1930) oil-on-canvas titled Winter Landscape, $20,000-$30,000; and Wai Ming's (Chinese, b. 1938-) photorealistic oil-on-canvas titled Fish Girl, $10,000-$30,000. A beautiful Guy Carleton Wiggins (American, 1883-1962) oil-on-panel painting of a steamboat crossing New York Harbor comes to auction with a $15,000-$25,000 estimate.
"One of a kind" and "historically significant" would accurately describe an original photograph from the 14th Annual Chicago Architects Convention of 1901. The group photo depicts prominent architects of the day, including Frank Lloyd Wright – who sits at the center of the photo – and Marion Mahony, one of the world's first licensed female architects. Because women architects were not an accepted concept at the time, Mahony kept a low profile for the photo by pulling back her hair and wearing a men's suit. Unpublished and fresh to the market, this only known example of the photo is offered with a $20,000-$35,000 estimate.
The grouping of antique cylinder and disc music boxes offers a glimpse into how the wealthiest individuals of the 19th and early 20th century might have spent their evenings at home. Extravagantly decorative and boasting the most sophisticated technology of the day, the elegant entertainers were marketed by a number of companies, many of them French or American. One of the top choices in Morphy's sale is a Paillard Longue Marche interchangeable cylinder music box of inlaid burled walnut with six 19-inch cylinders and matching table for cylinder storage. It could hit a high note in the $10,000 to $20,000 range.
One of the fastest-growing departments at Morphy's is Fine Jewelry & Watches. The Friday, June 10 session glitters with estate diamonds and gemstones set in high-karat gold or platinum. A classic pair of circa-1920s signed and numbered Cartier Art Deco platinum and diamond drop earrings, with a total diamond weight of approximately 4.68 carats, retains the original Cartier display-case box. The earrings originally belonged to Eleanor McCormick Collier of the McCormick agricultural machinery company. The earrings are in excellent to near-mint condition and estimated at $20,000-$30,000. A prized men's steel and 18K gold Rolex Daytona Cosmograph Chronometer Ref. 116523 with a 40mm case comes with its original boxes, papers and two additional links. Estimate: $20,000-$30,000
Two very special collections highlighted in the sale are the Don and Mary Ann Livingston collection of antique sleigh bells, and a private collection of figural and mechanical gadget canes. Capturing the essence of early Americana, the Livingstons' remarkable collection includes fine-condition single, double and combination-style sleigh bells, each an endearing artwork and equine collectible. Estimates range from $200 to $3,000, depending on rarity. The 50-lot cane collection includes opulent examples of gold, silver and other precious materials, some with fabulous carving and ingenious features that enable them to double as a timepiece, sword, drinking flask or even a receptacle to house a rosary. Perhaps the most unusual of them all is the 1893 doctor's baby-delivery presentation cane engraved as a gift from a Presbyterian church in New Richmond, Ohio. Its custom-crafted handle functions as a baby scale, and the cane's interior provides storage for the various instruments a physician would use to deliver a baby. Estimate: $3,000-$5,000
Morphy's Wed./Thurs./Fri., June 8, 9 and 10, 2022 Fine & Decorative Arts Auction will be held live at Morphy's gallery, 2000 N. Reading Rd., Denver, PA 17517, starting at 9 a.m. Eastern Time. Preview jewelry by appointment only. All forms of bidding will be available, including absentee, phone and live via the Internet through Morphy Live. Enquiries: call 877-968-8880, email [email protected]. Visit Morphy's online at www.morphyauctions.com.
Media Source
Follow
More in the auction industry