Morphy's hits a high note with $2.3M sale of renowned Henri Krijnen collection of mechanical music machines
Owner of Florida toy museum pays $350,550 for auction's top lot: a massive 1963 Belgian dance organ with robot musicians
DENVER, Pa. – A trio of robot musicians with a captivating, toe-tapping sound led the parade of mechanical music machines and automata at Morphy's $2.3 million sale of the Henri Krijnen collection, and according to the buyer, the Space-Age combo's next stop will be a museum or related attraction in Florida.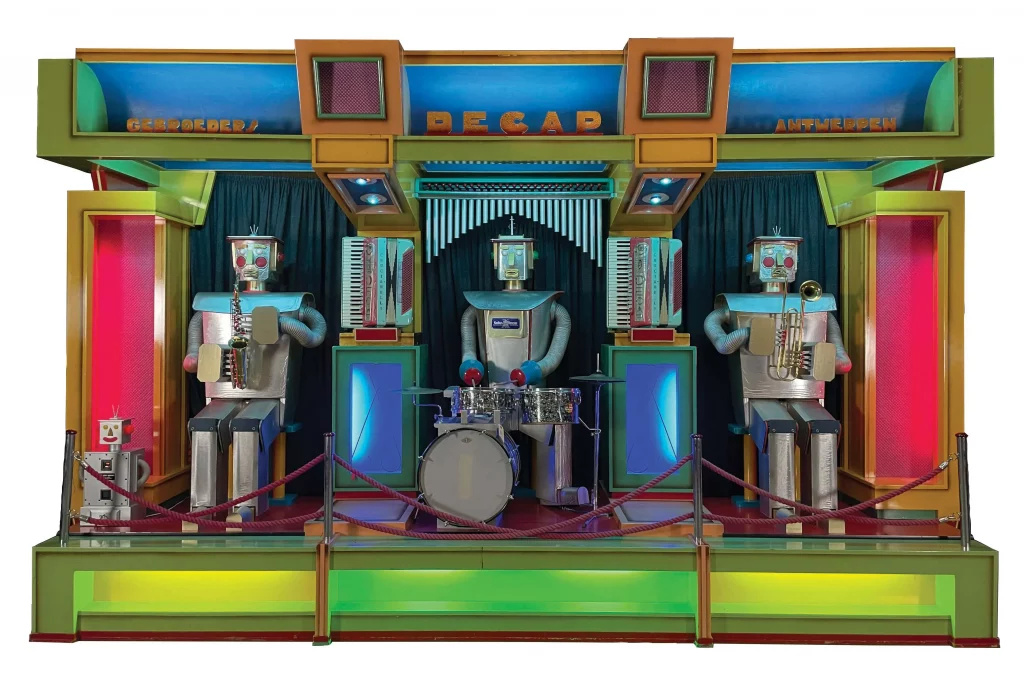 The Sept. 9-10 auction featured 541 lots of dance organs, orchestrions, slot machines and a myriad of other antique coin-operated novelties amassed over 50 years by the late Mr Krijnen, a Dutch businessman who made his fortune in the gambling and entertainment industry. The robot dance organ, created by Gebroeders Decap (Antwerp, Belgium) in 1963, was known to be one of Krijnen's great favorites. It is one of only three that were made in a 105-key configuration, and was originally installed at the Hotel Eemland in Soest, Netherlands. Later in its lifetime, it was professionally restored to perfection by AC Pilmer Automatic Music of Ossett, England.
Members of the robot band are programmed to play drums, a saxophone and brass horn, respectively, and the latter two even stand up for their "solos." At one corner of the stage, a smaller robot of similar composition smiles and reminds patrons to tip the performers. Against an estimate of $100,000-$200,000, the delightful robot dance organ attracted 31 bids before selling for an astonishing $350,550. The buyer is Ozzie Bilotta, whose private museum of vintage toys, arcade machines and related memorabilia – The Bilotta Collection – will open its doors this fall in Ponte Vedra Beach, Florida.
Bilotta commented after the sale: "Being that the robot band was created in 1963, right in the heart of the classic sci-fi era, it fits right in with the museum's theme of robots and space toys. However, the band is so large – nearly 12 feet wide – that I'm considering a few options. It might become the visual centerpiece at an affiliated business to be located near the museum. It needs plenty of room to 'breathe.' Hopefully I'll have things figured out by the time it arrives from its current location (in Oosterhout, the Netherlands). I'm excited to bring this wonderful fusion of art, music, engineering and classic robot styling to the United States."
Another popular auction entry was the very rare Gastaud et Raibaut for J Bodson "Double Tino" orchestrion. Made in 1925, it features automata in the image of famed Italian jazz accordionist Tino Rossi and a drummer identified as "Mr Jimson of Martinique." Possibly the most original surviving example, and the only one with all original clothing, accordion and wood stand, it sold at the midpoint of its estimate for $73,800.
A highly ornate and gilded Koenigsberg 70-key "Harmonium" street organ, made in Holland in 1913, has known several owners in its lifetime. Prior to joining the Krijnen collection, it was a crowd-pleaser at many shows and events in the north of England during the 1980s. Some parts of the organ had been faithfully restored, with archival photographs as the artisans' guide. It sold within its estimate range at Morphy's for $54,120.
The Krijnen collection included five late-19th-century barrel organ orchestrions by the Black Forest clock and instrument-maker Imhof & Mukle. A 71-key version in a burled walnut cabinet rose to $27,600, while an 86-key model in a carved, ebonized cabinet achieved $46,800 against an estimate of $10,000-$20,000 in spite of its needing restoration.
Also described in the auction catalog as a "project…in need of restoration," an 1895 Welte 50-key "Cottage" cylinder orchestrion nonetheless displayed good bones. Surely one of the most beautiful of all Welte productions, it came housed in an ebonized cabinet with lattice doors, beveled glass and turned columns. Entered with a conservative $3,000-$6,000 estimate, its potential was recognized, leading to a selling price of $22,140.
At the time of Henri Krijnen's passing, a project was under way to restore a rare 1820 Benjamin Flight & Son (British) barrel organ with a Vulliamy clock. Only three such organs are known to exist, the other two residing in museum collections in Moscow and the Netherlands; however the organ/Vulliamy clock combination offered by Morphy's is likely one of a kind. It sold above high estimate for $27,060
There was keen bidder interest in an all-American, original Frank Polk-carved one-armed bandit slot machine stand with a 1940s 25-cent Mills 777 high-top slot machine embedded in its chest. It displayed pristine condition and had its original lock, key, cashbox and back door. The no-nonsense life-size cowboy proved to be a good bet, drawing 56 bids and selling for $43,050 against a $3,000-$6,000 estimate.
Following the auction, Morphy Auctions CEO Tom Tolworthy, who curated and directed the Krijnen auction, commented: "Above all else, what distinguished the Krijnen collection and set it apart from all others was the hand-selected pieces from multiple musical categories, representing over twenty countries and three centuries of mechanical music innovation. Henri painstakingly brought many of the pieces, which had been lost to time, back to grandeur once again for future generations to enjoy. It is highly unlikely that we will ever see another collection like it in our lifetimes."
The exact sale total was $2,289,891. That figure and all prices quoted in this report are inclusive of a 23% buyer's premium. To discuss consigning mechanical music, slot or other coin-operated machines to a future auction at Morphy's, please call toll-free 877-968-8880 or email [email protected]. All enquiries are kept strictly confidential. Visit Morphy Auctions online at www.morphyauctions.com.
Media Source
Follow
More in the auction industry