Mickey Mouse Through the Years: Disneyana Collection Available at Akiba Antiques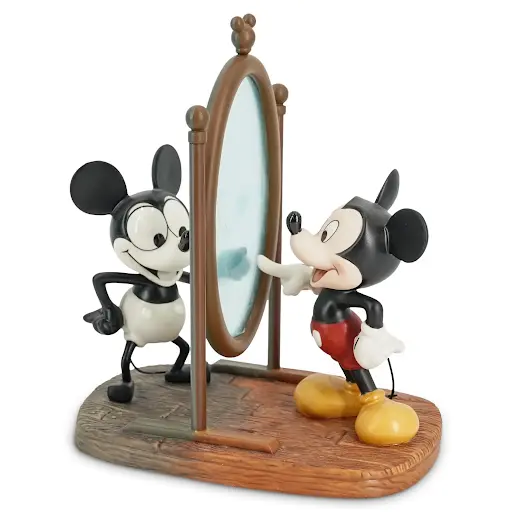 As the Walt Disney Company nears its centennial in 2023, fans and collectors have started to look back at its evolution over the decades. This June, Akiba Antiques will bring a major Disneyana collection to the market. Built over 40 years, the collection reflects on the many characters and magical moments associated with the entertainment company. It also tracks the changes that those characters have experienced across time. Famous artists and companies have captured their likeness in a variety of forms, creating a wide array of collectible figurines, sculptures, and other works of art.
What unites and sets these figurines apart? Ahead of the sale, Auction Daily examines the many faces of one iconic Disney character: Mickey Mouse.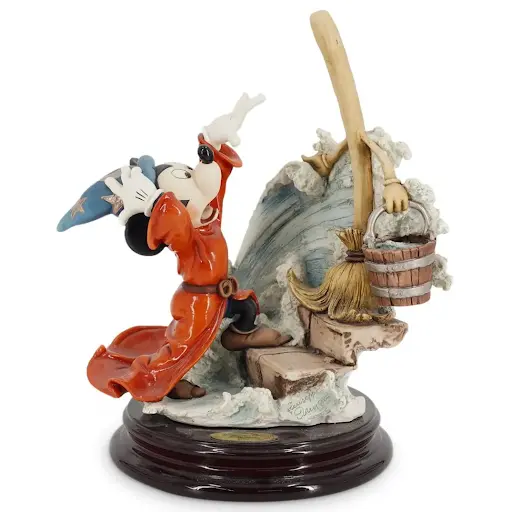 Giuseppe Armani: Realism and Subtlety
Italian sculptor Giuseppe Armani built his reputation on his attention to detail and a preference for Renaissance-era techniques. This caught the Walt Disney Company's attention. Armani and Disney entered into a years-long collaboration to bring classic Disney characters to life. Armani sculpted Disney princesses such as Cinderella, Snow White, and Ariel, as well as some of the company's earliest figures from the Mickey Mouse universe.
Among the top lots in the upcoming Akiba Antiques Disneyana event is a Giuseppe Armani and Disney figurine showing Mickey Mouse in his "Sorcerer's Apprentice" role (lot #0023; estimate: USD 200 – $2,000). The figurine references the musical anthology film, Fantasia, from 1940 and Mickey's antics as an overeager magic student. In this piece, Armani exercised restraint with his colors, using subtle blues, reds, and yellows to depict a scene from the movie. The effect is a hyper-realistic Mickey Mouse, down to the bristles of his broom and the shading of his robe.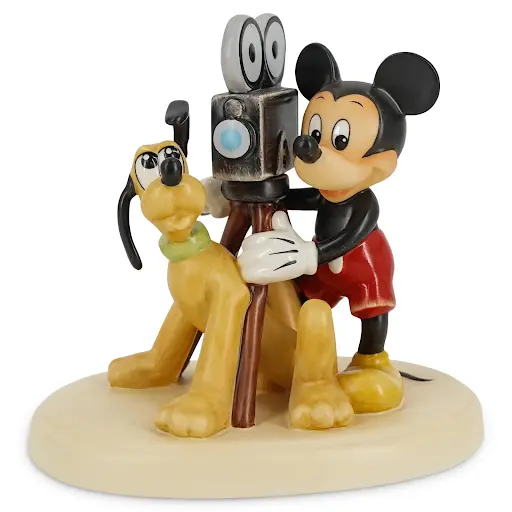 Disney & Goebel: Cartoon Classics
In 1871, Franz Detleff and William Goebel aimed to build a porcelain factory "dedicated to the senses." Their resulting company, Goebel, sustained that dedication in the decades that followed. Walt Disney shared Goebel's core values. Disney and Goebel first collaborated to bring visual stories to life in 1950, marking the beginning of a long corporate relationship. Goebel produced limited edition figurines of iconic Disney characters. These pieces embraced Disney's classic cartoon style and eye-popping colors. One example is lot #0038, a limited edition Disney Goebel Mickey Mouse and Pluto figurine (estimate: $100 – $1,000). This Official Disneyana Convention porcelain figurine from 2000 places the mouse and his dog behind an old-style camera.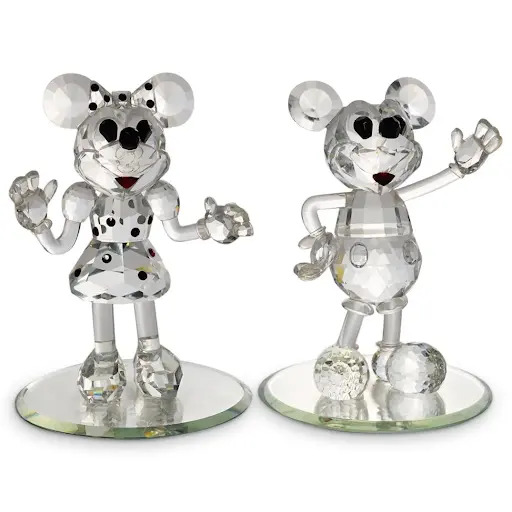 Swarovski Crystal: Collectible Modernism
Swarovski crystal figurines have a very active collecting market, and Disney figurines are especially valued. However, Swarovski did not begin collaborating with Disney until 2005, decades after both companies' founders stepped back or died. Swarovski began with some of the most iconic Disney characters, including Mickey and Minnie Mouse. It later branched out to create crystal figurines of almost every major Disney franchise. With their sleek lines and transparent coolness, Swarovski Disney figurines reveal the influence of Modernism on collecting tastes. Mickey Mouse departed from his classic primary colors to embrace a new form.
Available in Akiba Antiques' upcoming Disneyana collection sale is a set of two Swarovski crystal Disney figurines in the transparent style (lot #0511; estimate: $100 – $500). The classic cartoon figures smile and wave while standing on crystal discs. Jet black crystal indicates both characters' eyes and noses, as well as the polka dots on Minnie's dress.
Akiba Antiques will auction one of the world's largest Disneyana collections of this kind on June 21, 2022 at 12:00 PM EDT. Visit LiveAuctioneers for the complete listings and to place a bid. For more coverage of this event, visit Auction Daily.
Auction House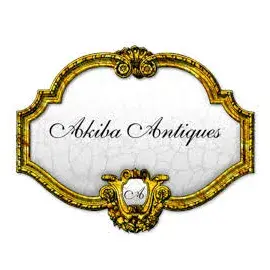 Follow
More in the auction industry