Lost Titian Painting With Royal Provenance to Sell at Dorotheum
Vienna-based auction house Dorotheum will soon offer a lost Titian painting once owned by Europe's kings and queens. The available work, titled The Penitent Magdalen, is offered with an estimate of EUR 1 million to €1.5 million (USD 1.1 million – $1.6 million). Dorotheum tracked its provenance back to Christina, Queen of Sweden, though it was also likely owned by Rudolf II, Holy Roman Emperor in the late 16th century. The auction house noted in a press release that this formerly lost Titian painting will appear at auction for the first time in 150 years.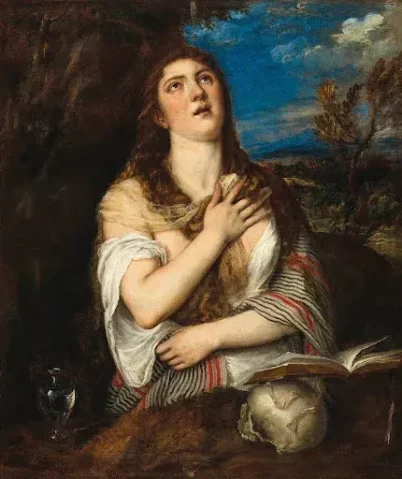 The image of the penitent Mary Magdalene has a respected place in Western art history, as well as in Titian's own body of work. The motif shows up again and again in his oeuvre. This can be partially attributed to Renaissance fashions. Centuries prior, artists began to associate the Biblical figure of Mary Magdalene with an unnamed woman who falls to her knees before Christ, repents her sins, and bathes his feet in oil. This association gave the penitent Magdalene distinct characteristics: long hair, a jar of ointment, and occasionally a human skull or other memento mori object. Mary Magdalene became a recognizable and appealing subject for commissioned paintings.
Early Renaissance-era collectors requested countless depictions of Mary Magdalene. Her figure was increasingly humanized and sexualized starting in the 16th century, which may have contributed to the rise of the penitent Magdalene theme. Artists started to show her as shapely but suffering, free but despairing. Titian understood this appeal. He made variations on the penitent Magdalene image throughout his career, adding slight variations to each commission. These details could range from the background composition to the color of Mary Magdalene's ribbons.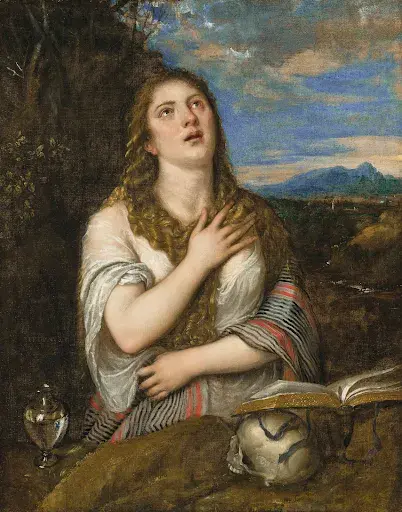 There are several notable differences in this lost Titian painting compared to the artist's previous works. The background opens to a lush, vibrant view of the French countryside instead of a more airy glimpse of the sky. Before Mary Magdalene rests a glass flagon, an open book, and a human skull. The present painting shares similar characteristics to works Titian completed in the 1550s, including a version that sold with Christie's for GBP 704,750 (USD 919,700) in 2018. That Penitent Magdalen used a lighter palette with fewer intense colors, in addition to differences in the subject's attire. While a white shift is tucked into Mary Magdalene's striped mantle in the Christie's painting, the lady tightly grasps the free piece of lace in the Dorotheum version. Similar variations of Titian's The Penitent Magdalen appear in the Royal Collection.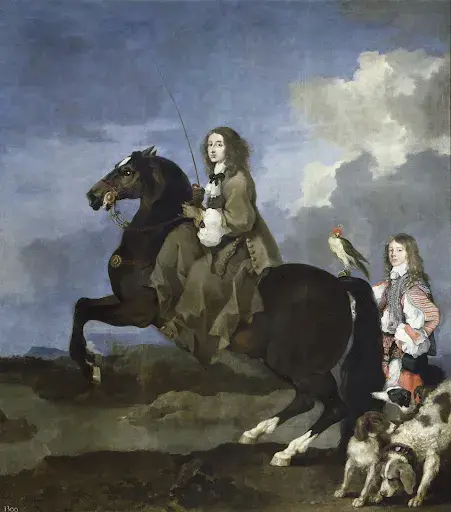 Before coming to auction, this painting was long considered lost. Nevertheless, it boasts an impressive provenance. Experts suspect that the work first belonged to Rudolf II, Holy Roman Emperor in the late 16th century. It most likely traveled to Sweden after the Sack of Prague in 1648 following the Thirty Years War. The painting then remained in the celebrated art collection of Christina, Queen of Sweden, an unconventional and enigmatic ruler who abdicated the throne at the age of 28. She is most frequently described as a flamboyant figure who flaunted conventions, sparked countless rumors, and enjoyed the benefits of a sterling education. After Christina's death, the painting passed through several hands before being acquired by Philippe II, Duke of Orléans and a series of English lords.
Dorotheum will offer the lost Titian painting during its Old Master Paintings sale on May 11th, 2022. The live bidding will start at 4:00 PM CEST (10:00 AM EDT). Visit Dorotheum's website for more information.
Looking for more art headlines from around the world? Check out Auction Daily's news channel for the latest.
Media Source
Follow
More in the auction industry