Haji Jalili and the Revival of Tabriz Rugs
By the 19th century, the golden age of Tabriz carpet making was over. Situated in the northwest corner of modern-day Iran, Tabriz long served as a commercial and creative center of Persia. Artisans in Tabriz produced some of the finest and highest-quality rugs in the industry. After a period of dormancy, weavers in the 19th century moved to revive the ailing art of Tabriz rug making for a new generation. Haji Jalili was among the most famous and successful 19th-century weavers of Tabriz rugs. His work helped bring a second renaissance for carpet making in the city.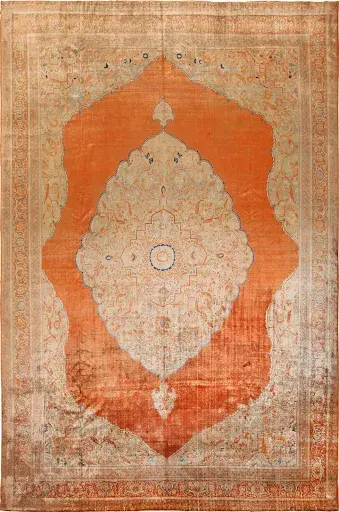 In the history of rug making, Persian rugs stand in a category of their own. Their roots stretch back centuries, and their style draws from the diverse cultures of nomadic tribes, village workshops, and Persian royal courts. These rich cultural traditions combined to create rug styles that vastly differed across geography and time period. In Tabriz, rug designers were exposed to countless influences, including Western goods brought by traders and ancient village weaving traditions. Tabriz also served as the first capital of the Safavid empire. Artisans in the city had unprecedented access to royal power and patronage.
The fall of the Safavid dynasty triggered a decline in the quality and quantity of Tabriz rug making. Haji Jalili, joined by Kurban Dai and Sheik Safi, was among the catalysts of a Tabriz rug revival in the late 19th century. Few details of Haji Jalili's life remain in history. Records indicate that the master weaver hailed from the nearby Marand. He established his rug making workshop in Tabriz and enjoyed the support of the royal court.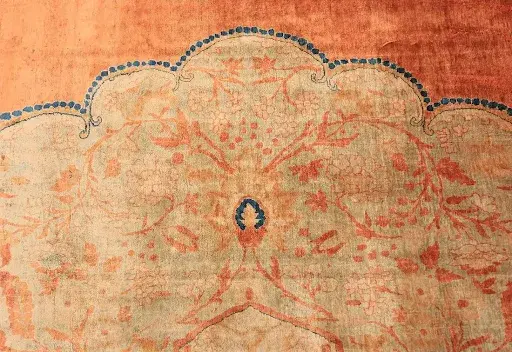 Other details about Haji Jalili's life can be deduced from his workshop's output. He was an educated person with exposure to both European art and traditional Sufi philosophy. Haji Jalili used elements of Eastern and Western design traditions to revive the old art of Tabriz rugs. He also demonstrated a strong sensitivity to color and understanding of harmonious design; both skills are evident in the Tabriz rugs produced at Haji Jalili's workshop.
Compared to earlier Tabriz rugs, the revived styles championed by Haji Jalili and others often embraced lighter colors. Delicate pinks and grays replaced the jewel tones of previous centuries. However, the artisans made no compromises on quality. Haji Jalili created famously dense rugs with over 300 knots per square inch, as well as dizzyingly detailed medallion patterns.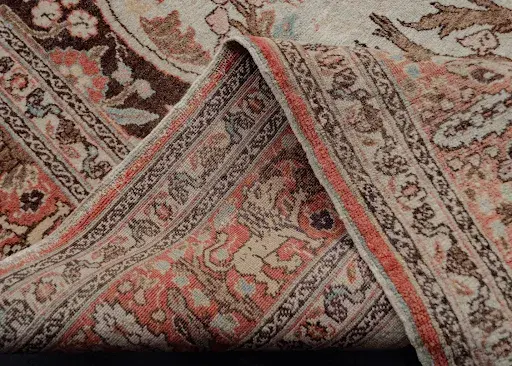 Tabriz rugs from Haji Jalili and other 19th-century creators lend themselves well to both distant admiration and close inspection. They were designed to create a harmonious whole that would complement rather than overpower a room. A magnifying glass and a discerning eye reveals subtle masterpieces in the weave: elegant arabesques, radiating medallions, expansive "Tree of Life" patterns, graceful flora, and energetic fauna.
Masterpieces flowed out of Haji Jalili's workshop for several decades. World War I disrupted this production, and the second renaissance of Tabriz rugs reached its natural conclusion. Today, Haji Jalili rugs fetch some of the highest prices in the antique and vintage rug market.
Nazmiyal Auctions will present a major silk Tabriz rug from the workshop of Haji Jalili in the upcoming Antique, Vintage & Modern Rug Auction (lot #6110). Crafted around 1880, this piece remains in good condition with still-luminous colors. Periwinkle blue dots accent the pink and salmon central medallion. It measures over 16 feet long by 10 feet wide and comes to auction with an estimate of USD 100,000 to $150,000. 
The upcoming sale will take place at 11:00 AM EDT on September 18, 2022. Collectors can visit Nazmiyal Auctions' website to register to place a bid and find more information. 
Want to learn more about antique carpets? Check out Auction Daily's exploration of pictorial rugs and carpets from around the world.
Media Source
Follow
More in the auction industry