Freeman's European Art and Old Masters Sale Offers Rare Works by Rodin, Corot, and Ostade
Around 1908, wealthy American patrons Thomas and Elizabeth Merrill approached Auguste Rodin with a commission. They belonged to a steadfast group of Americans who pursued the sophistication, artistry, and culture of Europe. The resulting work by Rodin reflects a rich cultural exchange between the Old World and the New in the late 19th and early 20th centuries.
This long-running interchange is evident in Freeman's upcoming European Art and Old Masters sale. The auction of 52 lots features European art commissioned by American patrons, works that have extensive American provenance, and masterpieces that will cross the Atlantic for the first time. Bidding begins at 12:00 PM EST on February 22, 2022.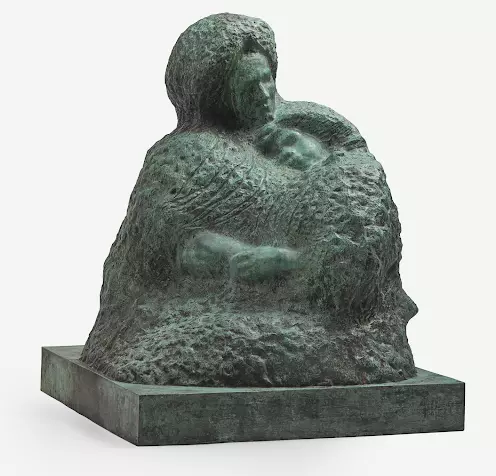 Auguste Rodin Sculptures
Leading this European Art and Old Masters auction is an Auguste Rodin sculpture commissioned by Thomas and Elizabeth Merrill of Minnesota (lot #42; estimate: USD 250,000 – $400,000). Rodin never set foot in the United States. However, his popularity there grew steadily after the 1893 Chicago World's Fair. Rodin's modern, evocative sculptures caught the attention of a newly-endowed upper class of Americans. This group of self-made millionaires was just starting to emerge at the time, and many chased the latest European art trends to secure their standing.
The Merrills had other reasons for commissioning a sculpture from Rodin. Their teenage daughter, Sally Hicks Croswell, passed away a few years before the couple met Rodin in Paris. To honor her memory, the Merrills commissioned a marble grouping of a mother and daughter in a loving embrace. The original marble sculpture resides at the Musée Rodin in Paris. Available in this Freeman's auction is one of two extant bronze copies.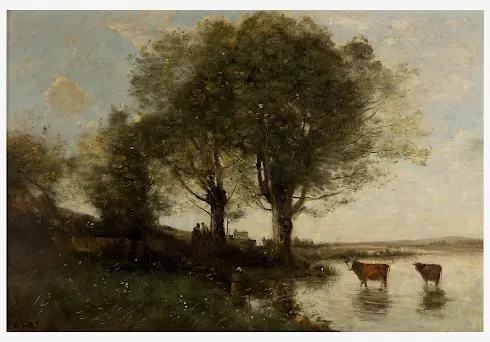 Jean-Baptiste-Camille Corot Landscapes
Several landscape works by Jean-Baptiste-Camille Corot are also on offer from Freeman's. Corot painted at a time of great transition in French art. The popular trend was bending away from Neo-Classicism and toward the plein air paintings of Impressionism. Especially in the later period of his career, Corot explored the possibilities of natural light and looser brushstrokes. Yet unlike the Impressionists who followed in his footsteps, Corot was unafraid of using dark colors and heavy shadows to add depth to a painting.
One such late career work by Jean-Baptiste-Camille Corot, titled Le Rappel des Vaches, comes to auction with an estimate of $100,000 to $150,000 (lot #27). Corot executed this piece around 1870. On his canvas, a group of farmers recalls a few cows from the water. Hazy silver brushstrokes capture the water's impression, while two imposing trees cast their shade over the scene. This work entered a Boston, Massachusetts collection in 1889. It has remained in American hands ever since.
Several additional Corot paintings are on offer. These include Paysannes à la Cueillette (lot #33; estimate: $70,000 – $100,000), Saules Près d'un Ruisseau. Limousin (lot #30; estimate: $40,000 – $60,000), and La Batterie de Sainte-Adresse (lot #35; estimate: $20,000 – $30,000).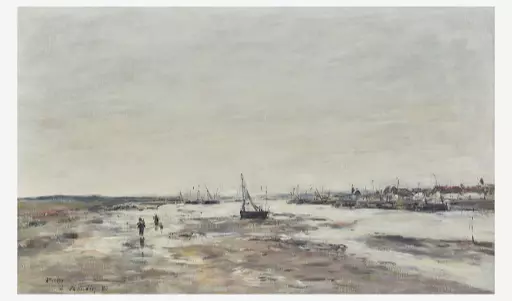 En Plein Air European Paintings
A contemporary of Jean-Baptiste-Camille Corot, French artist Eugène Boudin was a pioneer of en plein air painting. He spent his early years at sea alongside his harbor captain father. After Boudin began his formal art studies in Paris, the Dutch painter Johan Jongkind encouraged him to bring an easel outside. Boudin took this suggestion and returned to the sea-stained skies of his childhood. Water and the sky would preoccupy him for years, even as he embraced en plein air painting. Available in Freeman's European Art and Old Masters sale is Eugène Boudin's Étaples, Marée Basse painting from 1880 (lot #36; estimate: $50,000 – $80,000). It shows a seashore cloaked in silver.
Other en plein air European paintings in the catalog include Winter Mantle (Hamburg) by Norwegian Impressionist artist Frits Thaulow (lot #37; estimate: $10,000 – $15,000) and Lone Haystack in the Snow by Russian mood landscape artist Isaak Levtan (lot #48; estimate: $5,000 – $8,000).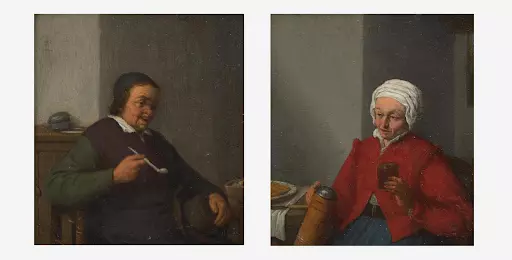 Dutch Golden Age Portraits
A selection of Dutch Golden Age portraits will also cross Freeman's auction block this February. Among them is a portrait pair by Adriaen Jansz van Ostade. Known for his genre paintings of the peasant class, Ostade was particularly fond of half-length portraits. His subjects can often be found drinking, dancing, eating, or smoking. Instead of dangerous moral vices, Ostade portrayed these activities as natural and ordinary.
The available half-portrait pair shows a man quietly smoking a pipe while seated in a kitchen chair. To match is a woman holding a tankard and cup, seemingly about to speak. The figures mirror each other, perhaps implying that they share a home or even the same room. This portrait pair comes to auction with an estimate of $40,000 to $60,000.
Freeman's European Art and Old Masters event will take place on February 22, 2022 at 12:00 PM EST. For more information and to register to bid, visit Bidsquare. Find continued coverage of this sale on Auction Daily.
Media Source
Follow
More in the auction industry