Everard to host Feb. 22 boutique auction of fashion and accessories from estate of beloved Southern humorist Jeanne Robertson
Featured: Couture, St. John suits and luxury knitwear; handwoven Thai silk jackets, dazzling vintage costume jewelry, Manolo Blahnik shoes
SAVANNAH, Ga. – For nearly 60 years, Southern humorist Jeanne Robertson (1943-2021) kept audiences howling with laughter, whether at her in-person appearances or on satellite radio comedy channels. A brilliant observer, Robertson had a talent for spinning yarns to maximum comedic effect. An international legion of fans followed her faithfully on Facebook and viewed her on YouTube more than 100 million times.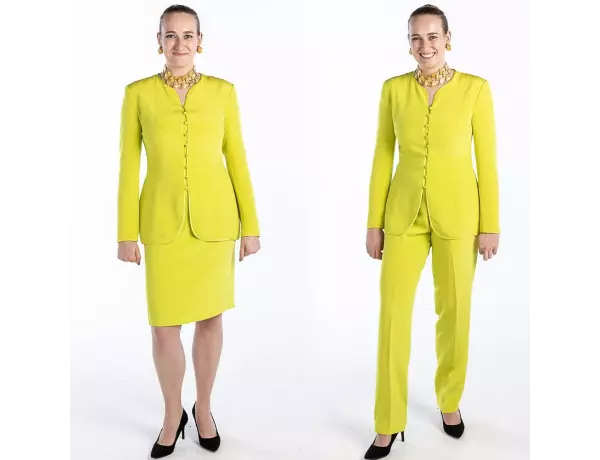 Jeanne Robertson was also one of the most fashion-savvy entertainers ever to set foot onstage. At 6 feet 2 inches tall, she was a striking presence and an elegant model for the couture and designer-label fashions she favored. Now through February 22, both fans and fashionistas will have the opportunity to bid on clothing, vintage costume jewelry and accessories from Robertson's personal collection in an online sale hosted by Everard Auctions & Appraisals. Nearly 150 lots will be offered, with online bidding available through Everard or LiveAuctioneers.
"We are honored to be able to open up Jeanne's closet to share with her fans and celebrate her stylish legacy," said Amanda Everard, president of Everard Auctions. "Her clothing is as vibrant, gorgeous and unique as she was."
Over the course of her career, Robertson wrote four books, including Don't Bungee Jump Naked and Other Important Stuff. She was heard on SiriusXM Satellite Radio's Laugh USA, Sirius Radio's Blue Collar Comedy and the network's Family Comedy Channel. She also recorded nine popular humor DVDs and CDs.
A former Miss North Carolina and star basketball player, Robertson traveled extensively, addressing civic clubs and corporations, and her one-woman shows regularly sold out. When she passed away in August 2021, she left an indelible mark on the history of comedy as well as the trove of timeless fashion and distinctive costume jewelry she had worn onstage during her performances.
Fashion expert Jane Tucker Radley has been instrumental in coordinating the auction selections. Radley first worked with Robertson in 1998 as a wardrobe consultant, after which they became close friends. Along with other recurring guests, including "Norma Rose" and "Beaver," Radley became known as "Jane Tuckah" on Robertson's YouTube Livestream series "Live From the Back Porch." In fact, most of the ensembles featured in the auction were chosen by Radley for her dear friend to wear during speaking engagements.
"When I first started working with Jeanne, she really didn't have any sense of style," Radley recalled. "Remember, she'd been a basketball player and coach. I had to push her out of her comfort zone." Radley said Robertson was "a dream to work with" and dressed her in bright, appealing colors because she was playing huge theaters and needed to be seen all the way from the balcony.
Many of the clothes to be auctioned are couture garments that were made for Robertson by New York designers Tom and Linda Platt. Both timeless and crafted to perfection, the duo's custom suits, dresses, tunics, and pants embody Jeanne's confident and classy presentation. Originally retailing in the thousands, many are being offered with starting bids of $60 and up.
The auction features an impeccably tailored tuxedo jacket with matching skirt and straight-leg pants by designer Donald Deal, who counts Sharon Stone and Laura Linney amongst his other celebrity clients. Designer suits by St. John and luxury shoes by Manolo Blahnik are included, as well.
Costume jewelry collectors can choose from such coveted pieces as a Jose and Maria Barrera pearl and crystal collar; earrings by Dior, brooches by Weiss and Ciner; and a magnificent gold-tone bib necklace by Pauline Trigere. "Jeanne loved antiquing," Radley said. "We got a lot of the costume jewelry at antique shops and flea markets."
Absentee bidding has opened, and the live online auction will take place on February 22, starting at 10 a.m. Eastern Time. A preview reception will be held on Feb. 15 from 5-7 p.m. at Everard Auctions' gallery, with additional previewing available Feb. 16-18 or by appointment. For additional information on any item in the auction, call 912-231-1376 or email [email protected]. Everard Auctions & Appraisals is located at 2436 Waters Ave., Savannah, GA 31404. Visit the company's website at www.everard.com.
Media Source
Follow
More in the auction industry