Buying guides for Classic Chanel Vintage Bag – Condition
What to consider when choosing the right condition of a pre owned  Classic Vintage Chanel Maxi Jumbo Flap Bag?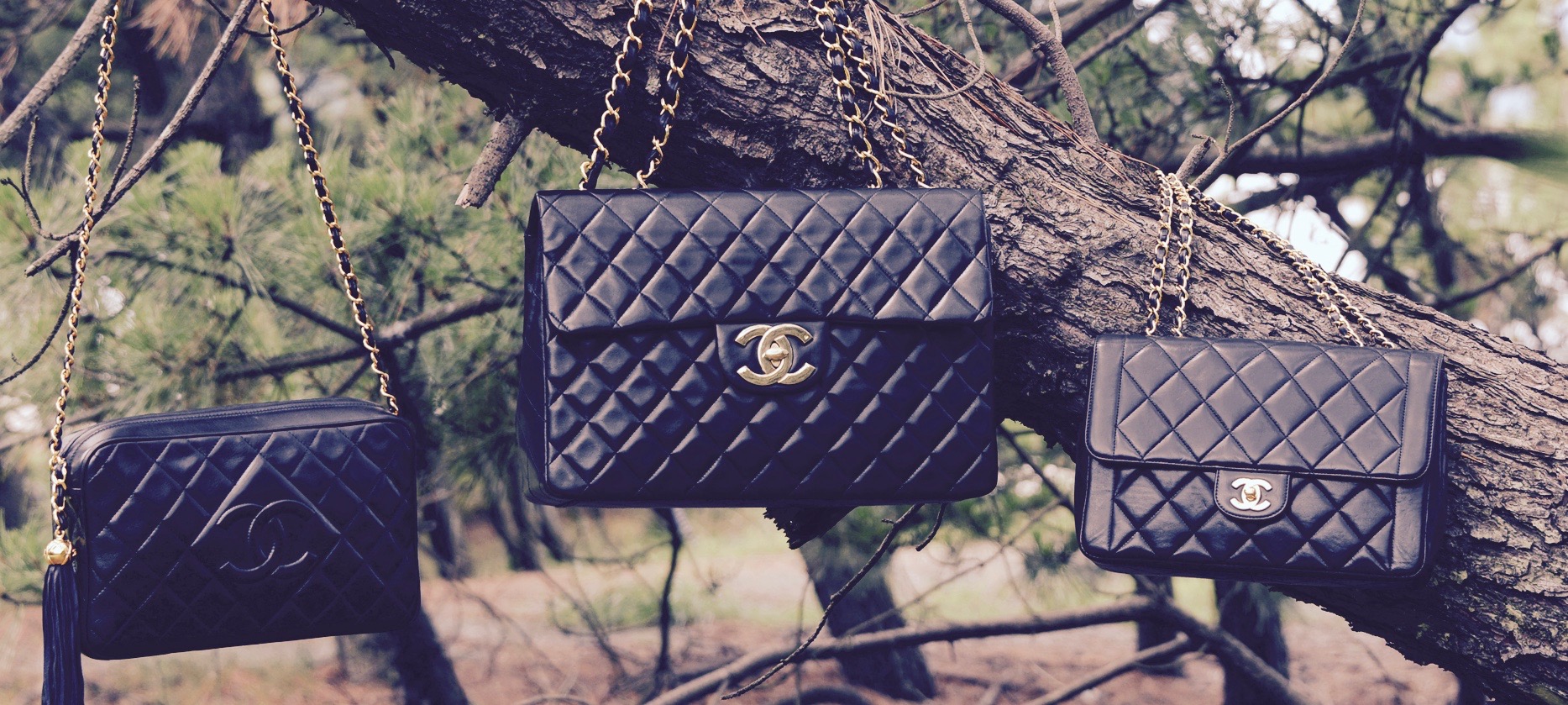 Ok so you considering to buy your first Vintage Chanel Classig bag. Most likely you know what style, color and features it should have but the question is how to judge the condition if you don't have experience in assessing pre owned Chanel Vintage bags?
Please read on as this article is for you! We are going to use our 10 years experience in assessing over 10,000 of preowned Chanel bags to give you a STEP BY STEP checklist to make sure you don't forget anything important.
We will use the most popular Vintage Chanel Classic bag – Maxi Jumbo for this article. Of course all information can be applied to other bags as well with light alteration depending on the style.
1. Overall Shape
Very first thing you notice as soon as the bag comes out of box or a dust bag is its shape. Depending on the style the bag should have enough stiffness to sit nicely by itself without leaning into any direction (side,front, back).
Bottom should be flat and not bended from caring heavy items or simply from improper storage.
Sidewalls should be as well nicely aligned and provide support to the Flap.
Flap when closed should be perfectly reaching the CC twist lock and not be leaning to one side as if in need for support after all night party.
Some issues with the shape can be fixed with bag shaper but honestly what you get is most likely what you will have to stick with so don't compromise if you don't have to on this point!

2. Leather
Here you will need you to put the bag closer to you and inspect following areas step by step.
– Surface Scratches on the leather outside
Usually think how the bag is carried and used and you will start noticing how the leather gets used in particular spots. Since this is a shoulder bag the back is touching the body and is exposed to more damage so look at it first and look for any scatches or dents that would indicate that there is a hidden issue. Some people cover light surface scratches with color but if you change the angle of light you can spot them. What you want to avoid are light cuts and anything that inticate damage to the surface.
– Abrasive marks
If the previous owner was not carreful and or was using sharp items or had long nails you will find some surface scratches or light abrasive marks in various spots. I generally look at the front and back and then follow the edges all around. If you spot any they will be in the most bended areas of the flap or on the edges of the flap as well as on the inside of the flap from nails.
– Square puffiness
Most classic bags as this Jumbo have squares that are created with the stitching techniques Chanel is using. Each square is nicely puffed when new but with use and improper storage they simply get worn and flatten. You can tell how the previous owner was looking after the bag just by looking at this aspect. However you should understand that most of the classics are not the youngest and have 20 years of use behind them 🙂 As far as I know there is no cure to this and what you get is what you will stick with. Usually I see the medium puffiness and occasionally perfection. However some people prefer the flat look as had been seen on some celebrities that keep theirs for long time and naturally get flatter. Lucky it is your personal preference !

3. Bottom Corners
This is again area that gets to show more damage than others due to its exposure to use the style and size of the bag it is likely to be affected by some degree.
Inspect every 4x bottom (front and back ) corner and look for some hidden agendas. Some corners get lightly scuffed which is usually fixable with color but others are deeper and are not reparable. As well along the corner edges are comonly seen cuts that previous owners do get to fix so be looking for them as well. Avoid anything that has only thin layer on the corner as it is just a question of time till it wears through and you end up with a hole in the bag. Make sure nothing was covered with a lot of color which you can notice by seeing a different shade in that area. Gently rub it and see if it wont reveal any deeper cuts, holes, pulled stitchings etc.
If corners are in good condition the rest is usually OK as well.
4. Edges
After you tick the Corners box it is time to move along the edges to assess them. Move slowly up from the bottom. Usually the end of edges where it comes under the flap have light scuffing so look there or and on the flap edges where the get used the most. Notice as well stitching and how the material comes together. If there is any cut or deep scuffing please question if you or your leather specialist will be able to help. Usually it is up to the specialist and the level of damage to see how much can be done. 

5. Hardware
By hardware we mean all the shiny metalic parts. Chanel used Gold plating in the old days to make it look good but as well to withstand the time and use. Hardware usually reveals the true use and or age of the item.
Start with the CC turn lock – CC logo due to its size and location is exposed to been scratched and discolored. Be aware that this is hard to fix as the Gold plating would get rubbed of by polishing and it is not replaceable due to its age as Chanel does not carry replacement hardware for older Chanel models.
Lift the Flap and inspect the male part of the hardware that has a tiny nip that twists to secure the flap in locked position. Common issues with this part are discoloration on top of the nip and stiffness when locking or opening it from the aging of the spring mechanism inside so make sure you test it that it works smoothly into left and right or opening and closing.
Another part that gets overlooked is the back plate of the CC logo. Look at the inside of the flap where you will find the plate that is connected to the front CC by 2 screws. Make sure they are there as they are very difficult to replace as Chanel has its own sizing. The plate should be clean and even though it is inside not visible to most people should be in relatively not scratched, aged or discolored state.
On top of the flap are round rings that are assuring smooth travel for the leather intertwined chain strap. Those rings consist out of two parts bottom and top that are screwed into each other. Some customers consider it to be a problem but it has been designed this way so you can remove it and clean it or gain access to the leather underneath. if loose it is an easy fix so dont panic. Inspect for any discoloration or other issues as scratches or else.

6. Chain
Chain consist usually out of leather and metal chain that is gold plated.
Common issues: Discoloration of the chain in various spots or overall. Scuffed leather in various spots or overall. Cuts to the leather, Leather ends loose stitching needs to be repaired as it is loose.
Run with your hand and eyes through the entire length of the chain. The most hidden area is the one that lives under the flap and is moving most through the rings that has hidden agenda but depending on the owner and how she looked after the bag there could be some other spots as well.
If the chain is discolored there is not much that can be done. if the leather part has light scuffs usually coloring it helps. As well the ends not being tightly attached by the original string it is a DIY solution but any professional leather specialist should be able to solve it as well.

7. Inside Leather
As soon as you open the flap look at the leather around the stitched CC logo for any surface scratches. Common issue is to find scratches from nails as previous owner was putting hand in and out. Some bags even if outside is great have this issue.
Zipper and pull for side pocket. Inspect the functionality of it and if it is running smoothly and has a CC pendant moving smoothly and free of any scratches or aging signs. As well if the supporting ring has not been tampered with.
Inside Red leather condition. Look at all edges of all pockets and leather around the zipper as those are usually cut or have some scuffing done to them from placing items in the compartments.
Check as well all bottom corners for any dirt, marks, water stains or deformation as many items could have been carried inside and spilled or left forgotten.
Hologram – very important point for reselling any bag is the condition of the hologram ( Serial number) . In this bag it is in a compromising location and often gets damaged and removed partially or all together. Your best choice is to get a hologram where you can read the numbers clearly and compare with a card if one comes with it. Please note that the serial number can not be replaced and or fixed. If Chanel replaces the inside leather lining it removes the hologram and it wont be replaced only service sticker with date of repair is included from Chanel Service.

8. Smell
This is a tough one and very much depending on personal preference. Sometimes very hard for us sellers to predict as we all have diferent sense sensitivity when it comes to smell. However beware of Mold or cigarette smell that can be hard to reverse.
We do a sniff test by putting our nose inside the bag and inhale deeply to see if there is anything to point out. If the smell is strong mold there is a chance of bacteria living in it and can be cured with cleaning and anti smell products as dryer sheets.
9. Accessories
If you are lucky enough to get a card, booklet, dust bag and box please take time to look through them as well as they usually add value to your purchase and are hard to replace as they are not sold separately.
Card – common issues – white coating on the numbers comes off partialy, Card gets scratched and broken from bending or improper storage.
Dust Bag – common issues – CC logo comes off, Stretched and with holes or cuts, Dirty or other type of stains, Smell
Box – common issues – tipped ends, broken edges, dirty or moldy marks and smell inside

10. Price
So how much should you pay for a Chanel Maxi Jumbo bag and in what condition? Well this is very much a question of supply and demand. We have been in business for over 10 years and I remember when you could get one for around $800USD in excellent condition. Since then the price have been constantly increasing with some short-lived falls. Lately the price has settled btw $2000 -$3000USD depending on the platform you are choosing for purchasing. Be smart and try to get the best for your money but from experience don't be afraid to pay a little more for a good one if you can afford it.
Personal comments:
I would like to mention as well how the pricing works on most platforms so you know what you are paying for. You need to know that most platforms (eBay, Tradesy, 1stdibs) are charging btw 12-20% on transaction and processing fees so if you are buying a $3000USD bag the fees to the site are btw $400 – $600 which is a lot. Now if seller is offering free postage add another $100. What the seller will be getting is in many cases is much less than what the fees are so it is very hard to put up a fair price that benefits all and even harder to discount in many cases. There is no magic tree where these type of bags grow and only few chosen have access to on contrary we all have to work hard to find those bags and it is getting harder so please work with us but don't hesitate to reach out with any fair question you might have.
Chanel Maxi Jumbo Bag price from 2010
Conclusion
Getting a vintage pre owned bag can be a rewarding experience and it is all about learning so don't post pone it and get right on it. Luckily the system is benefiting the buyer and you have many choices these days that had been not available in the past. However the older classics are not getting any younger and the pristine conditions collectors items are always in demand.
Congratulations you have made it to the end! If you still have some questions or are not sure if you are doing the right thing please let us know we will be happy to help.
I hope you find this post helpful and if yes please dont hesitate to share and or let us know.
Thank you for reading
fmasarovic team
Dealer
Follow
More in the auction industry