Automaton Used in E.T. the Extra-Terrestrial Sells for $2.5 Million at Julien's Auctions
The recent Icons & Idols Hollywood Legends, Rebels, Heroes, & Extra Terrestrials sale from Julien's Auctions of Beverly Hills, CA was a star-studded event from start to finish. This two day auction, held on December 17 and 18, 2022, featured 1,500 lots of props, materials, and ephemera and realized over USD 8.5 million. Notably, an automaton used in the making of E.T. the Extra-Terrestrial sold for over $2 million.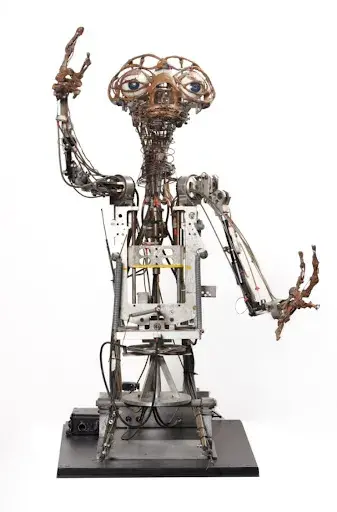 It's no surprise that the "academy award" of this auction was lot #1052, an E.T. the Extra-Terrestrial mechatronic E.T. character. Estimated at $2 million to $4 million, it sold for $2.56 million and generated 13 bids. This automaton was made in 1982 and starred in Steven Spielberg's iconic 1982 film E.T. the Extra-Terrestrial. It was made from duralumin, a metal alloy made from aluminum, copper, and other materials. The figure featured 85 points of articulation overall, including 32 which enabled it to create lifelike facial expressions. And we all know how important those endearing, heartbreaking, and inspirational moments were to the story! During filming, this E.T. required up to a dozen different engineers to bring him to life though radio and mechanically controlled operations. Just imagine what it took to make his impossibly long and narrow fingers bend and point in such lifelike ways!
E.T. the Extra-Terrestrial was an instant blockbuster upon its release and held the record as the highest grossing film of all time through 1993. Its production budget was $10.5 million; it would go on to make nearly $795 million at the box office. In 1994, the movie was added to the United States National Film Registry of the Library of Congress.

Another notable highlight from the auction was unquestionably of biblical proportions. Here we have lot #82, Charlton Heston's The Ten Commandments Moses staff. Estimated at $20,000 to $30,000, it traded hands at $448,000– nearly 15 times its low estimate! It generated 31 bids. This 83-inch long prop from the 1956 film was made from fiberglass with a dense foam interior core. It appeared numerous times on camera, including in the film's signature parting of the Red Sea sequence. This staff is just one of three total props of its type extant.
Like E.T. the Extra-Terrestrial, The Ten Commandments was a huge financial success and became a permanent fixture in the American cinematic lexicon. It has been shown in America on national network television in prime time during the Passover/Easter season every year since 1973. The film's initial release generated $122.7 million at the box office on a $13 million budget. Charton Heston (American, 1923 – 2008), who played Moses in the film, would go on to star in several other popular movies including Ben Hur and Planet of the Apes. He later served as the president of the National Rifle Association from 1998 to 2003.

The next top prop in this sale was lot #1195, a Nimbus 2000 hero ride from Harry Potter and the Prisoner of Azkaban. It had 15 bids, was estimated at $80,000 to $100,000, and finally landed at $128,000. This flying broom apparatus appeared in the 2004 film. Its design elements included a tubular metal frame, brass footrests, wooden bristles, and a gold "Nimbus 2000" logo on the end of the handle. Used to play the fictional game Quidditch– which appears throughout the movie franchise– this specific example was used in the production of the famous game scene in the third film in the Harry Potter series.
Considered by many audiences and critics to be the finest of the eight Harry Potter movies made, Harry Potter and the Prisoner of Azkaban had a production budget of $130 million and generated nearly $800 million at the box office.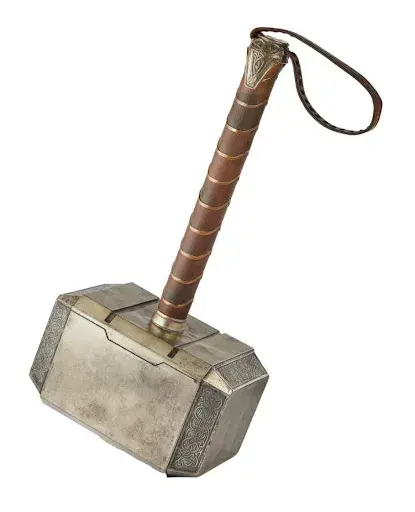 The next heavy hitting prop in this sale was lot #1144, an original Mjölnir hammer from the 2013 action film Thor: The Dark World. Estimated at $40,000 to $60,000, it weighed in at $115,200 and generated 17 bids. The hammer was made from metalized copper and was decorated with runes, Asgardian lettering, and an embroidered leather strap. It also had natural wear and use from on-set handling.
Mjölnir is the hammer of the thunder god Thor in Norse mythology. It can be used for good or evil purposes. This hammer was an important and constant symbol throughout Thor: The Dark World, which starred actor Chris Hemsworth as Thor. Mjölnir was even featured on the film's promotional poster image. Several versions of this hammer prop were made for various scenes across the film. Given its beautiful and intricate detailing, this exact example most likely was used for close-up shots and insert shots.

Our final Julien's sale highlight is one hot ticket, too. This is lot #285, a cocktail dress owned and worn by Marilyn Monroe. Estimated at $40,000 to $60,000, it sold for $256,000 and generated 22 bids. This dress was in excellent condition and was made from black wool fabric. It was detailed with spaghetti straps and a back zipper. Monroe wore this dress in several images taken by Milton Greene on January 28, 1955. The sale of this dress is solid proof that interest in all things Marilyn is as strong as ever, even six decades after her untimely passing. On June 4, 2005, Julien's Auctions sold this dress as lot #19 for $20,000 during its Property From The Estate of Marilyn Monroe auction.
For more information on the recent sale results, visit Julien's Auctions.
Media Source
Follow
More in the auction industry