Auction Review: Several Important Op Art Prints Realize Strong Prices at Heritage Auctions
Bridget Riley, Larry Zox, Victor Vasarely, and Yaacov Agam led Heritage Auctions' recent online In Focus: Op Art Showcase Auction to modest success. The sale concluded on December 2, 2021. Here are some of the top lots from the auction.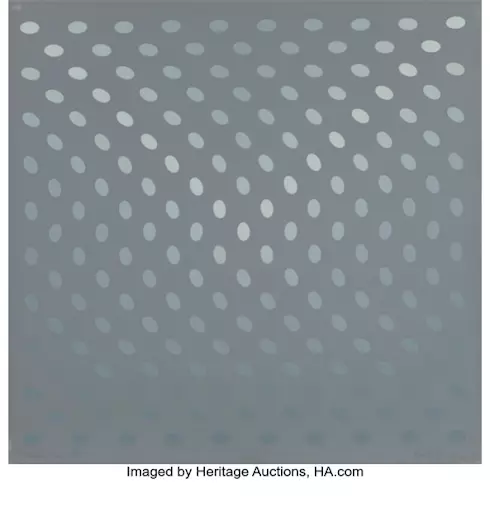 Until 1960, Bridget Riley was primarily known as an Impressionist who depicted landscapes. In 1967, however, Riley began experimenting with color compositions, optical effects, and geometric abstractions. The use of intricate patterns along with vibrant colors in her paintings produced illusions of movement, which became a primary theme throughout her career. The goal of her art is to create a sense of vibration that can draw the viewer's eye.
Among the notable results of the recent Op Art auction was a signed screenprint work by Bridget Riley. This piece held the highest price in the auction, selling for USD 7,812. Executed in 1968, it depicts white polka dots against a gray backdrop.
Though Hungarian-French artist Victor Vasarely studied medicine at Budapest University in his early 20s, he later embraced art at the Muhely Academy. While pursuing a career in art, he was heavily influenced by color theorist and artist Josef Albers and Wassily Kandinsky. Vasarely's paintings depicted various dimensions and depth in color. This led Vasarely to be known as the "father of the Op Art movement." The critical foundation of the Op Art movement was the interconnectedness of colors, forms, and patterns as a single element. Such composition is often found in many of Vasarely's works.
Although Vasarely's early pieces in the 1950s and 60s focused on color theory, he went on to explore and push the limits of two-dimensional art. His work featured intricate and complex color patterns with a two-dimensional surface, providing the viewer with a sense of kinetic energy.
The recent auction sold Victor Vasarely's Tsikos C for $1,562. This serigraph and collage on wove paper shows a striking monochrome composition. Layered white stripes twist and turn to resemble two intertwined zebras.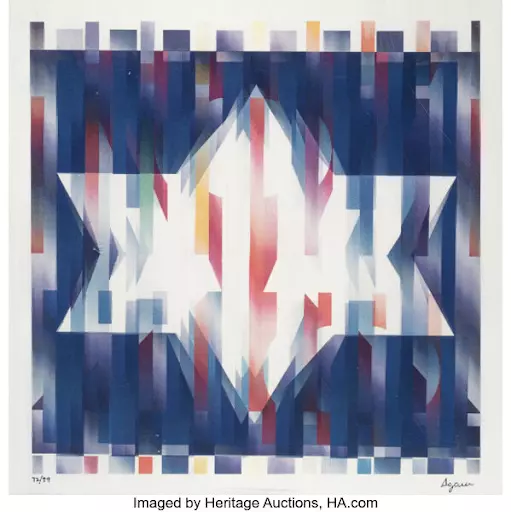 "My intention was to create a work of art which would transcend the visible, which cannot be perceived except in stages, with the understanding that it is a partial revelation and not the perpetuation of the existing," Yaacov Agam has said, describing the nature of his work. By incorporating geometric forms, Agam's relief paintings illustrate the movement of his composition. He seeks to engage viewers, allowing them to manipulate various elements of the works.
An agamograph work by Agam was also a key highlight of the sale. It sold for $687.50. Titled Star of Hope, the offered piece uses geometry and bands of color to show a stretched Star of David.
View the complete results of the In Focus: Op Art Showcase Auction by visiting the Heritage Auctions website.
Interested in more contemporary art? Auction Daily recently spotlighted underappreciated contemporary artists featured in Stair's 20th Century, Modern & Contemporary Fine Art auction.
Media Source
Follow
More in the auction industry