Artist to Know: Alma Thomas
Doyle Sells Exuberant Paintings by American Abstract Artist
American artist Alma Thomas pushed boundaries at every turn. As a young Black woman in the 1910s, doors were repeatedly closed to her as she sought opportunities in art, architecture, and academia. Even her well-studied professional career as a painter began after Thomas retired from teaching public school in Washington, D. C. The three decades building up to Thomas' serious pursuit of art were a time of deep learning and thinking. This proved to be invaluable when she started painting in earnest, releasing joyful abstraction onto her canvases. By the end of her life, Thomas was recognized as a leader of modern color theory and among the greatest American artists of the 20th century.
Doyle recently auctioned two paintings by Alma Thomas in its 20th Century Abstraction sale. Both works far exceeded their presale estimates. Auction Daily takes a closer look at Thomas' work after the event.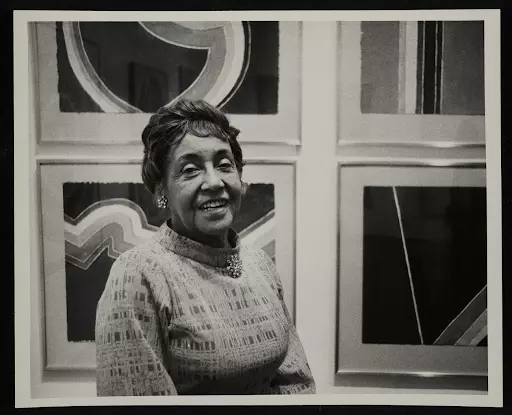 Alma Thomas gained access to culture and the arts as a young girl in Columbus, Georgia. Her parents filled their home with music and invited thinkers into their living room. However, the systemic racism and violence in Georgia during the early 20th century threatened this supportive environment. Segregation blocked Thomas and her sisters from pursuing educational opportunities. Events like the Atlanta racial massacre of 1906 and resulting riot may have also prompted the Thomas family's decision to move to Washington, D. C.
Life in the North suited Thomas. She graduated from high school, taught kindergarten, and pursued her bachelor's degree in art at Howard University in the 1920s. She was the University's first graduate of the Fine Arts program. Thomas put her newly-minted education to good use, going on to teach art to junior high school students. Beyond the classroom, she kept her finger on the pulse of D. C.'s art scene. Thomas attended gallery shows, participated in community art initiatives, and joined Loïs Mailou Jones' "Little Paris Studio" artist group.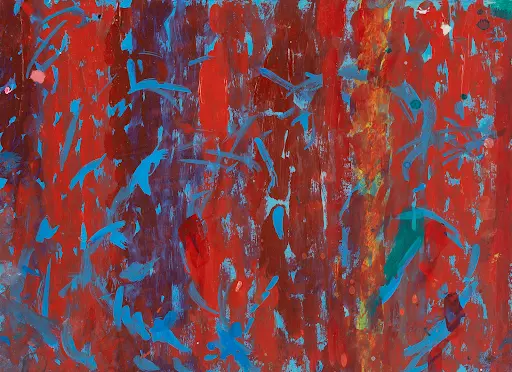 Alma Thomas came into her own after retiring from teaching in 1960. She embraced Abstract Expressionism and Color Field painting with gusto. Inspiration poured into her living room-turned-studio, from the stars of the night sky to sunlight filtering through the leaves outside. Thomas transformed these images in her paintings to celebrate color and all its possibilities. Short, rectangular brushstrokes arrayed in brick-like patterns (which she called "Alma's Stripes") defined her now-iconic style.
Thomas intended to emphasize beauty and joy rather than political critiques or specific narratives. "Through color, I have sought to concentrate on beauty and happiness, rather than on man's inhumanity to man," she said.
Doyle offered two works by Alma Thomas in its recent 20th Century Abstraction event. The first was an untitled acrylic on paper work that likely dates back to Thomas' later years. Unlike her most celebrated paintings, this piece strays away from geometric patterns and rectangular stripes. Instead, dashes of blue pepper a bright red background. To the right is a deep vein of yellow and ochre. The untitled painting sold for USD 28,350 against a high estimate of $20,000. The next lot in the sale was Thomas' untitled watercolor painting from the early 1970s. In this work, Thomas added dabs of black paint over irregular rectangles in primary and secondary colors. This work more than tripled its high estimate to sell for $31,500, including buyer's premium.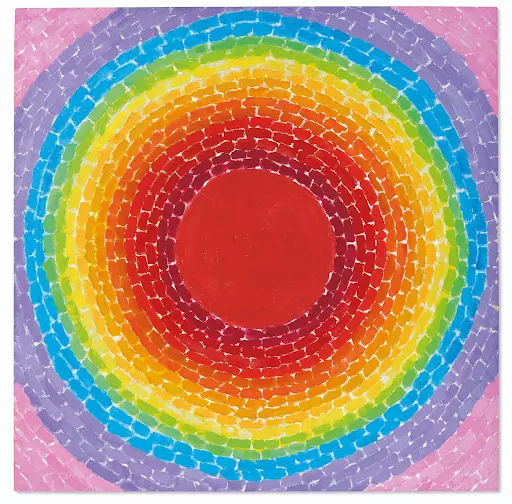 Thomas' popularity only increased during her mature years and sustained through the end of her life. She became the first Black American woman to have a solo exhibition at the Whitney Museum of American Art in 1972, and the art world closely watched her rise. In a review, James R. Mellow of The New York Times described her works as "expert abstractions, tachiste in style, faultless in their handling of color." After her death in 1978, Thomas entered the ranks of beloved American artists. This was further cemented when three of her paintings were displayed at the White House during Barack Obama's presidency; Resurrection from 1966 remains in the permanent collection.
Several of Alma Thomas' paintings have made waves at auction in recent years. Christie's elevated Thomas' auction record in 2019 when it sold A Fantastic Sunset for $2.65 million. This radiant painting reflects the artist's best-known style, complete with luminous colors, Alma's Stripes, and concentric circles. Last year, a painting by Thomas surpassed that price in a private sale. The Greenville County Museum of Art deaccessioned Alma's Flower Garden in 2021. It sold to an unknown buyer for $2.8 million.
Find the complete results from Doyle's recent 20th Century Abstraction event by visiting the auction house's website. The sale produced additional strong results for Pratuang Emjaroean, Tamara de Lempicka, Toko Shinoda, Ramón Oviedo, and Ed Clark.
Media Source
Follow
More in the auction industry