Art for the Buddhist Ritual at WR Auctions
New to Bidsquare is WR Auction Gallery from New York City and on March 31st they will be hosting their first sale with the platform, an 'Asian & Fine Jewelry Sale.'
This auction features over 230 lots of Asian works of art from China and Japan, with the categories comprising of porcelain, ceramics, metalwork, jade carvings, jadeite jewelry, scholar art and paintings. In addition, they will be selling a selection of objects that relate to Buddhist rituals.
One of the highlights is lot 25024 Chinese bronze Buddhist figure dated to possibly the Qing Dynasty. This figure is seated in padmasana (lotus position) on a double base. His right hand is in the gesture of dhyana (meditation), while the left is in abhaya (protection).
He wears long flowing monastic robes that expose a chest with draping jewelry. The head has downcast eyes and surmounted by a tall pointed crown. It's quite possible that this Buddhist deity is Avalokiteshvara, the bodhisattva of compassion.
Bodhisattvas are beings who have reached enlightenment, but chose to remain on the earth to aid humanity's suffering. This current example bears many characteristics of Avalokiteshvara including a crown, ornate jewelry, and the various hand gestures. Remnants of lacquered gilding remain throughout the figure, and he has a good height of 12 inches. This Buddhist figure is estimated at $14,000-$16,000 and would have been placed on an altar.
Another highlight from WR Auction is lot 25062, a pair of Chinese cloisonné enamel vases. These vases are both quite large with a height of 19 inches and are extremely decorative. The body of the vases contain colour decorations pertaining Buddhism, all on a light blue ground. This includes the presence of large lotus blooms and the 'Eight Buddhist Emblems.'
The shapes of these vases hark back to earlier vessels made of metal that were used for ritual offerings. These types of vases would traditionally been water sprinklers, but in this present case, they would have had more decorative functions such as holding flowers, or simply for display. These vases are estimated at $5,500-$6,500.
Lot 25029 is another lot that is associated with the Buddhist ritual. Here we find a pair of large censers made of silver and attractively inlay with turquoise, coral and jade mounts. Made in the region bordering China and Mongolia, the repoussé and chase work on the vessels' body are quite stunning. They depict large dragons soaring over a heavenly sky. The top of the sky contains the 'Eight Buddhist Emblems' and the whole is raised on three Buddhist guardian heads.
Even though these were probably used as decorative vessels at the present state, the covers can be taken off so that the vessels can be actually used as incense burners. The estimate of $2,000-$3,000 is attractively conservative for this pair of censers.
Finally, in the WR Auction sale is lot 25055a a pair of Chinese spinach green jade covered vases. Even though these are unrelated to Buddhist rituals and were probably made during the first half of the 20th Century, their immense size gives them a major decorative presence. The bodies contain a well-carved scene of phoenixes, while the covers feature large dragons around the flaming pearl of wisdom. The sides have ornate dragon handles and cloud-form flanges that run from the neck to the base. These spinach green jade vases are estimated at $5,000-$6,000.
View the full catalog for WR Auction Gallery's March Asian & Fine Jewelry Sale on March 31st.
Don't have a Bidsquare account? Sign up here!
Be in the know about upcoming auctions and exciting post-sale results by following us on Facebook and Instagram.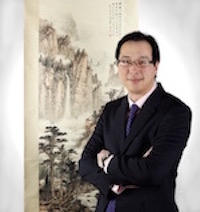 Anthony Wu is an Asian Art consultant, researcher, writer based in Toronto, Canada. After working eleven years as the Asian Art specialist at two of Canada's largest regional auctions, he started his own art advising firm where he consults for various auction houses, museums, and private clients in Canada and the USA. He is a certified Chinese Fine Art appraiser with the Appraisers Association of America.
More in the auction industry