Antique and vintage dolls are dressed to impress at Stephenson's Nov. 13 auction
Featured: Fine-quality antique French and German dolls, popular mid-century Ginny dolls, and ever-popular Barbies
SOUTHAMPTON, Pa. – In the spirit of the upcoming holiday season, Stephenson's in suburban Philadelphia will host a Sunday, November 13 gallery auction of antique and vintage dolls from estates and private collections in the Mid-Atlantic region.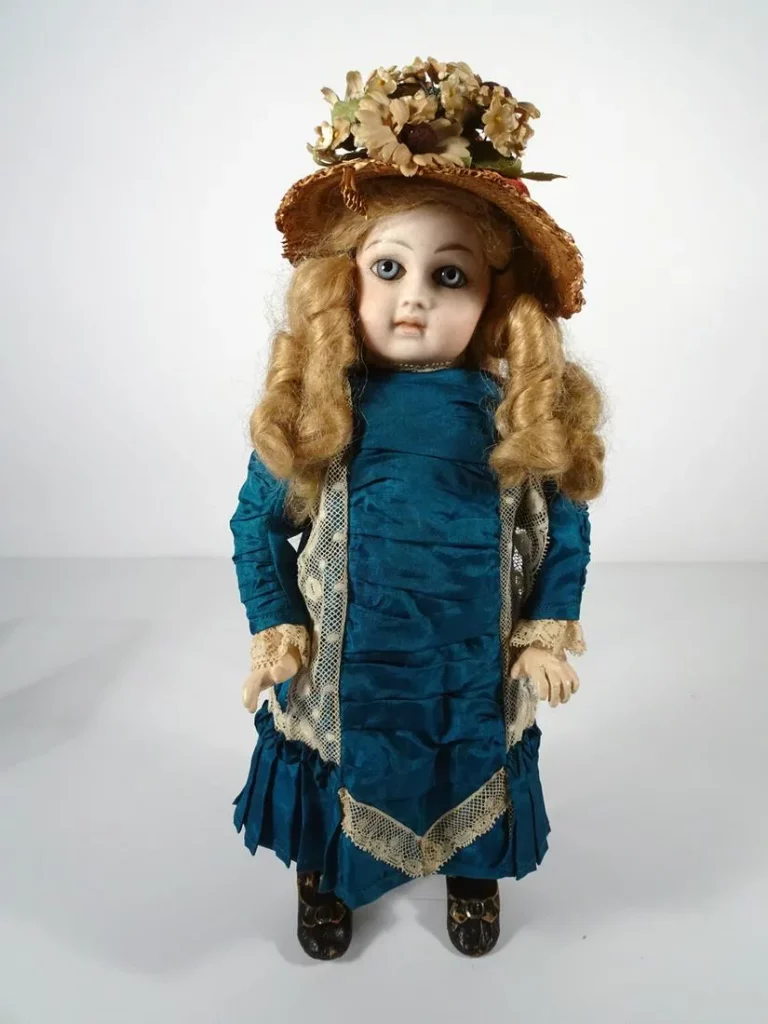 In addition to beautiful dolls dating from the 19th century through modern times, the 242-lot auction includes several automata, Steiff teddies and soft toys, doll clothing and accessories, and many delightful extras such as teas sets, tableware and wardrobe trunks. Bid absentee or live online through LiveAuctioneers.
One of the star lots is a 13-inch-tall Jumeau bisque-head doll wearing a lace-trimmed blue dress and fancy hat. The doll is stamped Jumeau Medaille d'Or Paris on its composition and wood jointed body and has all of the fine features one would expect of a Jumeau production – blue paperweight eyes, feathered eyebrows, and pierced ears. The pre-sale estimate is $2,000-$4,000.
Looking very official, a rare circa-1915 Gebruder Heubach doll is dressed in the uniform of a Prussian or German soldier, complete with epaulets, painted boots, and a sculpted, spiked helmet known as a pickelhaube. He stands 9½ inches high and marches to auction with an $800-$1,500 estimate.
A 9½-inch lace-dressed French bisque bebe by Jules Steiner is marked Le Parisien on its bisque socket head, and Le Parisien … Paris on its hip. Its five-piece joined composition body is original, and facial features include blue paperweight eyes, painted lashes, feathered brows, pierced ears, and an open mouth with teeth. The French charmer wears a blonde mohair wig under a nicely decorated dustcap-style hat. Estimate: $800-$1,200
Another French production, a 13-inch fashion doll attributed to Francois Gaultier, has a bisque socket head and shoulder plate, and a kid-leather gusset jointed body. The doll has fixed blue paperweight eyes, painted eyelashes and eyebrows, a closed mouth and pierced ears. Her ensemble consists of a garnet-red velvet dress, a simple headband-style hair adornment, and lace underpinnings . Estimate: $800-$1,200
The lucky buyer of Lot 219 will get two for the price of one. The duo of antique SFBJ (France) bisque twin dolls – one blonde and the other brunette – are comfortably ensconced in a trunk that also includes a very nice "mommy-made" wardrobe. Each of the smiling tots is approximately 10 inches tall and has a jointed 5-piece body. The adorable siblings are offered with an $850-$1,200 estimate.
One of the most popular of all mid-century American dolls is Vogue's Ginny, known for her perfectly matched outfits that included the accessories little girls loved to add when dressing their make-believe friend. An especially well-attired Black Ginny walker doll is picture perfect in her white-trimmed, full-skirted dress, straw hat, white knit socks, red Mary Jane shoes and her "first corsage," which is contained in a Vogue see-through box suspended from the doll's wrist. The auction estimate is $600-$800.
Other noteworthy dolls include an antique SFBJ bisque googly #245 doll, $900-$1,400; a 15-inch antique K * R (Kammer & Reinhardt) 101 bisque-head doll with a ball-jointed body, painted eyes and closed mouth, $500-$1,000; and 24-inch antique bisque-head doll with a body marked Jumeau and head marked 15, $600-$1,000.
Several antique European automata add whimsy to the sale, including a German crank-operated example styled as a five-piece band. Each of the musicians has a bisque head and will participate in playing a "tune" when the crank handle is turned. The auction estimate is $800-$1,200.
Stephenson's Sunday, November 13 Dolls and More auction will take place at the company's spacious gallery located at 1005 Industrial Blvd., Southampton (Bucks County), PA 18966. The session will begin at 2 p.m. Eastern Time, with a preview from 12 noon to 2 p.m . All forms of bidding will be available, including live in the gallery, absentee, by phone, or live via the Internet through LiveAuctioneers. For additional information on any lot in the sale, call Cindy Stephenson at 215-322-6182 or e-mail [email protected].
Media Source
Follow
More in the auction industry