5 LGBTQ+ Artists to Know This Pride Month
June marks Pride Month, an annual celebration of LGBTQ+ individuals, history, and culture. Visibility is an ongoing challenge for LGBTQ+ individuals, especially in traditional sectors like the auction world. This Pride Month, Auction Daily profiles five contemporary LGBTQ+ artists to watch.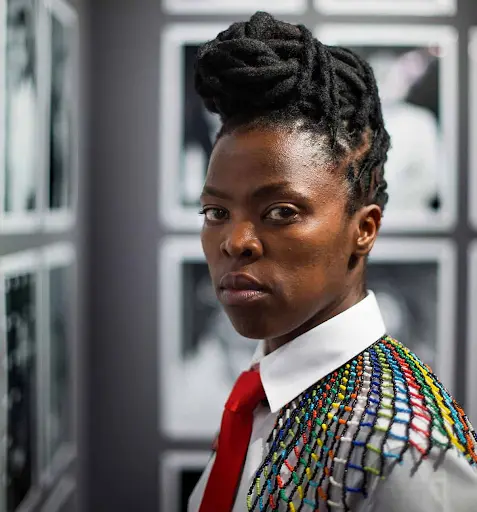 Zanele Muholi
Photographer and documentarian Zanele Muholi describes themself as a "visual activist" rather than an artist. Born, raised, and based in South Africa, Muholi has built their career on celebrating the lives of lesbian, gay, transgender, and intersex individuals. They deliberately emphasize the humanity, beauty, and strength of their participants. Muholi aims to build a more positive and inclusive representation of LGBTQ+ Africans.
"To think that people are being recognized and respected and have been given a space to be themselves— it heals. For too long, people have been ignored and disrespected," Muholi told TIME. "The archive means we are counted in history."
Zanele Muholi's work began to spread internationally after they exhibited at Documenta in 2012. Since then, their stark photographs have climbed in price at auction. Zodwa, Paris from Somnyama Ngonyama notably achieved GBP 35,000 (USD 44,600) with Phillips in 2020. In recent years, Muholi prints have consistently sold for $25,000 and above.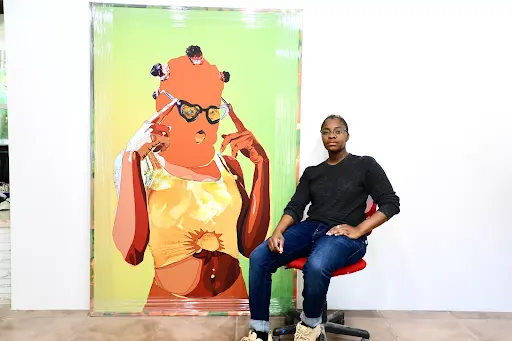 Amani Lewis
Baltimore-based visual artist Amani Lewis creates vibrant mixed media paintings that present new subjects in the field of portraiture. Their work champions social change and brings untold stories to light. Lewis' work is saturated in color, layering materials and textures to achieve a dizzying effect. Like many contemporary LGBTQ+ artists, Lewis also centers social justice. They give a portion of their sale proceeds to their sitters, and they intentionally uplift Black and queer communities.
At auction, Amani Lewis built a loyal following over the last few years. Phillips has played a sizable role in bringing Lewis' work to an international audience. Their auction record currently rests at GBP 94,500 (USD 125,000) after Phillips sold For Angela and her kin…in the garden (NITT edition) in March of 2022.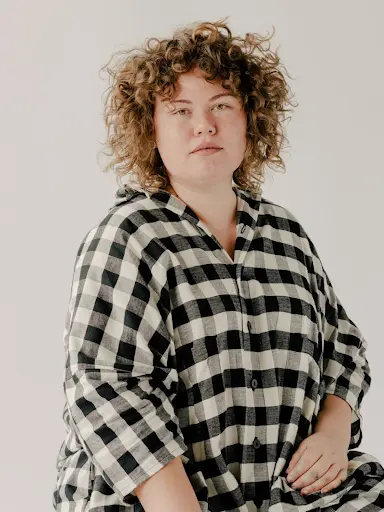 Christina Quarles
Situated at the intersection of multiple identities, contemporary American artist Christina Quarles is no stranger to ambiguity. She identifies as "a fat queer woman born to a white mother and a Black father," someone who resides along multiple social boundaries. "I hope to make paintings that are a refuge for those of us who experience ambiguity on a daily basis and as a means to unlock the potential for ambiguity within those who have never had cause to question their own identity position," Quarles told Artsy in 2019.
Christina Quarles' work shows hazy human forms in unusual positions— bent into Cubist angles or impossibly intertwined with other figures. Her rise to fame began in 2017, followed by a slightly later entrance to the auction market. Most recently, Quarles' work achieved a new record at auction. Sotheby's sold Night Fell Upon Us Up On Us for USD 4,527,000 against an $800,000 high estimate in May of 2022.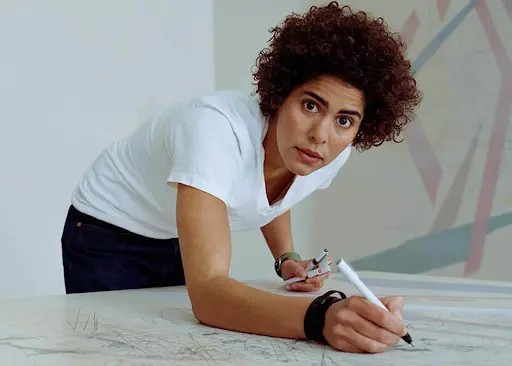 Julie Mehretu
Among contemporary LGBTQ+ artists, Julie Mehretu boasts a longer history than most. She has been active since the late 1990s, slowly gathering acclaim in the decades that followed. Mehretu is now a renowned visual artist and explorer of sociopolitical themes. The Ethiopian American artist creates layered works that explore how change affects the texture of a place. Power, also, defines Mehretu's work. "I don't think of architectural language as just a metaphor about space, but about spaces of power, about ideas of power," she has stated.
At auction, Julie Mehretu's work typically sells for $100,000 or above. Retopistics: A Renegade Excavation from 2001 currently holds the artist's auction record. Christie's auctioned the ink and acrylic piece for USD 4,603,750 in 2013. Her market has held steady in the years since, and Mehretu's rise shows no signs of slowing.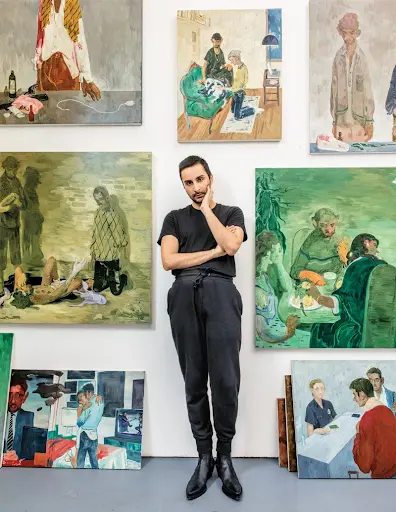 Salman Toor
LGBTQ+ artist Salman Toor started to attract headlines before his Whitney Museum of American Art solo show in late 2020. His dreamy paintings of queer life especially resonated during several years of pandemic isolation. Intimacy— in all its forms— is a central theme of Toor's work. The queer figures in his paintings inhabit a world of their own. This is intentional. Born and raised in Lahore, Pakistan before emigrating to the United States, Toor used art as an escape starting at a young age.
"In a childhood that was otherwise filled with strange looks from elders and bullies at school, drawing was a way of inhabiting and claiming the empowerment and sensuality of my imaginary subjects," Toor told Galerie in 2020. 
Salman Toor's auction market has exploded in recent years. Phillips established the artist's auction record in 2021 when Girl with Driver achieved HKD 6,905,000 (USD 889,800). Prices for his paintings have routinely exceeded USD 800,000 in 2022. On June 30, 2022, Phillips will offer Toor's Three Men with Trays painting during the 20th Century & Contemporary Art Evening Sale in London. It may fetch up to GBP 350,000 (USD 429,000).
Last year, Auction Daily explored the many celebrations of Pride Month 2021 in the auction industry.
Media Source
Follow
More in the auction industry