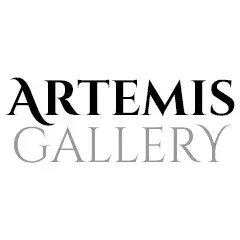 Pre-Columbian Olmec Jade Mask and 260 Million-Year-Old Permian Shark Fossil Lead Artemis Gallery Auction
Oct 07, 2021 10:00 EDT
Updated on
This autumn, Artemis Gallery will bring museum-worthy items from pre-Columbian, Egyptian, Greek, Roman, and other civilizations to auction. The Exceptional Antiquities Ethnographic Fine Art auction will open with a pre-Columbian Olmec jade maskette. The finely carved green omphacite jade mask dates back to 900 to 600 BCE. By that time, Olmec sculptors had mastered the art of recreating human forms. Omphacite jade, a precious material to the Olmecs, denoted ranks among the ruling class. The available mask has remarkably expressive features. The feline eyes, flat nose, and a downturned open mouth with flared upper lips, as described by Marshall Saville in 1929, depict a were-jaguar. The Olmecs believed this supernatural entity had divine powers.
Fossil enthusiasts will find a giant Permian Orthacanthus shark fossil with its sharp teeth exposed. This rare fossil is estimated to be 260 million years old and was found in Germany, Rheinland-Pfalz. Identified as male, the Orthacanthus fossil has claspers on both sides of the ventral (underside) region. The shark's unusual forked crowns are well preserved.
Jewelry collectors can find a rare Byzantine gold and emerald necklace that was previously sold by Christie's. It dates back to the 6th to 7th-century Roman-Byzantine empire. This era denoted a shift towards Christianity, and Christian motifs started to appear even in jewelry. It also saw a rise in the use of precious stones such as emeralds. Gold became the primary metal in jewelry worn by affluent Byzantine women. The upcoming auction offers more than 300 lots of Spanish Colonial, Etruscan, Asian, African, and Native American artifacts and fossils, alongside ancient jewelry and visual art. View the catalog and register to bid on Bidsquare.
Price Range:
$400 - $270,000
Interesting lots include:
| Item Image | Item Name | Estimate |
| --- | --- | --- |
| | Stunning Olmec Jade Maskette Were-Jaguar Transforming | Estimate: $180,000 - $270,000 Starting Bid:$90,000 |
| | Giant Permian Orthacanthus Shark Fossil - Teeth Exposed | Estimate: $150,000 - $200,000 Starting Bid:$80,000 |
| | Translated Egyptian Glazed Faience Ushabti for Psamtek | Estimate: $15,000 - $22,500 Starting Bid:$8,000 |
| | 19th C. Hawaiian / Chinese Wood & Brass Opium Pipe | Estimate: $2,500 - $3,500 Starting Bid:$1,500 |
| | Byzantine Gold & Emerald Necklace, ex-Christie's | Estimate: $50,000 - $80,000 Starting Bid:$12,000 |
Contact Info
Artemis Gallery

PO Box 714, Erie, Colorado 80516
720-890-7700