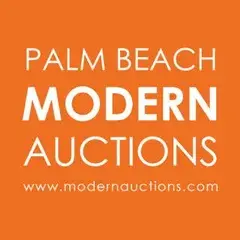 Illusionistic Paintings by Chuck Close and Richard Anuszkiewicz Come to Sale With Palm Beach Modern Auctions
May 20, 2023 12:00 EDT
Updated on
American visual artist Chuck Close was a celebrated photographer and painter who made photorealist and abstract portraits. He adapted a brush-holding device and innovative techniques in the late 1980s after being paralyzed by blockage of the anterior spinal artery.
Close had a unique mathematical approach to his work. He superimposed a grid on a photograph and then transferred a proportional grid to his massive canvases. One such watercolor and pencil on paper painting by Close, titled Leslie, is a key highlight of the upcoming sale at Palm Beach Modern Auctions. The image is illusionistic when viewed in close-up range and at a distance. Another painting of interest is an acrylic on panel work by Richard Anuszkiewicz, one of the exponents of Op Art. The painting characterizes his visual investigations of optical effects with reference to colors. Akin to his mentor Josef Albers, Anuszkiewicz experimented with square configurations.
A welded copper and fused glass sculpture by Claire Falkenstein also leads the catalog. Inspired by Einstein's theories of the universe, the artist crafted sculptures from wire and fused glass. To view the complete catalog of the upcoming Modern + Contemporary Art & Design sale, visit Bidsquare and browse other online auctions.
Price Range:
$25 - $80,000
Interesting lots include:
| Item Image | Item Name | Estimate |
| --- | --- | --- |
| | Chuck Close Title: Leslie (Watercolor Painting) | Estimate: $150,000 - $250,000 Starting Bid:$80,000 |
| | Richard Anuszkiewicz Painting | Estimate: $20,000 - $30,000 Starting Bid:$12,000 |
| | Orville Bulman Painting, Tiger & Flowers | Estimate: $12,000 - $18,000 Starting Bid:$4,000 |
| | Claire Falkenstein Fusion Sculpture | Estimate: $10,000 - $15,000 Starting Bid:$6,000 |
| | Monumental Dale Chihuly Ikebana Sculpture, 2 Pcs | Estimate: $6,000 - $8,000 Starting Bid:$4,000 |
Contact Info
Palm Beach Modern Auctions

417 Bunker Rd, West Palm Beach, Florida 33405
561-586-5500