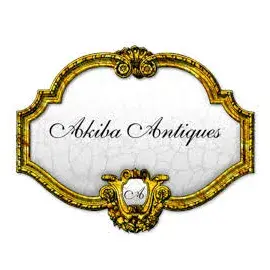 Georg Jensen, S. Kirk and Sons, Antonio Frilli, and Other Estate Finds From Akiba Antiques
Apr 29, 2021 12:00 EDT
Updated on
Silverware and other estate treasures chosen personally by Mr. Jonathan Akiba will be available in Akiba Antiques' upcoming spring auction. A Georg Jensen centerpiece in the Grape pattern is a leading lot. The large (11" wide) bowl sits on top of a sterling silver foot, also decorated with grapevines. The nature-inspired Scandinavian design by Georg Jensen honors his legacy as an innovator. Jensen is often counted among the leading silversmiths of the 19th and 20th centuries. He regularly blurred the lines between artistry and craftsmanship in his works.
Silver pieces from S. Kirk and Sons will be featured in the auction catalog as well. American silversmith Samuel Kirk founded the company and became famous for introducing repoussé or embossing to American silversmithing. An antique S. Kirk & Sons sterling silver repoussé tea set is available for sale. The six-piece set includes a kettle, a coffee pot, a teapot, a cream jug, a pitcher, and a sugar urn. Floral designs cover each piece.
The auction will also present Italian marble sculptures by Antonio Frilli. Dancing Faun, a hand-carved Carrara marble sculpture, depicts a lean, muscular man with curly hair and a raised arm joyfully playing cymbals. While the original Dancing Faun was sculpted during the Roman period, Frilli made this replica during the 19th century. Find more than 500 lots curated from Paris to Florida online on LiveAuctioneers.
Price Range:
$100- $10,000
Interesting lots include:
| Item Image | Item Name | Estimate |
| --- | --- | --- |
| | Georg Jensen Sterling Silver Centerpiece | Estimate: $2,000- $10,000 Starting Bid:$500 |
| | S. Kirk & Sons Sterling Silver Repousse Tea Set | Estimate: $2,000 - $10,000 Starting Bid:$2250 |
| | Antonio Frilli (Italian 1860-1920) 19th Cent. Marble | Estimate: $10,000- $30,000 Starting Bid:$2,000 |
| | Monumental Religious Stained Glass | Estimate: $2,000 - $10,000 Starting Bid:$1,000 |
| | Antique Wood Tantalus Set | Estimate: $200- $2,000 Starting Bid:$300 |
| | Lapis Lazuli Carved Rhino | Estimate: $20- $200 Starting Bid:$60 |
Contact Info
Akiba Antiques

3 N Federal Hwy, Dania Beach, Florida 33004
305-632-5563