Boogeyman's Nigerian Epku Oro, Wang Qi Porcelain, Edgar Allan Poe Books, and Josephine Baker Poster Lead Millea Bros. Ltd.'s Three-Day Estate Auction
Oct 12, 2022 10:00 EDT
Updated on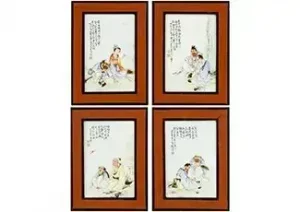 In the culture of the Oron people of southern Nigeria, an ancestral figure or Epku Oro was presented as a status symbol to an esteemed Oron elder as a part of a ritual. The Epku represented the social standing of the elder as a guardian and keeper of a shrine, someone who would assure the well-being of their offspring. The earliest known ancient wooden carving of the Oron people dates back to 2,370 BCE. The practice stopped sometime in the 1930s. This fall, Millea Bros. Ltd. will offer a 19th-century carved wood Nigerian Epku on Day 1 of the ABC: Estate Finds Auction. It has an orb-shaped head with deeply carved facial features, a long notch-carved beard, and straight arms reaching down to a solid block base. The figure comes from the estate of Martin Wright, the Boogeyman, an American retired professional wrestler.
The highlights of the three-day sale include Americana Art and illustration, fine art, decorative objects, Asian and African arts, artifacts, antiquities, a selection of English and American silver from the estates of distinguished professor Philip Gould, noted collector Martin Wright, a New York media executive, and Charles E. Sigety. The sale also offers a wide selection of furniture, modern design, decorative objects, and artworks sourced from New York City and New Jersey estates.
A set of four 20th-century Chinese enameled porcelain items is another leading lot. These Republic-period polychrome famille rose plaques were painted by Wang Qi (1884 – 1937), a member of the renowned Eight Friends of Zhushan. Each plaque depicts two seated Buddhist figures. The lot comes from the collection of visual artist Lewis Stein. Another notable lot is a 1902 set of ten volumes of The Complete Works of Edgar Allan Poe, illustrated by Frederick Simpson Coburn, who has signed under the illustrations. The volumes were printed by G. P. Putnam's Sons. Find the complete listings of this and other online auctions on Bidsquare.
Interesting lots include:
| Item Image | Item Name | Estimate |
| --- | --- | --- |
| | Oron Peoples, carved Epku ancestral figure | Estimate: $2,000 - $3,000 Starting Bid:$1,000 |
| | (4) Chinese famille rose plaques, mark of Wang Qi | Estimate: $1,000 - $1,500 Starting Bid:$500 |
| | George V sterling coffee and tea set | Estimate: $700 - $1,000 Starting Bid:$350 |
| | Nendo for Glas Italia gray 'Deepsea' coffee table | Estimate: $700 - $1,000 Starting Bid:$350 |
| | Josephine Baker, Bar des Folies Africaines, 1926 | Estimate: $500 - $700 Starting Bid:$250 |
| | (2) Burmese lacquerware betel boxes | Estimate: $60 - $80 Starting Bid:$30 |
Contact Info
Millea Bros. Ltd.

607 Myrtle Avenue, Boonton, New Jersey 7005
973-377-1500