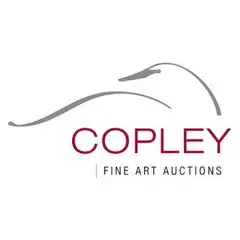 Copley Fine Art Auctions

PO Box 1707, Duxbury, Massachusetts 2331
617-536-0030
About Auction House
Copley Fine Art Auctions is the world's leading American sporting art auction company. Located in Boston, Copley specializes in antique decoys and 19th- and 20th-century American, sporting, and wildlife paintings. Principal Stephen O'Brien Jr., a fourth-generation sportsman with a refined collector's eye, launched Copley Fine Art Auctions in 2005 after almost fifteen years in the antiques trade. A trusted advisor to leading collectors, O'Brien opened Stephen O'Brien Jr. Fine Arts, LLC, in 1996, today considered one of the finest galleries dealing in American sporting art. Copley was a natural
...

Read More
evolution for O'Brien, and a means of providing yet another arm of services to his clients. Copley has set numerous world-record prices for top sporting artists and decoy makers establishing itself as the go-to company for decoys and sporting art.
Read Less
Auction Previews & News
11 Results
Copley Fine Art Auctions' upcoming two-day Sporting Sale will offer a McCleery Eider decoy. The appearance of this decoy shows off its smooth-flowing lines and stylized abstract paint. The carved bird has a broad body accentuated with a plumage pattern. Detailed features include a drawn-back head, incised carving around the bill, black patches on the head, and a sharp chine along its crown. Regarding this piece, the auction house states: "The form, paint, and condition of this decoy are peerless. This iconic decoy was first collected by Dr. James M. McCleery, who was among the greatest of decoy connoisseurs from any generation. Since its discovery, it has transfixed collectors and writers." Also available is an oil on canvas by Alexander Pope Jr. (1849 - 1924), an American sporting artist. Titled Springer with Pheasant, the composition features a proud dog with its colorful quarry. Pope often chose fishing and hunting as subjects for his sculptures and paintings. A self-taught artist, he was born in Dorchester, Massachusetts. He briefly studied sculpture with the renowned artist William Copley. Interested collectors can explore the entire catalog for The Sporting Sale 2023, register to bid online on Bidsquare, and browse other online auctions.