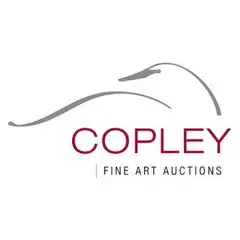 Copley Fine Art Auctions

PO Box 1707, Duxbury, Massachusetts 2331
617-536-0030
About Auction House
Copley Fine Art Auctions is the world's leading American sporting art auction company. Located in Boston, Copley specializes in antique decoys and 19th- and 20th-century American, sporting, and wildlife paintings. Principal Stephen O'Brien Jr., a fourth-generation sportsman with a refined collector's eye, launched Copley Fine Art Auctions in 2005 after almost fifteen years in the antiques trade. A trusted advisor to leading collectors, O'Brien opened Stephen O'Brien Jr. Fine Arts, LLC, in 1996, today considered one of the finest galleries dealing in American sporting art. Copley was a natural
...

Read More
evolution for O'Brien, and a means of providing yet another arm of services to his clients. Copley has set numerous world-record prices for top sporting artists and decoy makers establishing itself as the go-to company for decoys and sporting art.
Read Less
Auction Previews & News
8 Results
Inside Copley Fine Art Auctions ' Two-Day Sporting Sale, collectors will find a Harmon Hollow Nantucket curlew decoy. The appearance of this featherweight, hollow plover decoy shows off its meticulously carved wings, from a raised shoulder to connected wing tips that lead to a thin, curved tail with V-parted feathering and tiger striping. The craftsman responsible for this artwork and its date of completion are unknown. These detailed features, combined with the curlew's fine design and execution, have been compared to the works of A. Elmer Crowell (1862 - 1952), Fred Nichols (1854 - 1924), Charles Sumner Bunn (1865 - 1952), and others, although this piece is thought to predate these craftsmen by decades. Regarding this piece and its creator, the auction house states: "This Nantucket carver is among the greatest craftsmen ever to construct a working shorebird decoy," and that this curlew is "among the greatest shorebird decoys ever to surface." Also available is a rare curlew decoy by Charles Sumner Bunn (1865 - 1952), a member of New York's Shinnecock-Montauk Native American tribe and an important figure in duck carving. This exceptional decoy has only recently been discovered. The piece had been passed down through a prominent New York family that had traded a 19th-century city life for one in the Hamptons. With very few decoys of this nature still in existence and even fewer circulating, this decoy is said to be "one of the greatest shorebird decoy discoveries in recent memory." Visit Bidsquare to view the entire collection and explore other online auctions.