Upcoming Auctions at Showplace Event Features Neoclassical, Modern, and Brutalist Furniture Pieces
Auctions at Showplace will soon bring a global selection of furniture to the auction block. During its September 25, 2022 New York City Estate Auction, the company will present notable pieces of furniture attributed to Duncan Phyfe and Paul Evans, among others.
Auction Daily examines some of the top furniture lots before the bidding begins.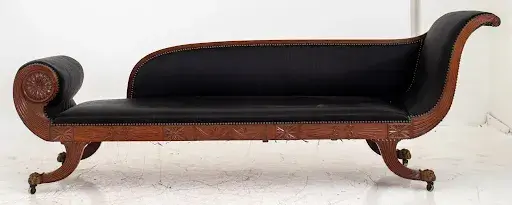 Neoclassical Furniture From Duncan Phyfe
During the early 19th century, a Scottish immigrant named Duncan Fife was America's most-sought cabinetmaker. He completed his training in Scotland before bringing Old World techniques to the newly-emerging republic, where he officially changed his name to "Duncan Phyfe." The designer catered to the rich and powerful families of the period, and his admirers resided all along the country's East Coast. Phyfe was a champion of Neoclassical styles such as Regency, Federal, Empire, and Grecian. He held fast to the old traditions even when American fashion moved past him to embrace other looks.
A Grecian-style sofa attributed to the workshop of Duncan Phyfe is among the top lots of Auctions at Showplace's upcoming event (lot #96; estimate: $6,000 – $8,000). Black upholstery drapes a mahogany frame and elaborately carved rosettes. The auction house notes that this example is particularly notable for the quality of its carvings.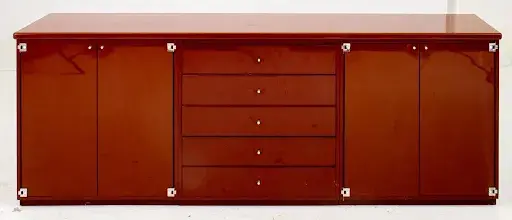 Modernist Furniture by Milo Baughman
American Modernist furniture designer Milo Baughman was a relentless entrepreneur. He went into business at 24 years old and designed commissioned furniture collections for West Coast clients. Baughman eventually met Thayer Coggin, and the two men started to produce Modernist furniture together. Quality was the pair's top priority, with Baughman creating careful designs for Thayer Coggin, Inc. for the next 50 years.
Auctions at Showplace will offer a cinnabar lacquered credenza designed by Milo Baughman for Thayer Coggin, Inc. in the upcoming sale (lot #25; estimate: $1,500 – $2,500). The piece features a pair of two-door cabinets with a five-drawer cabinet between them. It reflects the favored style of the mid-20th century with smooth surfaces, fluid lines, and symmetrical hardware.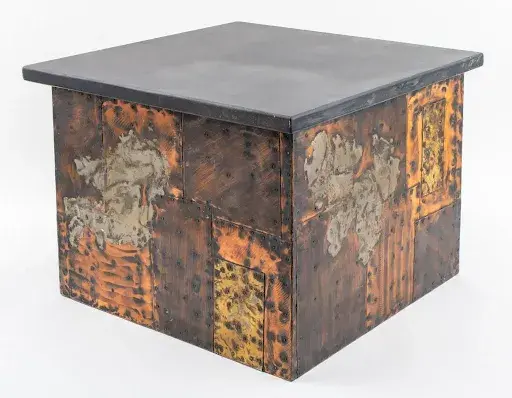 Brutalist Table by Paul Evans
By the 1960s, some Americans had tired of Modernism and its sleek look. A new generation of artists and designers rose to the occasion. Paul Evans was a leader of this movement, which was an outgrowth of architectural Brutalism. A lifelong resident of Pennsylvania, Evans was one of many artists who rejected the fabricated style of Modernist furniture. He returned to more authentic materials such as bronze, patinated steel, hewn wood, and mirrors. Evans eventually specialized in sculptural furniture– such as his Cityscape series– that offered both functionality and an aesthetic statement.
Available with Auctions at Showplace this September is a Paul Evans Brutalist table from circa 1970 (lot #32; estimate: $2,000 – $4,000). Shaped in a perfect square, this coffee table is made of steel, copper, and bronze panels arranged in a patchwork pattern. A square piece of slate rests on top.
The New York City Estate Auction, offered by Auctions at Showplace, will begin at 12:00 PM EDT on September 25, 2022. Visit Bidsquare for more information and to register to bid.
Keep up with the latest auction world news by visiting Auction Daily's news channel.
Media Source
Follow
More in the auction industry