Two-Day Sale of Gambling and Advertising Memorabilia at Potter & Potter Auctions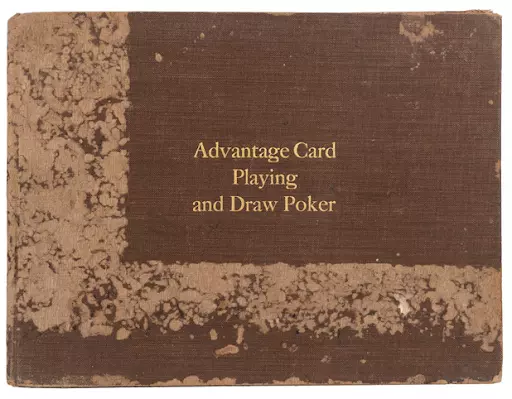 Potter & Potter Auctions will present over 800 lots belonging to the gambling, playing cards, coin-op, and advertising categories this March. The two-day auction features some rare and desirable collections of chips and books on gambling in addition to coin-operated machines, games, and a silent movie background music player. 
Three of the lots leading day one of the event are the American Fotoplayer Style 35 silent movie player piano and sound effect machine, a Caille Bros. Puck five-cent musical cabinet, and a Mills Novelty Co. "On the Square" roulette game.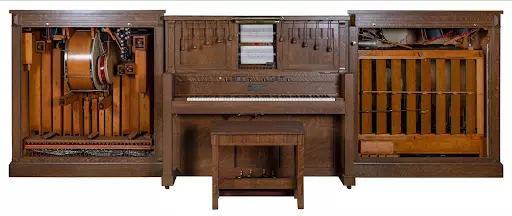 American Fotoplayer Silent Movie Player Piano
Close to 12,000 musical instruments were created in the early 20th century. The most popular ones were the Fotoplayers created by the American Fotoplayer Company. The Fotoplayer gave background music to scenes before movies had sound.
Adding a background score to a silent movie scene could greatly alter or enhance the mood. Fotoplayers were essentially pipe organs and sound effects inserted into large cabinets and attached to the sides of the leading player piano. In addition to the soundtrack on the piano, a player could make music with the help of buttons, levels, and cords attached to the instrument.
Very few Fotoplayers remain in working condition. One of them is available in Potter & Potter Auctions' upcoming sale. The instrument contains drums, tambourines, horns, woodblocks, sleigh bells, and other sound-producing percussion devices attached to the large piano at the center. It includes the original bench and 120 picture rolls inside the hardwood cabinet. It has an estimate of USD 20,000 to $40,000.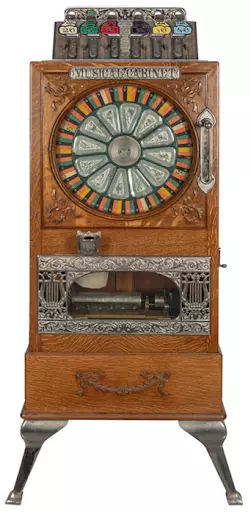 Caille Bros. Puck Five-Cent Musical Cabinet
Two of the most successful companies working in the coin-operated machine industry were Caille Bros. and the Mills Novelty Company. Caille Bros. created floor machines of such high quality and design that it led to the invention of what we now know as the penny arcades. These venues featured coin-operated machines and games.
From arcade games to weighing scales, Caille Bros. produced machines that gave the desired result when a coin was inserted. A working musical cabinet by Caille Bros. from the 1890s is available for sale in the upcoming event with an estimate of $12,000 to $18,000.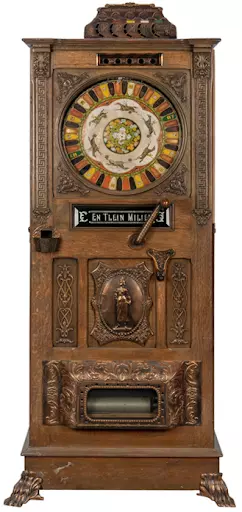 Mills Novelty Co. "On the Square" Roulette Game
Roulette emerged as an accident when a scientist failed to create a perpetual motion machine. This led to the birth of the world's most popular casino game. The "On the Square" roulette game is an upright roulette machine manufactured by the Mills Novelty Company. The gambling machine with wooden cabinets and brass fittings accepts French coins. Potter & Potter Auctions will present a partially restored machine that still plays music when fed a nickel. It has an estimate of $8,000 to $12,000.
Other key lots include the rare F. R. Ritter's Combined Treatise on Advantage Card Playing and Draw Poker (estimate: $6,000 – $9,000), in addition to A. Dougherty "Murphy Varnish" transformation playing cards from circa 1883 (estimate: $4,000 – $6,000).
The two-day event by Potter & Potter Auctions kicks off on March 17, 2022 at 11:00 AM EDT. 
Interested in other collectibles in the auction world? We recently featured items from the Polich Tallix Fine Art Foundry, on offer from Stair.
Media Source
Follow
More in the auction industry