The Auction History of "Action Comics" #1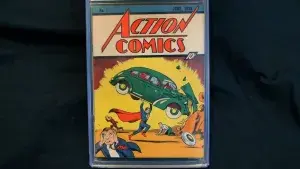 With a deadline looming, publisher Jack Liebowitz had to make some fast decisions on what to include in his first comic anthology, Action Comics 1 (1938). Under this blinding pressure, Liebowitz decided to give a new comic called Superman a shot and highlight it with the anthology's cover art. Action Comics #1 would not only sell out of its 200,000-copy print run but also usher in the Golden Age of Comic Books, as collectors now refer to it.
On June 17th, 2021, Heritage Auctions will offer a copy of Action Comics 1 as part of its Comics & Comic Art event. It will cross the block just two months after another copy broke the record for the most expensive comic at auction.
Before the event, take a look at the history of Action Comics 1 and the bidding wars it has inspired.
The Value of "Action Comics" #1
On a newsstand in 1938, a copy of Action Comics 1 would have cost 10 cents (USD 1.89 when adjusted for inflation). Today, however, the comic is considered the most valuable in the world and regularly re-sets the record for the most expensive comic at auction.
Most comic book fans acquire Action Comics 1 for the cover and first 13 pages. Collectively, these introduced the world to Superman and Lois Lane. In the cover art, Superman destroys the car of a gangster who threatened Lane. Onlookers flee in all directions, frightened by the superhuman strength they're witnessing. The first Superman comic shows the hero landing on Earth and introduces readers to his abilities.
Despite the previously-mentioned 200,000 copies brought to market, finding a collector-grade example of Action Comics 1 in 2021 is difficult. "Kids read them, so the books got ragged. They got handed down from brother to sister, cousins, you name it," explains collectibles dealer Darren Adams. The copies that survived the first few years of wear and tear were donated to America's paper drives during World War II.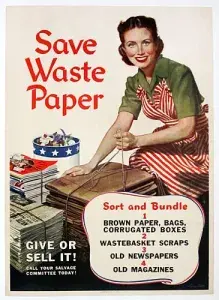 It also took many decades for people to appreciate the collectible nature of comic books. Even avid readers during the Golden Age of Comic Books did not understand the importance of preserving the medium's history.
In 2000, the comics industry's first third-party grading service was founded, the Certified Guaranty Company (CGC). The CGC gave collectors peace of mind to bid on high-end pieces, knowing that what they see is what they'll get. This more efficient guarantor system also clarified the rarity of collector-grade copies such as Action Comics 1, cementing their value for the new century.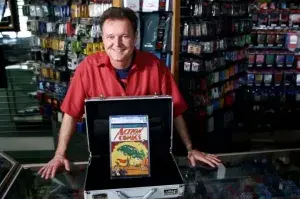 The eBay Bidding War for "Action Comics" #1, 2014
In 1938, someone in West Virginia made the wise decision to buy a copy of Action Comics 1 off the newsstand. Even smarter was their idea to store the comic away in a chest. This, combined with West Virginia's high altitude, created the perfect environment for comic book preservation. "Cool, dry, and dark," explains a CGC representative.
Over the decades, this copy of Action Comics 1 swapped hands several times. It eventually found its way to Darren Adams, a dealer and the owner of Pristine Comics. He decided to list the comic book on eBay to give bidders around the world a chance to be its next owner. He also sent 1% of his earnings to the Christopher & Dana Reeve Foundation, paying respects to Superman's history.
When the 24-day bidding war ended, the comic book sold for $3.2 million. At the time, that was not only a record price for Action Comics 1 but also for any comic book at auction. Much of its success came from the accessibility of eBay, as well as the unprecedented condition of this piece. The CGC gave it a score of 9.0 out of 10, the highest ever recorded for a copy of Action Comics #1.
"Action Comics" #1 Breaks Records Again, April 2021
In the 1980s, a collector won a stack of old movie magazines at auction. As they sorted through the stack, the collector noticed a copy of Action Comics 1 nestled inside one of the magazines. Whether this was a preservation strategy or a lucky coincidence, it was enough to shield this copy of Action Comics #1 from the elements over the decades, keeping it in exceptional condition. When the CGC finally graded this copy, it earned an 8.5 out of 10.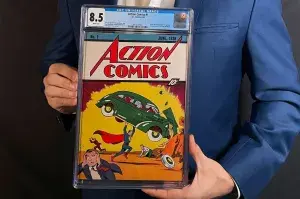 The online auction house and marketplace ComicConnect offered this piece in April of 2021. Despite being in slightly worse condition than the 2014 example, the comic still achieved $3.25 million. That was good enough to set a new record both for Action Comics 1 and comic books at large. While the buyer remains anonymous, he is described as a newcomer to comic collecting, with this being only his second major acquisition.
Heritage Auctions Offers Latest Copy, June 2021
After an already record-breaking year for the comic book, Heritage Auctions will offer another copy of Action Comics 1 this month (lot #91001). As of writing, proxy bidding for the lot is at $320,000.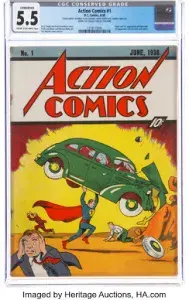 CGC grades this copy of Action Comics 1 at a 5.5, which the company defines as "a slightly above-average collectible with several moderate defects." Bidders should also note that some conservation work has been done on the comic. That includes new staples and a reinforcement of the cover.
Before reaching auction, the notable collector Jon Berk owned this copy of Action Comics 1. While working as a lawyer in Connecticut, Berk slowly amassed his collection over several decades. He viewed it not only as a chance to document comic book history but also preserve "a part of American mythology."
Heritage Auctions will offer Action Comics 1 as part of its Comics & Comic Art Signature Auction. Although the event extends over three days, this comic book will cross the block on June 17th, 2021 at 1:00 PM EDT. Those interested can register to bid on Heritage Auctions.
Want to learn more about the intersection of pop culture and the auction industry? Check out our article on Hindman's Sports Memorabilia sale, with lots representing Mickey Mantle, Muhammad Ali, Michael Jordan, and many others.
Media Source
Follow
More in the auction industry