Singaporean Art, Then and Now: Phillips Offers Benefit Auction With National Gallery Singapore
Phillips is currently spotlighting the history and contemporary contours of Singaporean art in a timed benefit auction. The online sale, which closes on January 20th, 2022, will support the work of National Gallery Singapore. Almost 50 lots are on offer. The online event builds anticipation for a live auction of 13 lots featuring the past, present, and future of Singaporean art.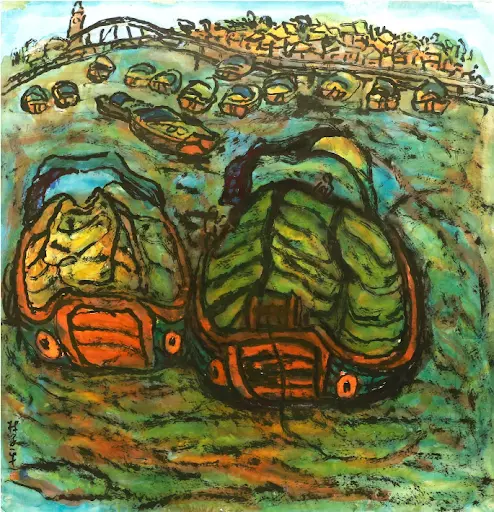 Visual art in Singapore has a long and diverse history that stretches back to ancient periods. The artistic traditions of surrounding nations have also affected the evolution of Singaporean art. Creators on the island have long drawn inspiration from Chinese painting, Islamic calligraphy, Malay artwork, and European art movements. During the colonial period of Singapore's history, artists especially felt the influence of the British and other foreigners passing through the region.
The 20th century brought the establishment of the Nanyang Academy of Fine Arts, Japanese occupation during World War II, and eventually independence from the United Kingdom and Malaysia. Social Realism, abstraction, and modern art developed alongside these sociopolitical changes.
Several artists witnessed these rapid changes in the 20th century and now pull from disparate styles to create their work. Among them is Lim Tze Peng. The Singaporean artist is 100 years old and continues to create new art. He is particularly known for his post-independence pieces capturing Singapore's past and present. Available in the live benefit auction is an ink on paper work by Lim Tze Peng, titled Full Loads by the Bank (estimate: SGD 25,000 – $40,000 / USD 18,500 – $29,600). It shows classic bumboats in the Singapore River. Once used for trade and transportation, bumboats remain an icon of Singaporean culture.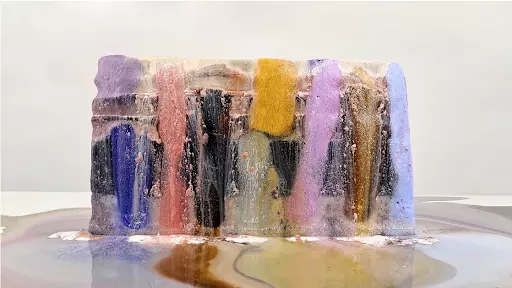 Representing the contemporary vanguard in the live benefit auction is multidisciplinary visual artist Dawn Ng. Known for mind-bending installations that challenge the ideas of time, form, and identity, Ng now turns to video. The artist's available work, Avalanche I, Time Lost Falling in Love, is a 25-minute 4K time-lapse film showing the slow dissolve of a giant block of frozen pigment. The compressed and final version resembles a languishing waterfall of color (estimate: SGD 12,200 – $15,000 / USD 9,000 – $11,100).
Other featured artists embrace Singapore's history while creating something new. Hong Sek Chern's work borrows elements from traditional Chinese ink painting to detail Singapore's urban areas. A 2017 ink on rice paper piece by Sek Chern showing Shenton Way is available with Phillips (estimate: SGD 7,500 – $16,300 / USD 5,500 – $12,000). The timed sale includes additional work from Singapore-based painter Delphine Rama, transgender contemporary artist Marla Bendini, and young figurative painter Vanessa Liem.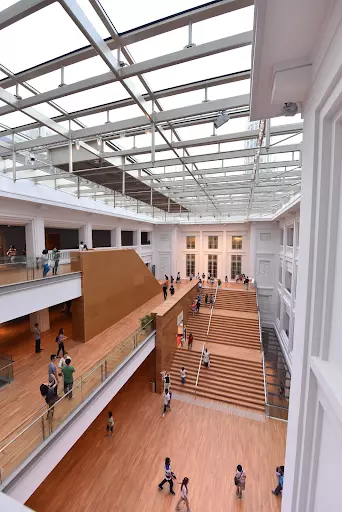 Opened in 2015, National Gallery Singapore is an international hub for Southeast Asian modern art. It holds the world's largest public collection of Singaporean art. A dynamic space, the building housing National Gallery Singapore was formerly the country's Supreme Court and City Hall. Plans to convert the building into a national art forum began in 2005. Following major restorations, National Gallery Singapore has welcomed thousands of visitors and established itself as a global leader in the museum sector. Proceeds from the live and timed auctions will support National Gallery Singapore's activities in the community, as well as research and education efforts.
Visit Phillips to place a bid during the online timed auction. To participate in the live auction on January 20th, 2022, visit National Gallery Singapore's website.
Looking for more art world news? We recently reported on the first NFT auction in India, hosted by Princeps and featuring works by Gobardhan Ash.
Media Source
Follow
More in the auction industry