Shotgun Used By Wyatt Earp Boosts Heritage Americana & Political Auction Beyond $2.3 Million
Old West American lawman borrowed the weapon to avenge his brother's killing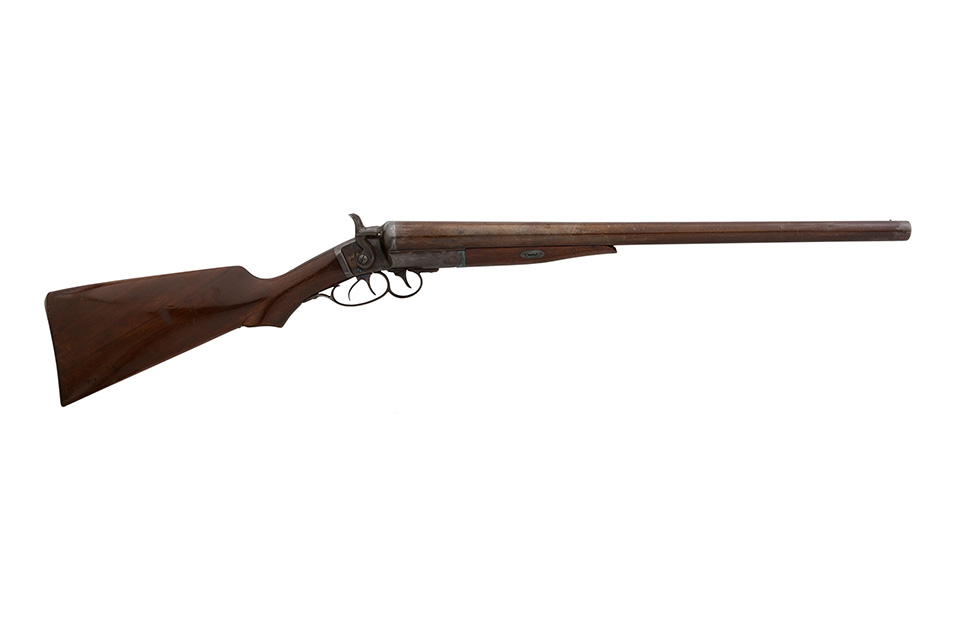 DALLAS, Texas (February 27, 2020) – The gun Wyatt Earp used to kill "Curly Bill" Brocius soared to $375,000 to claim top-lot honors in Heritage Auctions' Americana & Political Auction Feb. 22-23 in Dallas, Texas. The prized relic helped boost the total return for the sale to $2,355,133.
Used by Wyatt Earp to avenge his brother's death, the Amazingly Documented 10-Gauge Shotgun Used by Him to Kill "Curly Bill" Brocius drew bids from more than two dozen collectors and nearly quadrupled its pre-auction estimate of $100,000. Upon learning that his brother had been killed, Earp formed a posse to exact a measure of justice.
"When they went out to hunt for Brocius, Earp borrowed a 10-gauge shotgun – this shotgun – from his friend, Fred Dodge," Heritage Auctions Americana Director Tom Slater said. "They found Curly Bill at Iron Springs on March 24, 1882, and in the ensuing shootout, Earp used this shotgun to kill Curly Bill … after which, he returned it to Fred Dodge.
"The winning bidder has acquired a historically important relic tied to a figure in American history about whom stories have been told for generations."
Also more than doubling its estimate was [Henry Clay]: Large and Important 1844 Native American Parade Flag, which found a new home when it reached $93,750. Bearing the words "BEWARE OF FOREIGN INFLUENCE" across two of the stripes, the flag features a canton with an eagle, shield, draped flags, 26 stars and a ballot box captioned "Twenty-One Years" a reference to a proposal that immigrants needed to reside in the U.S. for 21 years before they would be eligible to become naturalized citizens.
A fresh-to-market James Buchanan: Important South Carolina Portrait Flag, with 13 stars arranged in the "Betsy Ross" pattern with a larger, central star in the middle, brought $75,000. It is inscribed "Buchanan & Breckinridge," followed by "For President," above a woodcut portrait of Buchanan followed on a lower stripe, "South Carolina."
More than a dozen bidders went after a Theodore Roosevelt: Personally-Owned Top Hat until it finished at $50,000, more than double its pre-auction estimate. The 26th president of the United States, Roosevelt was an elegant dresser who was photographed many times wearing a top hat. Still housed in its original deluxe, silk-lined, leather carrying case, the hat was accompanied by a Letter of Authenticity dated September 26, 2019, from High Noon Western Americana, which has handled many historical and celebrity-owned vintage hats and is often called upon to vet material.
George Washington: William Birch Enamel on Copper Miniature Dated 1796 drew $41,250. Birch was a celebrated English painter and enamellist who exhibited his work at the Royal Academy and Society of Artists. He introduced enamel painting to America, for which he earned wide acclaim and multiple commissions. He made about 60 miniatures of Washington; this one is particularly appealing because of its excellent condition and the fact that the signature and date coincide with Washington's last year as president.
Multiple bidders pursued Chief Joseph Brant's Personal Tomahawk until it finished at $40,000. A historically important figure, Brant raised and led a force during the American Revolution called "Brant's Volunteers" of Mohawk and American Tory troops who waged war on the settlers along the western frontier of New York. This pipe tomahawk once owned by the leader sometimes referred to as "Monster Brant" is widely regarded as one of the most remarkable historical artifacts ever presented by Heritage.
Other top lots included, but were not limited to:
1. $32,500: John F. Kennedy: Ash Tray from his Oval Office Desk
2. $27,500: The American Mercury: Two Bound Volumes of Federal Era Newspapers
3. $25,000: Theodore Roosevelt: Highly Desirable and Prohibitively Rare Pro-TR Equality Pin
4. $23,750: George Washington: Exceptional "Eagle with Glory" Inaugural Button
5. $21,250: Civil War and Beyond: 34-Star Wool Bunting Flag
6. $20,000: Gen. William Tecumseh Sherman: His Campaign Hat
Media Source
Follow
More in the auction industry