Scandinavian Rugs and Carpets: Symmetry and Style Highlighted at Nazmiyal Auctions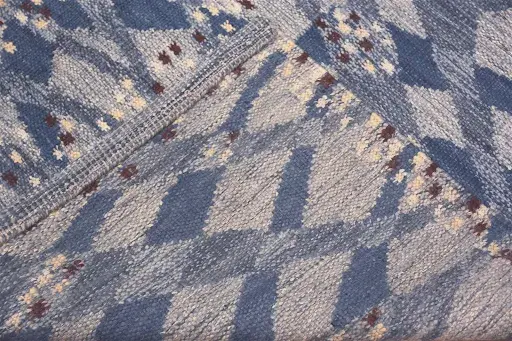 The history of Scandinavian rugs and carpets did not start with Märta Måås-Fjetterström. For centuries, Swedish craftspeople have made long-piled ryas using symmetrical knots to cover beds and keep fishermen warm on the seas. Global trade and influence eventually lessened the need for such rugs, and Scandinavian weavers began to develop the now-iconic minimalist style associated with the region. The rugmaking trade was just starting to swell in Sweden when Märta Måås-Fjetterström brought the country's carpets to the world stage.
Nazmiyal Auctions' upcoming No Reserve Antique, Vintage & Modern Rug sale, scheduled for November 13, 2022, will highlight a selection of these quality Scandinavian rugs and carpets. Many embrace the simplicity and subdued colors that marked the rise of mid-century modernism.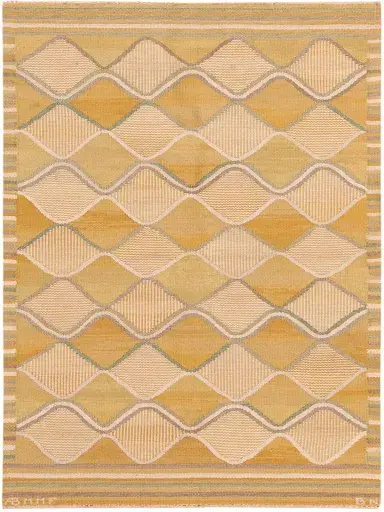 Among the top lots of Scandinavian rugs in this auction is a Märta Måås-Fjetterström vintage kilim signed by Barbro Nilsson (lot #7018; estimate: $5,000 – $8,000). Known both as a skilled textile artist and as the head of Märta Måås-Fjetterström's weaving department, Nilsson was proficient in numerous weaving techniques and design styles. After Måås-Fjetterström's death in 1942, Nilsson carried on the great designer's legacy. She managed the studio and produced countless Swedish rugs based on Måås-Fjetterström's sketches.
The available Märta Måås-Fjetterström kilim rug reflects the muted colors and soothing patterns associated with the weaving company. Pale yellow and rich mustard undulate up and down in waves. Thin stripes of green accent the composition.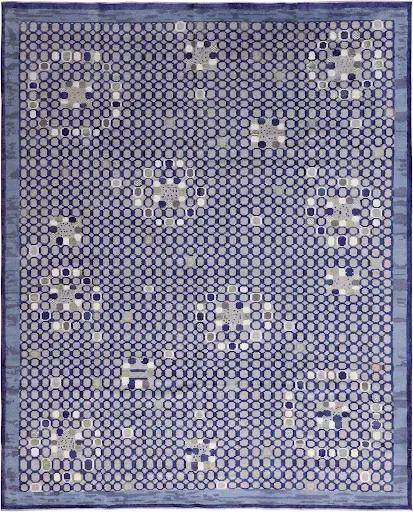 Even before mid-century modernism brought Scandinavian rugs and carpets to the world's attention, Scandinavian rug design was remarkably well-developed. It drew upon the folk art of non-professional weavers, mainly women working independently to decorate and warm their homes. Everyday motifs and natural images would occasionally make an appearance in vintage Scandinavian rugs. With all factors combined, Scandinavian rugs managed to bridge the gap between folk charm and high elegance.
A slightly more modern silk and wool Swedish style Scandinavian rug will be available in Nazmiyal Auctions' upcoming sale (lot #7096; estimate: $6,000 – $8,000). This example embraces a modern, asymmetrical look dominated by tiny blue circles arranged on a gray background.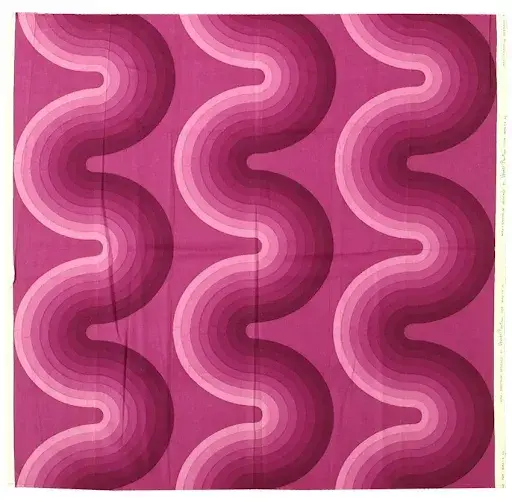 Danish furniture and interior designer Verner Panton entered the Scandinavian rug scene in the second half of the 20th century. As with his other projects, Panton brought exuberant colors and bold new styles to his textile endeavors. His rugs feature amorphous forms, defined bands of color, and ample curves.
Several of Panton's carpets will cross the auction block this November. They include a bright pink "Kurve" textile (lot #7021; estimate: $3,000 – $4,000). According to a stamp along one edge, the piece was designed by Panton for Mira-X. At the time of production in the late 1960s or early 70s, Panton was experimenting with pure shades of orange, bright red, dark red, aubergine, mauve, violet, blue, and turquoise. He manipulated these colors to achieve varying shades of brightness then spun them together into a geometric pattern. The result was psychedelic textiles that joined Scandinavian sensibilities and modern influences.
Beyond Scandinavian rugs and carpets, the upcoming No Reserve Antique, Vintage & Modern Rug sale will feature Turkish Oushak rugs, Persian carpets, and more quality textiles. The event will begin at 11:00 AM EST on November 13, 2022. Visit Nazmiyal Auctions' website for more information and to place a bid.
Looking for more news on upcoming events? Check out Auction Daily's news channel.
Media Source
Follow
More in the auction industry