Potter & Potter Auctions' April 2022 Circus, Sideshow, and Oddities Sale to Feature Banners, Ephemera and Images, Lithographs, Carousel Horses, and Rare Shooting Gallery Targets
Also of note is a fine collection of circus, sideshow, and theatrical photographs from the world-class collection of collector and historian Gary Bart.
Chicago, Il, April 7, 2022 – Potter & Potter Auctions is pleased to announce this 600+ lot sale to be held on Saturday, April 30th starting at 10am CDT. The event will be held online and live streamed, with a limited number of bidders physically allowed in the gallery as determined by Illinois public health attendance guidelines. Please call the auction house at 773-472-1442 to reserve seats, with first come, first served. Bidding will take place on Potter & Potter's website, located at www.potterauctions.com. Phone and absentee bids are also welcome.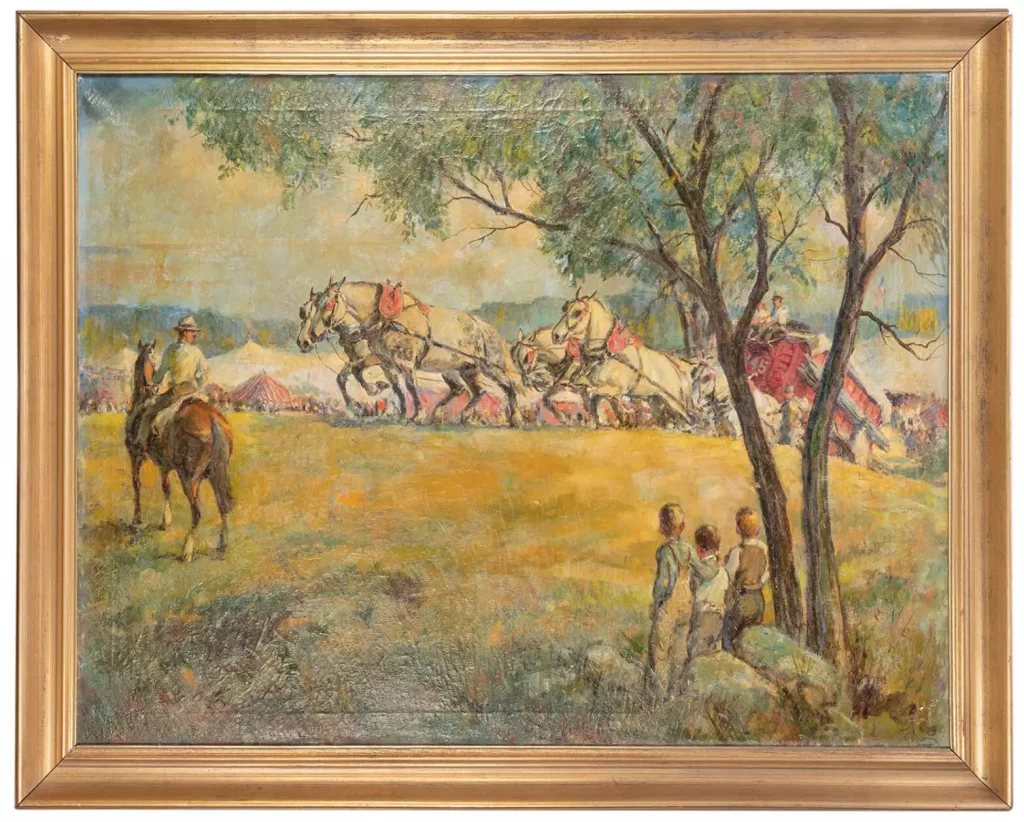 Fantastic antique carnival and circus relics take several of the top lot slots in this exciting sale.
* Lot #482, an outstanding c. 1890 carousel zebra made by the G.A. Dentzel Company, is estimated at $30,000-40,000. This carved, outside row wooden standing zebra has a carved saddle and bridle and measures 55 x 12 x 58". It was restored in 1987 by conservationist Rosa Patton.
* Lot #480, a very rare c. 1900 carousel rabbit also by the G.A. Dentzel Company, is estimated at $28,000-35,000. This carved wooden standing rabbit has a white body and a carved tan saddle, purple and green trappings, and an unusual pink bow. It measures 54 x 63 x 18" and was restored by artist Nina Fraley.
* Lot #484, a c. 1925 carousel camel from Charles Looff of Long Beach, CA, is estimated at $15,000-20,000. The camel is leaping, carved from wood, and features its original stirrups and trappings, a brown saddle, a blue blanket, blue jewels, and its bridle. It measures 47 x 56 x 18" and was restored by Leslie Kitts. Looff built the first carousel at Coney Island in 1876, and from there his career flourished, with over 40 carousels and several amusement parks completed by his company, as well as the Santa Monica Pier.
* Lot #504, a marked, c. 1911 John T. Dickman Great Clown carnival shooting gallery target, is estimated at $15,000-20,000. This iconic, cast iron example measures 20 x 16" and features a clown wearing a red hat and a white mask, just daring the shooter to take him out. The target was attached to a gas line which illuminated both eyes with flame; if one flame was shot out, the second would immediately light.
* Lot #489, a c. 1911 panel from the Tilden Park Merry-Go-Round in Berkeley, CA, is estimated at $7,500-10,000. It measures 75 x 62" and was produced by the Herschell Spillman Co. of North Tonawanda, NY. This original carved wooden panel features a painting of a young woman in a red dress and with a feather on her head dipping a toe into the cool waters of a lake.
Enormous, eye catching hand painted sideshow banners are also well represented in this sale.
* Lot #446, Snap Wyatt's (1905-1984) Palace of Wonders, is estimated at $8,000-12,000. This midcentury canvas banner was made in Tampa by Snap Wyatt Productions and measures 84 x 312". It was produced for Chicago's Riverview Park and depicts a number of "freaks," including a fire eater, a strong man, and others, with a central medallion depicting a two-faced woman. Wyatt was one of the most prolific and popular painters of the sideshow era, renowned for his bold use of color and the sheer scale of his creations.
* Lot #447, a second Riverview Park Palace of Wonders by Wyatt, is estimated at $8,000-12,000. The companion piece to lot #446, this example measures 82 x 238" and is illustrated with a sword swallower, magician, an armless woman, and fire-eater, with a central medallion depicting a two-faced woman.
* Lot #440, Fred G. Johnson's (1892-1990) The Icelandic Giant, is estimated at $3,000-5,000. It was produced in Chicago by the O'Henry Tent & Awning Company in the 1930s and measures 180 x 114 ½". This signed, painted canvas example features a tall, muscular man in Viking garb standing beside a woman in a red bathing suit. The undisputed master of the art of the sideshow banner, Johnson produced hundreds of iconic works throughout a forty-year career with the O'Henry Tent & Awning Company.
This sale presents several once-in-a-lifetime collections of early 20th century circus themed images.
* Lot #37, a c. 1930s Al. G. Barnes circus photograph scrapbook, is estimated at $1,500-2,500. It measures 10 ¼ x 13 ¾" and includes c. 300 silver prints documenting circus performers and workers of the Al. G. Barnes Circus. Images include performers and animals; snake handlers; equestrians; wagons, sideshow banners, tents, railcars, and trucks with lettering and signage for Al. G. Barnes; women in leotards and elaborate costumes; tiger trainers; clowns; acrobats and high-wire artists; and many others.
* Lot #36, a c. 1930s/40s scrapbook of circus dancers and "side show girls" snapshots and photographs, is estimated at $600-900. It includes 80+ images mounted on oblong album pages. This collection features pictures of scantily-clad and theatrically dressed women of American sideshows and circuses, including Cole Bros. and Sells-Floto, as well as other circus imagery including parades, elephants, wagons, ticket stands, trains, tent interiors and exteriors, performers, and a snake charmer.
* Lot #158, a collection of signed, midcentury-era circus performer photographs, is estimated at $500-700. The grouping includes c. 53 photographs featuring Ivan the Human Cannonball, Selden the Stratosphere Man, numerous clowns, aerialists, equilibrists, high wire artists, trapeze artists, jugglers, and animal trainers, among others.
Important circus related broadsides are also key categories in this signature sales event.
* Lot #368, La Femme Araignée / Cirque Daniellis, is estimated at $1,500-2,500. This linen backed color lithograph measures 46 ¼ x 30 ½" and was printed in Paris by Aussel around 1937. It is illustrated with a young lady with a head of a beautiful girl and the body of a giant spider. It promotes the circus' popular Spidora sideshow illusion presented at Atlantic City's Steel Pier.
* Lot #194, Sells Brothers Enormous United Shows / The Great Costellos, is estimated at $1,200-2,400. It was printed in 1985 in Cincinnati by Strobridge Litho. This linen backed color example measures 28 ¾ x 37 ¼" and depicts the acrobatics of the "Great Costellos, in thrilling mid-air performances on the aerial horizontal bars."
* Lot #195, The Hamamura Family, is estimated at $1,000-2,000. It was printed in Hamburg by Adolph Friedlander in 1913 and measures 26-1/8 x 35-¼". This handsome, linen backed stone lithograph pictures seven members of the Japanese acrobatic troupe dressed in elaborate short robes, surrounded by a border composed of cranes and Hokusai-inspired waves.
This sale rounds out with carnival related antiques, props, early photographs, and other can't look away rarities.
* Lot #587, a c. 1920 articulated full sized human skeleton in a cabinet, is estimated at $3,000-5,000. It was formerly used at the Koch Hospital for Infectious Diseases of St. Louis. The skeleton measures 63" tall while the case is 81″ tall.
* Lot #601, a 20th century Swiss musical Turkish magician automaton, is estimated at $2,500-4,000. This key-wind example measures 19 ¾ x 8 ¼ x 7 ¾". It depicts a conjuror at a table, who changes and vanishes cards, blocks, and other baubles under two cones held in his hands from a chess-board, as a Reuge music box plays.
* Lot #81, a c. 1860s sixth plate ambrotype of a clown, is estimated at $1,500-2,500. This full-length portrait image with coloring in blue and red depicts a young male clown, wearing a striped shirt and stockings, pant legs with two stars, and the letters "S" and "M."
* Lot #454, a 20th century sideshow illusion cabinet, is estimated at $1,500-2,500. It measures 65 x 41 x 23 ¼", is painted in orange and black in an Egyptian motif, and has metal legs. With this trick, the magician's assistant climbs into the cabinet and is closed inside. Fifteen blades are driven into the box from all angles, yet the assistant is left unharmed.
* Lot #403, an untitled, early 20th century American circus painting, is estimated at $500-750. This framed, oil on canvas work measures 35 ½ x 45 ½" and depicts three boys watching a team of horses pull a circus wagon onto the lot, with an action-filled scene of tents and crowds in the background. It is Illegibly signed on its lower right.
According to Joseph Slabaugh, Director of Cataloging at Potter & Potter Auctions, "Circuses left a tremendous visual record in photographs, posters, and other print material, and this is on full display in our sale this year. The acrobats, snake handlers, high wire acts, clowns, equestrians, lion tamers, and other stars of the ring who amazed audiences and shaped popular culture are thoroughly represented throughout the catalog, all carrying a certain amount of fanfare. In some ways, that gives the auction itself something like the feeling of a parade."
Potter & Potter, founded in 2007, is a Chicago area auction house specializing in paper Americana, vintage advertising, rare books, playing cards, gambling memorabilia, posters, fine prints, vintage toys, and magicana – antiques and collectibles related to magic and magicians. Follow us on Facebook (potterandpotterauctions) and Instagram (potterauctions).
Media contact:
Joseph Slabaugh
Director of Cataloging
[email protected] or 773- 472- 1442
Media Source
Follow
More in the auction industry