Original Journal From America's First Luxury Yacht Sells for $100K With Bonhams Skinner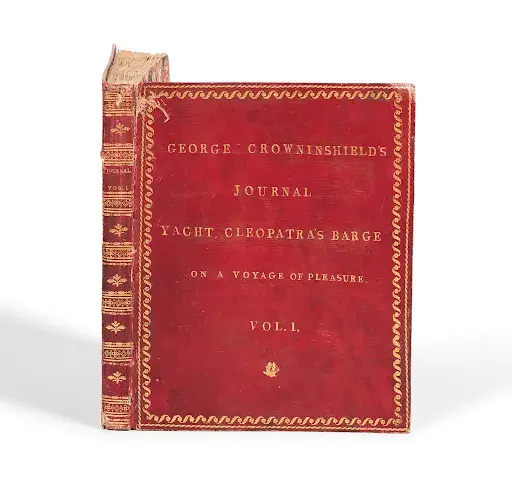 In the early 19th century, the Salem-based Crowninshield family was flush with cash. The merchant family had made a fortune by supplying ships during the American Revolutionary War and the War of 1812. George Crowninshield Jr., the family heir, took the opportunity to commission a pleasure boat of unprecedented size. He took his new yacht, christened Cleopatra's Barge, on a single whirlwind adventure to the Mediterranean.
George Crowninshield Jr.'s accounts of his travels aboard the yacht recently sold for USD 100,000 in Bonhams Skinner's August Americana sale (lot #0054). Before crossing the auction block, this extraordinary journal came from the most ordinary of places: an old box in an attic.
While most maritime journals of the period presented very precise accounts of fishing and whaling trips, this journal differed. "This was all about visiting places all over the world, and recounting their encounters with dignitaries, meeting important people from other countries, and entertaining wealthy guests. It's more about personal experiences than anything else," Stephen Fletcher, Executive Vice President and Director of American Furniture & Decorative Arts at Bonhams Skinner, told Auction Daily. "I knew of [this journal], but I had never seen it. So when I picked it up, I was thinking, Oh, my goodness, this is quite a moment."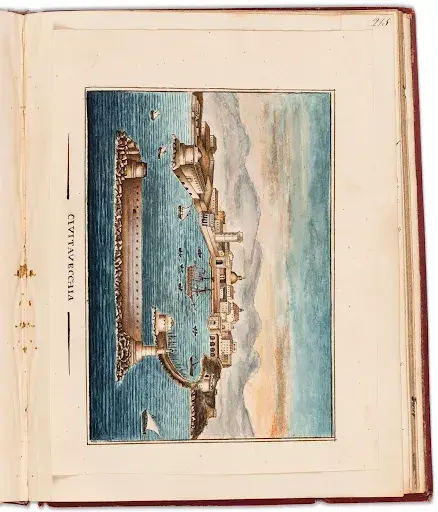 This journal of Crowninshield's journey included 246 pages and 22 watercolor, pen and ink, and pencil illustrations from his travels. It featured red Moroccan binding with gilt. The journal's former owner, Bertram Little, bought the piece in 1949. It remained tucked away from time and the elements for decades before heading to the market.
As for Cleopatra's Barge, she did not remain with George Crowninshield Jr. for long. He took the ship on a daring journey, possibly aided Napoleon Bonaparte's escape from Saint Helena, before dying suddenly in America. Cleopatra's Barge served as a trading ship for a time before being purchased by King Kamehameha II of Hawaii. It ran aground and wrecked in 1824.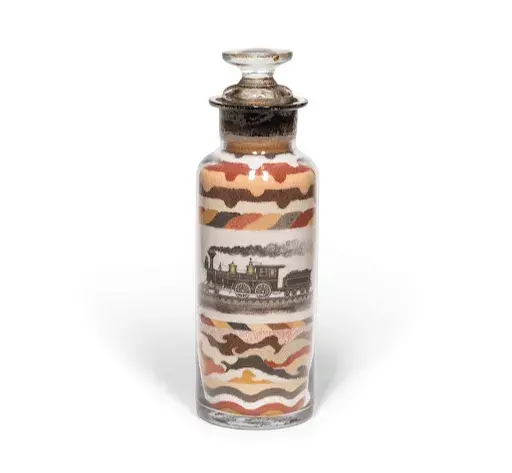 The recent Bonhams Skinner Americana event also drew strong prices for work by Andrew Clemens, a self-taught sand artist active during the 19th century. Among the top lots was a patriotic sand bottle featuring images of a locomotive, eagle, and waving American flag (lot #0147). It sold for $75,000.
While each meticulously crafted sand art bottle is unique, Andrew Clemens' most famous and popular works are those with personal touches, says Fletcher. Clemens accepted commissions and requests from his clientele, sometimes inscribing their names, portraits, or personal messages in his tiny glass bottles. These tend to fetch the highest prices at auction. Bonhams Skinner set a soaring new auction record for Andrew Clemens when it sold a personalized sand art bottle for $275,000 in 2020 (the auction house was then known as Skinner). A year later, Hindman Auctions sold a separate piece that soared to $956,000. Last year alone, two Clemens bottles surpassed the $800,000 mark at Bonhams Skinner.
Widespread interest in Andrew Clemens' work remains a recent phenomenon. The artist has long maintained a small but loyal following among lovers of antiques. However, prices for his art rarely exceeded a few thousand dollars in years past, says Fletcher. The rediscovery of Clemens' work has evolved rapidly within the last few decades, and the market is responding with plenty of enthusiasm.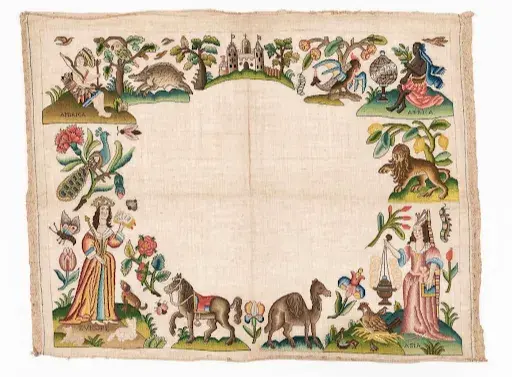 Other key lots in the recent Bonhams Skinner sale included a selection of finely preserved needlework from the 18th century and earlier. These included a 17th-century silk needlework picture depicting mythological and exotic animals (lot #0187; $35,000) and an unfinished needlework depiction of America, Africa, Europe, and Asia (lot #0113; $33,750). Both lots far surpassed the auction house's expectations. The latter unfinished piece featured an intricately rendered border, complete with cartoon-like animals and a charming style. The completely blank space in its center sets this piece apart– as does the artist's misspelling of "America" in the top left corner.
The August Americana auction brought in a total of $1.4 million, bringing a strong close to the summer auction season. Looking ahead, the fall will bring new opportunities to bid for Americana at Bonhams Skinner, including New England folk art, small objects, and a collection of presidential signatures. Find more information about upcoming sales by visiting Bonhams Skinner.
Media Source
Follow
More in the auction industry