New Haven Auctions Presents Severin Roesen Paintings, American Folk Art This June
This June, New Haven Auctions will present a broad selection of fine and decorative art from private estates and collections. Over 400 items will cross the block on June 26, 2022 starting at 10:00 AM EDT. Paintings, furniture, and collectibles will be available for bidders at multiple price points.
Among the top lots are two still life paintings by Prussian-American artist Severin Roesen. Both paintings are lush still lifes depicting fruit balancing on tables. They come to auction with estimates of USD 8,000 to $12,000 each. Fruit was a favorite subject for Roesen. After moving to the United States, he settled in the rural areas of Pennsylvania, trading paintings for lodging and beer. Roesen produced over 300 still life paintings during his career. Many drew upon familiar elements of fruit, glassware, and moody backgrounds inspired by Dutch Golden Age artists.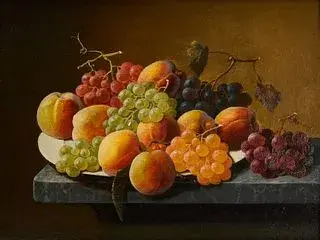 Elsewhere in the catalog, bidders will find a Cubist painting by Albert Gleizes (lot #847; estimate: $3,000 – $5,000). The 20th-century French artist was one of the earliest Cubist theorists. Gleizes' influence was particularly felt at the Bauhaus and in German modernist circles. The available oil on board painting evokes the geometric and disjointed early Cubist style. Cool tones dominate the composition, which features a central grouping of stacked, rounded shapes against a cornflower blue background. The artist's signature is visible in the bottom right corner, and the back of the work bears a label from Rose Fried Gallery, NY.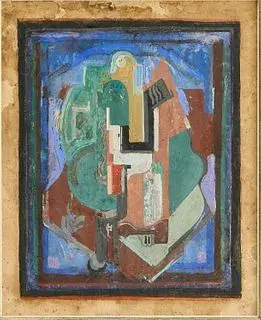 A Nantucket Windsor armchair is notable among the available furniture items (lot #631; estimate: $250 – $500). Attributed to Charles Chase, this late 18th-century example features the traditional radiant spindle backrest and saddle seat. This distinctive Windsor style first emerged in England before spreading to the United States. There, it became a fixture of classic American furniture. Curled details mark the end of each arm. Other key lots include a bow front foot stool (lot #513; estimate: $100 – $200) and a Steinway & Sons Model O piano (lot #770a; estimate: $2,500 – $5,000).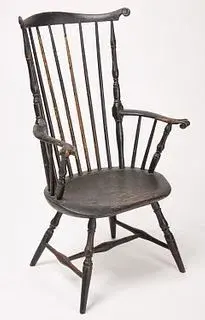 The auction will also include the following lots:
Frank Finney cedar waxwing sculpture (lot #598; estimate: $400 – $800)
Antique horse and rider weathervane (lot #501; estimate: $2,500 – $3,500)
Gorham sterling silver flatware set (lot #930; estimate: $1,000 – $2,000)
Native American beaded moccasins and bag (lot #720; estimate: $150 – $300)
Set of three Morgan silver dollars (lot #899; estimate: $800 – $1,500)
New Haven Auctions, a division of Fred Giampietro Gallery, brings together over 40 years of experience in the marketing and sales of antiques, artworks, jewelry, objects of value as well as quality household items. The company utilizes total market international exposure in an effort to maximize prices achieved with curated auctions on LiveAuctioneers and other online bidding platforms.
The Antiques & Decorative Arts From Estates & Collections event will begin at 10:00 AM EDT on June 26, 2022. Interested bidders can view the completed catalog and register for the auction on Bidsquare.
Media Source
Follow
More in the auction industry