Little Bighorn Relic Sells for Nearly 50K at AZ Auction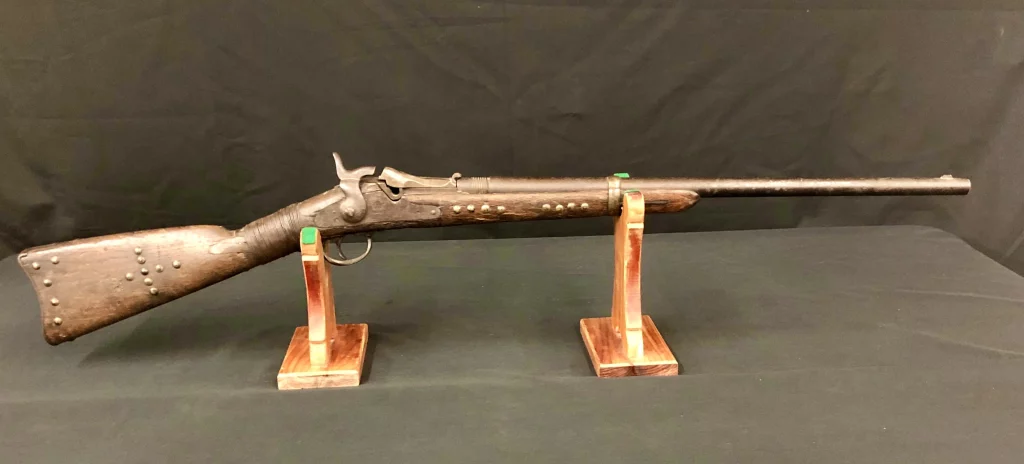 CASA GRANDE, AZ — On Saturday, June 18th, Western Trading Post sold a piece of Little Bighorn battlefield history for a princely sum of $47,600*. A Springfield Model 1873 Trapdoor Carbine with historic ties to the battle was consigned to the auction. It was listed as a Native American capture gun which rode into battle in the hands of a soldier from the 7th Cavalry and left the field in the hands of a victorious Native American warrior. High Eagle, a member of the Sioux tribe wound up with the weapon which he kept until his death in the 1950s. In 1951, Life Magazine did an article about the 75th anniversary of the battle and they featured High Eagle in the article, stating he was one of the last surviving members of the battle. The weapon was in non- functioning (relic state) due to an ancient accident. However, the primary value was in the history of the piece and the provenance that came with it, which tied it to the battle and High Eagle. A lucky phone bidder from Montana is now only the 5th owner of this piece of history since High Eagle acquired it all those years ago. All previous owners held the weapon for many years each, in their respective collections, with the last owner holding it for over 20 years before deciding to downsize due to age.
Western Trading Post's June auction was one of their semi-annual "Advanced Collector's Auctions" where the best in Western collectibles is offered. Other items of note which sold in the auction were:
An engraved Model 1860 Henry rifle manufactured in 1862 sold for $44,800*
Two consecutive numbered Colt Dragoons made in 1855 sold for $14,560*.
An engraved Colt Single Action Army pistol made in 1884 sold for $13,440*.
An original Civil War era LeMat revolver sold for $9,775*.
A fancy Wade Tree saddle made by Don Butler sold for $10,640*.
A fancy Parade saddle by Ted Flowers sold for $7,840

Co-owner and lead auctioneer, Jim Olson said, "We had great buyer attendance from all over the county — even the world for this auction. Over 800 bidders participated online and live with thousands more viewing the auction over the two weeks it was posted. Our winning bidders came from five different countries!"
Western Trading Post is a World Record setting auction and a gallery from Arizona which deals in all sorts of Western Americana, Native American collectibles and Historic Firearms. Their roots can be traced back to the late 1800s and the Arizona Territorial days. They hold a number of auctions throughout the year and offer items for sale both online and their physical location.
They have a television show which takes you through some of the antics that happen at the Trading Post. You will glean a wealth of knowledge about Western Americana and collectibles and even get "helpful hints" on how to tell the good stuff from the—um, not so good stuff—as you follow along with Western Trading Post TV. The show aired nationally for 2 years on The Cowboy Channel (until Covid shut things down) however it is now streaming on Great American Westerns. You can also view episodes, auctions and much more on Western Trading Post's YouTube channel.
Media Source
Follow
More in the auction industry