June Summer Curated and Groll Estate Auction
Willow Auction House is proud to present the Summer Curated and Groll Estate Auction on June 16th 2022
Willow Auction House will hold its Summer Curated and Groll Estate Auction on June 16, 2022 at 12:00 noon Eastern. Absentee and internet live bidding will be available. The sale features more than 250 lots of artwork, furniture, rugs, decorative items, and firearms. Also included are items from the estates of artist Albert Lorey Groll and Judge Edwin L. Garvin.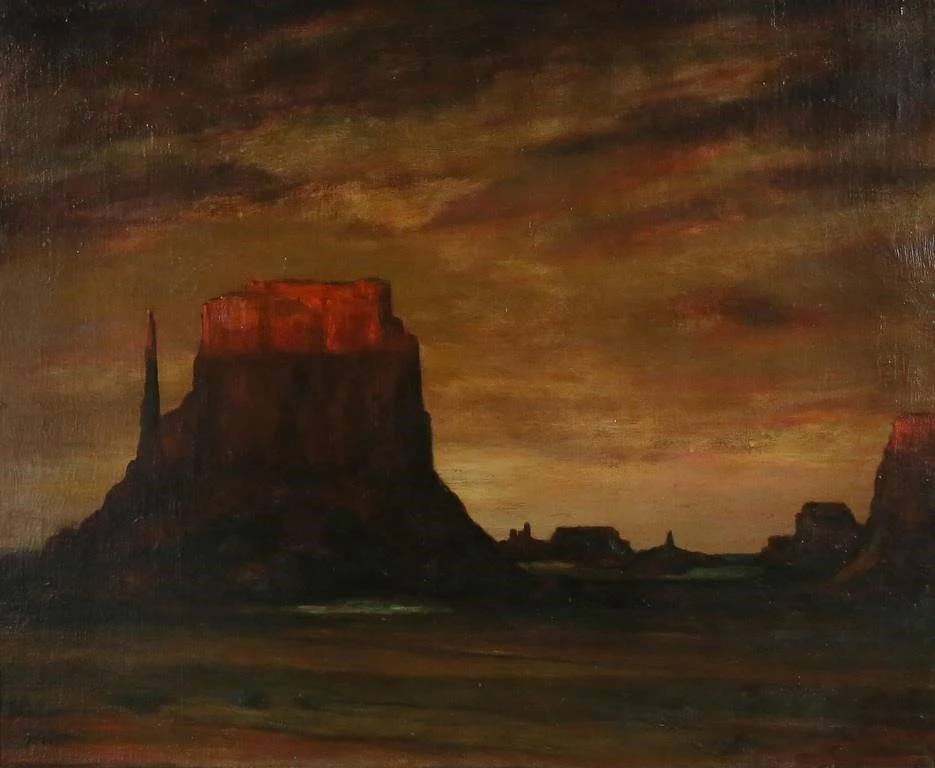 Born in Brooklyn in 1877, Edwin Louis Garvin was a District Judge of the U.S. District Court for the Eastern District of N.Y. from 1918 to 1925 and a Justice of the Supreme Court of N.Y. from 1941 to 1947. Judge Garvin died in 1960. Among the items from his estate are invitations and other ephemera from the 1937 inauguration of Franklin D. Roosevelt, as well as letters from Roosevelt, J. Edgar Hoover and Fiorello La Guardia. The letters from Roosevelt, lot 218, estimated $400-600, as well as the letters from Hoover, lot 219, $200-300. are all authenticated by PSA/DNA and have letters of authenticity.
Albert Lorey Groll was a prolific artist known for his landscapes of the American Southwest. Born in New York City in 1866, Groll began traveling to the Southwest in the early 1900s. Known as a painter and engraver, he died in 1952. The collection includes paintings, sketches, personal papers and photographs, including from his trips to the Southwest, some of which were used as source material for Groll's paintings. Lot 232, an oil on canvas titled Monument Valley Utah, estimated $3,000-4,0000, is an example of one of Groll's landscapes. Also, up for auction is artwork from Groll's personal collection, including lot 236, an Emil Carlsen oil on board. Estimated $3,000-5,000, the painting depicts fellow artist J. Alden Weir's house and is inscribed from Carlsen to Groll.
Beyond these collections, the Summer Curated sale also features a selection of furniture including Danish and mid-century modern, as well as a collection of Stickley. Lot 17 is a set of eight Harry Bertoia side chairs, estimated $800-1,200. These iconic chairs were designed by Bertoia for Knoll International. The auction also features several pieces by Danish designers including a Kai Kristiansen for PSA sideboard, lot 26, estimated $1,000-2,000.
Among the Stickley on offer, an L. & J.G. Stickley Audi two door bookcase, lot 181, estimated $800-1,200 and settle couch, lot 182, estimated $1,000-2,000, and a Stickley Associated Cabinet Makers Morris chair, lot 185, estimated $600-800.
For art collectors, the auction includes pieces from many well-known artists, including an Andy Warhol S&H Green Stamps lithograph, lot 155, estimated $800-1,200, an Ilse Bing silver gelatin print lot 174, estimated $4,000-$5,000, and a copy of Yarrowstalks issue No. 3, which features the art of R. Crumb, lot 152, estimated $1,000-2,000. Yarrowstalks No. 3 is widely considered Crumb's first comic book, predating Zap Comix No. 1. Also, up for auction are three BMW art car model replicas, designed by Jeff Koons and Roy Lichtenstein.
Bidders will also find a selection of firearms and swords, including a Spencer Carbine .52 caliber rifle, lot 204, estimated $1,000-1,500; an 1862 Tower Enfield .577 caliber rifle with bayonet, lot 205, estimated $1,000-1,500; and a Remington 1858 New Model Army revolver, lot 206, estimated $1,000-1,500.
Rounding out the sale is a complete four bottle set of Fulvio Bianconi for Gi. Vi. Emme Four Seasons Venini Murano glass perfume bottles, lot 65, estimated $3,000-5,000, as well as a selection of bronzes, Tiffany favrile glass, Meissen ewers, carved furniture, Chinese cricket cages and an L.N. Fowler Phrenology bust with the 107 Fleet Street address.
For More Information about the Summer Curated and Groll Estate Auction and to view the complete auction catalogue and calendar, please visit www.WillowAuctionHouse.com
Online catalog and registration can be found by visiting: https://willowauctionhouse.hibid.com/catalog/370313/summer-curated-and-groll-estate-auction/
Willow Auction House brings years of Art and Antiques consulting and handling experience to an auction venue. As pioneers in the Move Management Industry, we have continued to grow and expand, offering everything our clients need when moving, downsizing, and handling estates.
For more information, press only:
Jill Iorio
862-895-5700
[email protected]
Media Source
Follow
More in the auction industry