Horror Classics on VHS Tapes to Sell at Heritage Auctions in Time for Halloween
"VHS is dead. Long live VHS. Especially when it reaches from beyond the grave," Heritage Auctions declares in its first-ever VHS horror auction. In the world of collectible nostalgia, comic books, baseball cards, and video games can welcome a new addition: VHS tapes. These now-classic cassettes appeal to a rising generation of Millennial and Generation Z collectors who grew up watching television shows, movies, and recorded home videos in the 1980s, 90s, and early 2000s. Heritage Auctions will offer a chilling Halloween sale celebrating the nostalgia and aesthetic of VHS tapes. The October 31 VHS Horror Showcase Auction brings 100 classic titles to scare, spook, and entertain.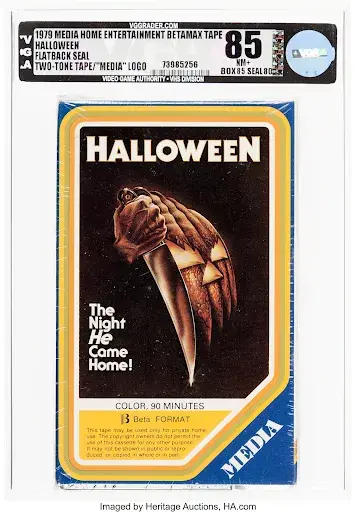 Among the auction's top lots is one of just three known Betamax copies of 1978's Halloween (lot #19047; current bid: $10,000). This example is graded VGA 85 NM+ with high subgrades for the original box and seal. Bearing the iconic Bob Gleason pumpkin and knife illustration, the box declares that the film is in the "Beta" format, appears in color, and runs 90 minutes. On the back, Michael Myers' name is misspelled.
The Halloween franchise has built a loyal following and remains a fixture of American culture, but it didn't start out that way. Halloween was a famously low-budget indie film that surprisingly became enormously popular in theaters. It appeared on television for the first time in 1981. Two years before, it was available on home video from independent distributor Media Home Entertainment. At the time, the early distribution of movies on VHS tapes and other cassettes was a major concern for the film industry.
"This auction is stacked with every horror title everyone could want, and their boxes transport you right back to this amazing moment in time," Heritage Auctions' VHS and Home Entertainment Consignment Director Jay Carlson said in a press release. "Remember, back then, studios were worried about what home video was doing to their audience. They were worried about their business being cannibalized by VHS."
While American audiences would not completely abandon theaters for home video, the new technology did shift the landscape. Entertainment technology started to evolve rapidly, sometimes making itself obsolete in the process. This was the case with Betamax cassettes, a videotape format that eventually lost the consumer war with VHS. Both fell further into decline with the advent of DVDs in 1996.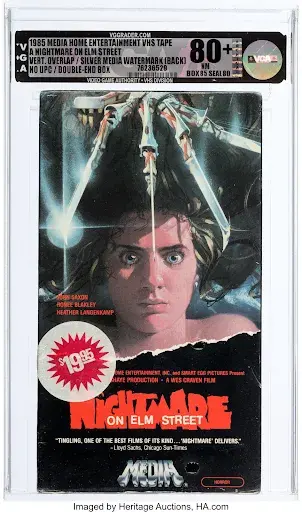 A rare early VHS copy of A Nightmare on Elm Street will also appear in the sale (lot #19004; current bid: $8,000). The original American slasher-horror movie first appeared in 1984 to tell the tale of child killer Freddy Krueger, a figure who continues to haunt and terrorize the children of fictional Springwood, Ohio after his death. The available VHS tape dates back to 1985 and was also issued by Media Home Entertainment. This double-end box copy received a VGA grade of 80+ NM. A sticker on the front of the box indicates the original retail price: $19.95.
Collectors of both vintage VHS tapes and classic horror titles can also consider a 1985 original first release VHS copy of Ghostbusters (lot #19041; current bid: $4,000). Heritage Auction notes that this tape is exceptionally rare with its debossed ghost logo on the front, TDK tape verbiage, and watermarks on the back. Other classic horror films from the 1970s and 80s appear side-by-side in the catalog, from Carrie and The Texas Chainsaw Massacre to Alien and The Thing.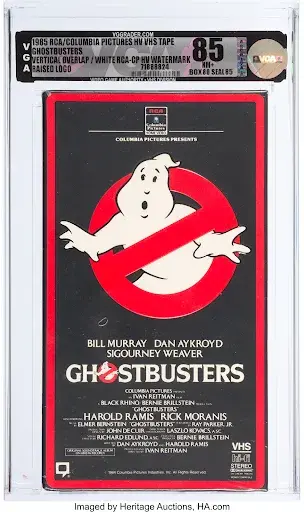 Bidding for these classic Halloween movie VHS tapes will close on October 31, 2022. To view the complete catalog and register to place a bid, visit Heritage Auctions' website.
Looking for more bone-chilling lots this Halloween season? Check out Auction Daily's coverage of Potter & Potter Auctions' Salon de Magie: The Klosterman Collection Part III magic sale.
Media Source
Follow
More in the auction industry