Goldin Brokers $3.18 Million Deal for Action Comics #1 On Behalf of Private Buyer
Iconic Comic Featuring the First Appearance of Superman Is Third Most Valuable Comic Sale of All-Time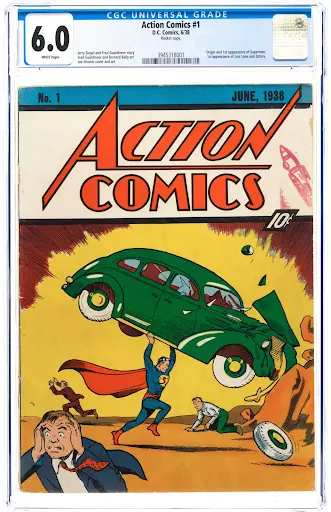 RUNNEMEDE, NJ, JANUARY 13, 2022 – An extremely rare copy of Action Comics #1, considered by many to be the most important comic book ever issued, was purchased today for $3.18 million. The purchase was brokered by leading collectibles marketplace Goldin on behalf of a private client, and now sits firmly as one of the three most valuable comic book purchases of all time.
Widely considered to be the beginning of the superhero genre, Action Comics #1 is one of the rarest and most sought-after comic books on earth. Graded a stunning CGC FN 6.0, the copy is one of the finest examples in existence.

"There really aren't appropriate words to describe the impact that this item has had on the collectible industry, superhero comics and pop culture in general and we're thrilled to win this auction on behalf of our client," said Founder and Executive Chairman Ken Goldin. "Without Action Comics #1, there is no Superman. Without Superman, there are no D.C. and Marvel Universes. Who would want to imagine a world without superheroes? Not me."

Goldin has built a reputation as the trusted leader in trading cards, memorabilia and collectibles. In 2021, the company did over $330 million in sales at auction. Goldin's Winter Elite Auction opens for bidding on January 13 and runs through February 6. The company's Elite Comic, TCG and Video Game Auction opens February 8 and will feature some of the rarest and most sought-after comic books, video game, pop culture and TCG items.

Goldin is also actively accepting consignments for its future auctions. To inquire about consigning items, email [email protected]. The deadline to consign for the upcoming Elite Comic, TCG and Video Game Auction is January 24. For more information about Goldin's Private Sales Division, please email [email protected].
About Goldin:
Goldin is the leading marketplace for trading cards, collectibles and memorabilia. Founder Ken Goldin has sold more than $1.4 billion in memorabilia from many of the biggest names in sports, history, and pop culture. The company routinely sets records for the most expensive trading cards and other memorabilia ever sold. Lifelong collectors and new hobbyists alike trust Goldin because the company professionally authenticates everything it sells. Goldin is the official auction partner of the Naismith Memorial Basketball Hall of Fame, The Major League Baseball Players Alumni Association, The Jackie Robinson Foundation and the Babe Ruth Birthplace and Museum. Learn more at Goldin.co, and on Twitter and Instagram.
Media Source
Follow
More in the auction industry