Energized bidders aimed high at Milestone's $2.5M Premier Collectible Firearms Auction
Rare WWII Singer 'educational' pistol, fine 1865 Civil Martial Henry rifle topped prices realized
WILLOUGHBY, Ohio – On March 12-13, 2022, Milestone Auctions in suburban Cleveland held its first-ever two-day Premier Collectible Firearms sale, a well-received outgrowth of its single-day firearms events, which have proved consistently popular. The March sale featured a curated selection of antique, vintage and modern-era weapons. The opening session, which was geared toward higher-end firearms, produced the majority of the top 10 prices realized, while day two was well received for its diverse array of military, civilian and sporting arms with estimates to please most collectors. The sale cashed out at $2.5 million, inclusive of buyer's premium.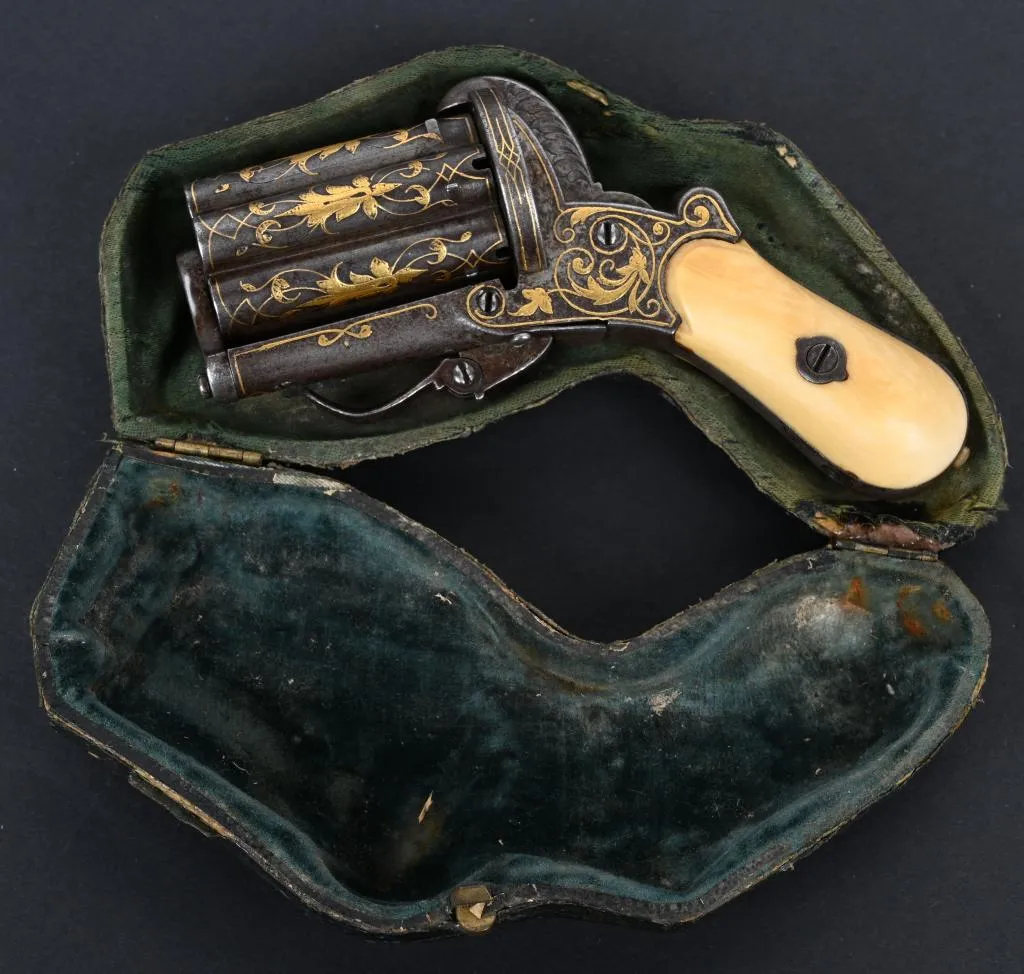 "Collecting vintage firearms is one of America's most popular hobbies. It attracts a wide cross-section of buyers whose common bond is that they love the history and ingenuity of firearms design," said Miles King, co-owner of Milestone Auctions. "Along with the top-tier guns in our March auction, which we knew would bring high prices, we made sure to include a plentiful selection of firearms that we felt any collector – including those at the novice or intermediate level – would be proud to own and be able to afford."
Leading the antique firearms at Milestone's March event was a fine 1865 2nd Model Martial Henry rifle manufactured in .44 rimfire caliber – the model many scholars consider to be the most advanced US-issue shoulder arm of the Civil War. With a large two-line barrel address and the serial number "9718," Milestone's example is the same type of gun listed in the Springfield Research database with a notation that it went to a trooper in Union Company B, 3rd Veteran Volunteers. It sold above estimate for $48,000.
The antique highlights continued with a stunning Winchester .44 rimfire Model 1866 saddle ring carbine in very fine condition with a full magazine and two barrel bands. The trusty Model 1866 was not a rifle that would have sat in a gunrack gathering dust. It saw heavy use in its day, so encountering one now in such "superb original condition" is quite unusual, Milestone's auction catalog noted. The rifle surpassed pre-sale expectations, settling at $24,000.
Made in 1865, the year the Civil War ended, a .50-caliber rifle produced for the US Government by Burnside Rifle Mfg. Company, under license to Spencer, presented in near-new condition, showing little or no use. Arguably one of the finest carbines extant, it outperformed its $5,500-$7,000 estimate to conclude its bidding run at $13,200.
The Model 1887 10-gauge was Winchester's first lever-action shotgun and gained the reputation of being both "a beauty and a beast." Milestone's firearms specialist Tony Wilcox described the auction example as having sharp legends, a shiny bore and "some of the best case colors" he had ever seen in an 1887. Bidders agreed with his assessment, pushing the final price beyond the high estimate to $8,400.
Those who know exceptional English guns would immediately appreciate the quality of a .38-caliber Webley-Fosbery semi-automatic revolver like the one auctioned by Milestone. It is one of only 107 revolvers of its type that ever made it to retail. The remainder of the 417 examples produced in 1902-03 were either converted to .455-inch caliber guns or scrapped for parts. A rare survivor in exemplary condition, it ended up selling above its estimate range for $30,000.
In nearly every antiques category, interesting and valuable things come in small packages. At Milestone's March event, that meant a profusely engraved and gold-inlaid "knuckle duster" made around 1860. Created in 1 7/8-inch caliber/7mm pinfire, it has a six-shot barrel cluster, folding trigger and double-action operation. The exotic little weapon came housed in a French fitted pipe case and had no trouble realizing $9,900 against an estimate of $2,500-$3,500.
The top lot of the sale was a Singer .45 ACP Model 1911A2 presentation pistol from the original 500 manufactured in 1940. The guns were produced under an "educational contract," enabling Singer's Elizabeth, New Jersey factory personnel to familiarize themselves with the pistol's construction and develop a full set of pre-production tools, fixtures and gauges. The gun offered by Milestone correctly showed no serial number or military acceptance proofs. The expectation was that Singer would eventually receive government orders for the model, for US military use. Against a $20,000-$30,000 estimate, the pistol was bid aggressively to $66,000.
Another prize from the World War II era was a captured Hungarian M37 Femaru Third Reich pistol in its original box. Manufactured in 1943 under German occupation and redesigned with a manual safety, this model was issued primarily to the Luftwaffe. Graded "near-pristine," this recently discovered, fresh-to-the-market gun came to Milestone together with two magazines with matching serial numbers, and capture paperwork dated 2 October 1945 and made out to Lieutenant Colonel Richard C Dickinson. In its first public appearance, the pistol exceeded its $3,000-$5,000 estimate to reach $7,500.
Additional highlights included two outstanding Colts: an 1885 SAA nickel revolver, 44-40 caliber, etched with words Colt Frontier Six Shooter on the left side of the barrel, $9,900; and a first-year Model 1911-A1 .38-caliber Super Pistol made in 1929, $11,400.
To discuss consigning an antique, vintage or collectible firearm or collection to a future Milestone Auctions sale, call 440-527-8060 or email [email protected]. Online: www.milestoneauctions.com
Media Source
Follow
More in the auction industry