Cohen & Cohen Collection Of Fine Chinese Export Porcelain To Be Offered At Bonhams New York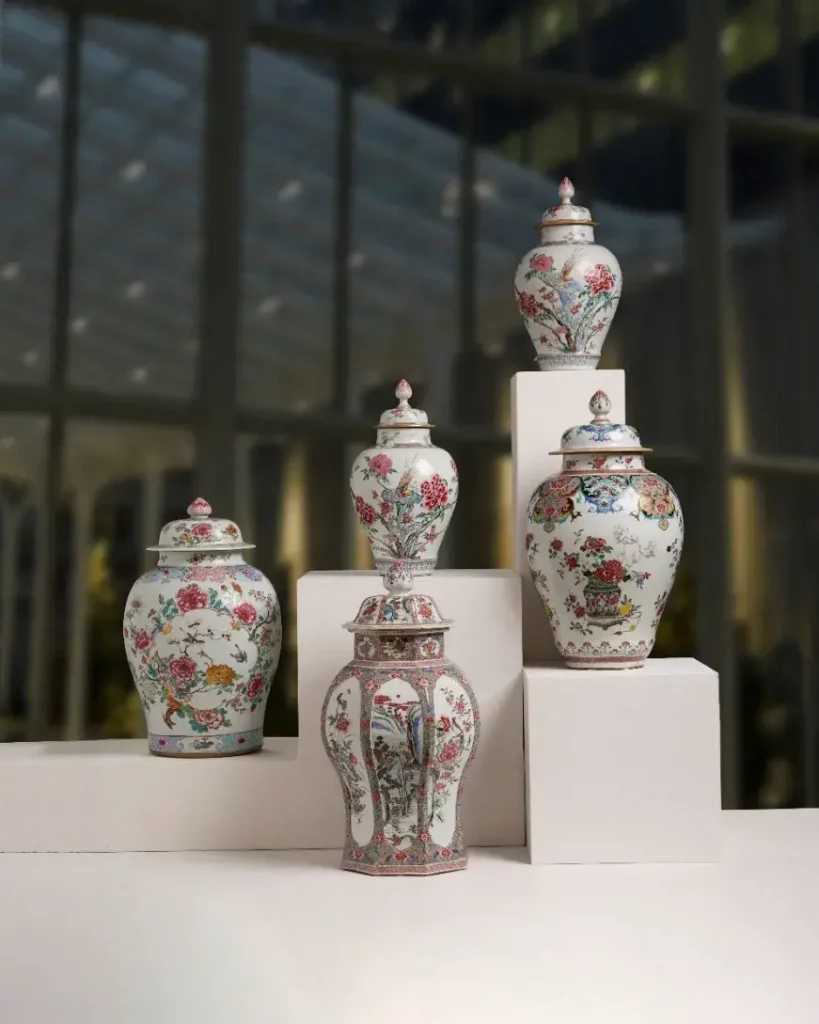 New York – On January 24, 2023 in New York, Bonhams is honored to present Cohen & Cohen: 50 Years of Chinese Export Porcelain, a single-owner collection from the renowned gallery. Comprising of over 150 lots, the sale will primarily feature magnificent eighteenth-century Chinese porcelains including exceptional examples of famille rose jar garnitures, large 'Chinese-taste' enameled standing figures, rare 'European-subject' plates and figures, and massive Kangxi-period famille verte and blue and white dishes. The single-owner auction is carefully timed to complement 'Americana Week' and the famed Winter show at the Armory, both prestigious events which traditionally attract the world's leading collectors of Chinese Export art.
Established in 1973, Cohen & Cohen is widely respected as handling the finest, rarest, and most beautiful 'Chinese Export' porcelains, fascinating wares created in China expressly to be sold to Westerners. They have sold outstanding examples to the world's greatest museums and collectors in addition to publishing highly informative, market-leading academic exhibition catalogues.
"It's an honor to bring notable collections like Cohen & Cohen to auction and play a role in their long legacy," commented Michael Hughes, Vice President, Head of Department, Chinese Ceramics & Works Art for Bonhams U.S. "We've had tremendous success with recent dealer collections around the world including Robert and Jean-Pierre Rousset in Paris, Roger Keverne in London, and Brian Harkins, in Hong Kong, and look forward to presenting this important collection of Chinese export porcelain in New York to the Bonhams global network."
Sale highlights include:
A Qianlong period (circa 1750) pair of famille rose 'reclining ladies' each viewing a painting album, estimated at US$20,000 – 30,000.
A large Qianlong period (circa 1740) famille rose standing figure of a lady in Jewish dress, estimated at US$80,000 – 120,000.
A pair of massive Qianlong 'Bird' chargers (circa 1750), estimated a US$20,000 – 30,000.
A fine and very rare famille rose 'US Hong at Canton' documentary bowl from the Qianlong period (circa 1787-88), estimated at US$60,000 – 80,000.
Bonhams, founded in 1793, is one of the world's largest and most renowned auctioneers, offering fine art and collectables, collectors' cars and a luxury division, which includes jewellery, designer fashion, watches, wine, and whisky. In 2021 and 2022, Bonhams made a number of important acquisitions which form the wider Bonhams network. These include: Bukowskis, Bruun Rasmussen, Bonhams Skinner, Bonhams Cornette de Saint Cyr and The Market by Bonhams.

There are 14 salerooms around the globe: UK: New Bond Street, London; Knightsbridge, London; Edinburgh. US: New York, Los Angeles, Boston, Marlborough. Hong Kong: Admiralty. France: Avenue Hoche, Paris; Rue de la Paix, Paris. Belgium: Brussels; Denmark: Copenhagen. Sweden: Stockholm and Australia: Sydney.

With a worldwide network of offices and regional representatives in 22 countries, Bonhams offers advice and valuation services in 60+ specialist areas.

In 2022, Bonhams held a number of important auctions and offered landmark single-owner collections, including the white glove sales of Sir Michael Caine: The Personal Collection, Sir Terence Conran: The Contents of Barton Court, Personal Property of Justice Ruth Bader Ginsburg and The Robert & Jean-Pierre Rousset Collection of Asian Art: A Century of Collecting. Other notable single-owner sales included Style and Substance: The Collection of George and Charlotte Shultz and The Claude de Marteau Collection.

Top lots for 2022 included a 1955 Porsche 550 Spyder (Sold for US$4,185,000), a pair of blue and white octagonal candlesticks (Sold for HK$30,453,00/ US$3,911,913), La femme en rouge au fond bleu by Chaïm Soutine (Sold for £1,842,300/ US$2,236,940), and a rare emerald and diamond Cartier bracelet (Sold for US$3,240,375).

More information and highlights can be found HERE

For a full list of forthcoming auctions, plus details of Bonhams specialist departments, please visit bonhams.com

The Bonhams Network

Bukowskis

Established in 1870, Bukowskis offers fine art and collectables from its saleroom in Stockholm as well as online. In 2021, it sold 11 of the 15 most valuable artworks in the Swedish market – achieving the highest price for a Swedish artwork ever sold at auction – while their innovative digital presence attracts more than one million users every month.

Bruun Rasmussen

From its Copenhagen saleroom and online, Bruun Rasmussen sells more than 75,000 lots each year across categories from furniture, paintings and modern design to silver, wine and collector's items such as books, arms and armour, stamps and coins.

Bonhams Skinner

Renowned New England auction house Bonhams Skinner holds some 80 auctions a year in 20 collecting categories – including Americana, fine art, collectables and wine, and ranging from fine violins to contemporary paintings – at its salerooms in Boston and Marlborough, Massachusetts, as well as on its highly effective digital platform for online sales.

Bonhams Cornette de Saint Cyr

Established in 1973, Bonhams Cornette de Saint Cyr is famous throughout the auction world for its high-profile single-owner sales. With salerooms in Paris and Brussels, it holds auctions in more than a dozen categories, including fine art, haute couture, Asian art, collectable cars, jewellery, watches and more.

The Market by Bonhams

The Market by Bonhams is the record-setting and fastest-growing online marketplace for classic and collectable cars auctions in the UK, Europe and the United States. Combining traditional auction practices with an innovative, exciting digital platform, they offer a five-star service, no buyer's fees and the lowest seller's commission in the industry.
Media Source
Follow
More in the auction industry