Buttoning Things Up at Lion and Unicorn's Recent Two-Day Fall Collectors Auction
Size defies when it comes to premier vintage to antique buttons at auction. Such was the case at Hollywood, FL's Lion and Unicorn two-day Fall Antique Button Collectors Auction, held on November 8 and 9, 2022. This breathtaking event featured 1,000 lots of century-spanning buttons made from metal, glass, horn and ivory, stone, wood, and other exotic materials. Here are a few sale highlights that caught our eye here at Auction Daily.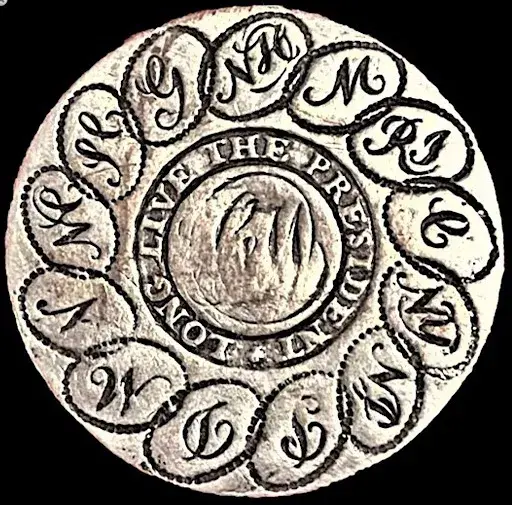 The top button sale at this auction took place on day two and was lot #915, a late 18th-century George Washington inaugural button. It was estimated at $3,000 to $5,000, sold for $4,600, and generated 28 bids. This silvered copper button from 1789 was decorated with the initials of the 13 American states of the era. The middle of the button had the initials GW– for George Washington– in the center, surrounded by the words "Long Live the President." Several craftsmen created "souvenir" buttons to commemorate Washington's swearing in as U.S. President on April 30, 1789. According to Lion and Unicorn's experts, this particular version of all the Washington inaugural buttons produced is the most sought after one as it features the 13 linked states as an integral part of its design. Its chain pattern is based on the design first used on the Continental Currency fractional notes that debuted in February of 1776.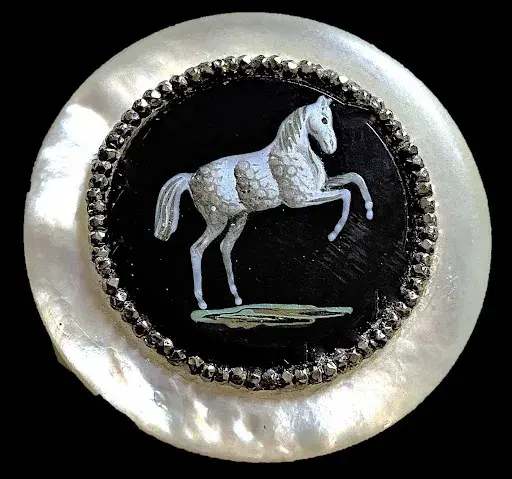 Day two also delivered one of the surprises of the event. Lot #851, a pearl and black glass horse button, was estimated at $600 to $1,200 and traded hands at $3,500– nearly six times its low estimate. It generated 17 bids. This 19th-century beauty was decorated with a white and gray leaping horse against a black background, framed by beads, and mounted on a mother of pearl base. The craftsmanship on the button was extraordinary, even to the untrained eye. This example had provenance to Viviane Ertell, who authored The Colorful World of Buttons in 1973; this book remains an important reference nearly 50 years onward.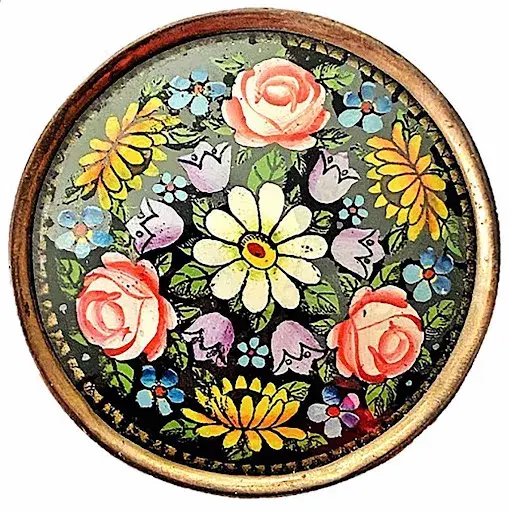 The star of the first day of the sale was lot #358, a colorful glass floral button. It was estimated at $500 to $1,000, sold for $2,200, and generated 24 bids. This 19th-century example featured a gorgeously rendered bouquet of roses, forget-me-nots, sunflowers, and lily of the valley flowers hand painted in reverse on a black background. The glass top was mounted into a metal frame. It is hard to imagine the size of the brush– and the steadiness of the hand– required to execute this button so well. Lion and Unicorn's experts noted that they had only seen buttons like this just a handful of times in their professional careers.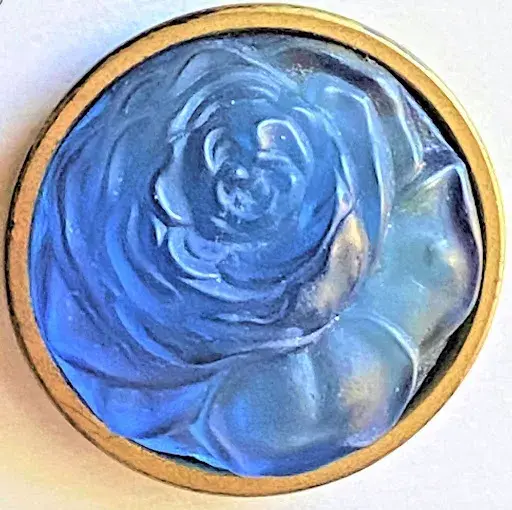 Lot #461, also on offer the first day of the sale, generated impressive results and had an interesting backstory. This was a frosted blue glass Lalique button in the form of a rose set in a metal frame. It was estimated at $500 to $1,500, made $2,000, and generated 20 bids. This early 20th-century example was one of six designs that the glass artist René Lalique (French, 1860 – 1945) selected to interpret as buttons. Others included a nymph, a fox head, a moon face, a snake, and an abstract pattern. Not every example that left the Lalique studios was marked, given their size and relative value to the company. Lalique used these buttons as cufflinks and as focal points on other decorative items the company produced in the prewar period.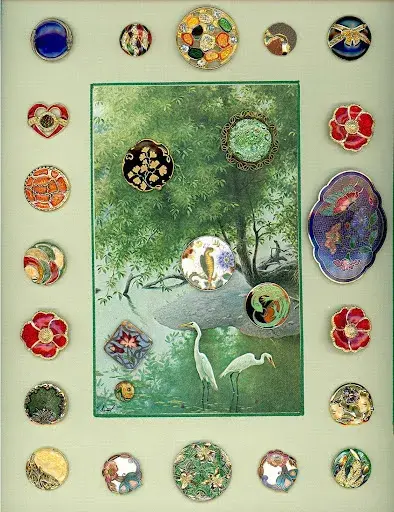 It is interesting to note that buttons are often sold individually but are sometimes offered in collections or cards. A delightfully eye-catching example of that in this sale was lot #157, a card of beautiful and colorful enamel buttons. It was estimated at $400 to $600, sold for $450, and generated 23 bids. Button conventions often include competitions where participants assemble examples from their collections on cards to match themes, topics, or categories provided by the event sponsors. This lot of 25 carded antique and vintage enamel buttons was blue ribbon in every way, and included birds, flowers, and insects, many with an Asian aesthetic. And Lion and Unicorn's experts seemed to agree, noting, "This is perhaps the most gorgeous card I have ever seen of these style enamel buttons. The colors, styles and depictions are gorgeous and together make a stunning presentation."
For more information on this sale, visit Lion and Unicorn. For more information about collectible buttons, see the National Button Society's website.
Visit Auction Daily for more auction results and to check out the latest industry news.
Media Source
Follow
More in the auction industry