Bertoia's wraps stellar year with $2.32M Annual Fall Sale of toys, banks and holiday antiques
Top lots included $174,000 Freedman's mechanical bank, Marklin Central Station, and 1870s George Brown 'Monitor' war boat
VINELAND, N.J. – Antique toy collectors couldn't have asked for more exciting buying opportunities than they had in 2021, thanks in no small way to the incredible roster of sales conducted throughout the year by Bertoia Auctions. One high-profile collection after another crossed the auction block at the company's inviting New Jersey gallery, with president and principal auctioneer Michael Bertoia maintaining a lively pace at the podium during each of the events.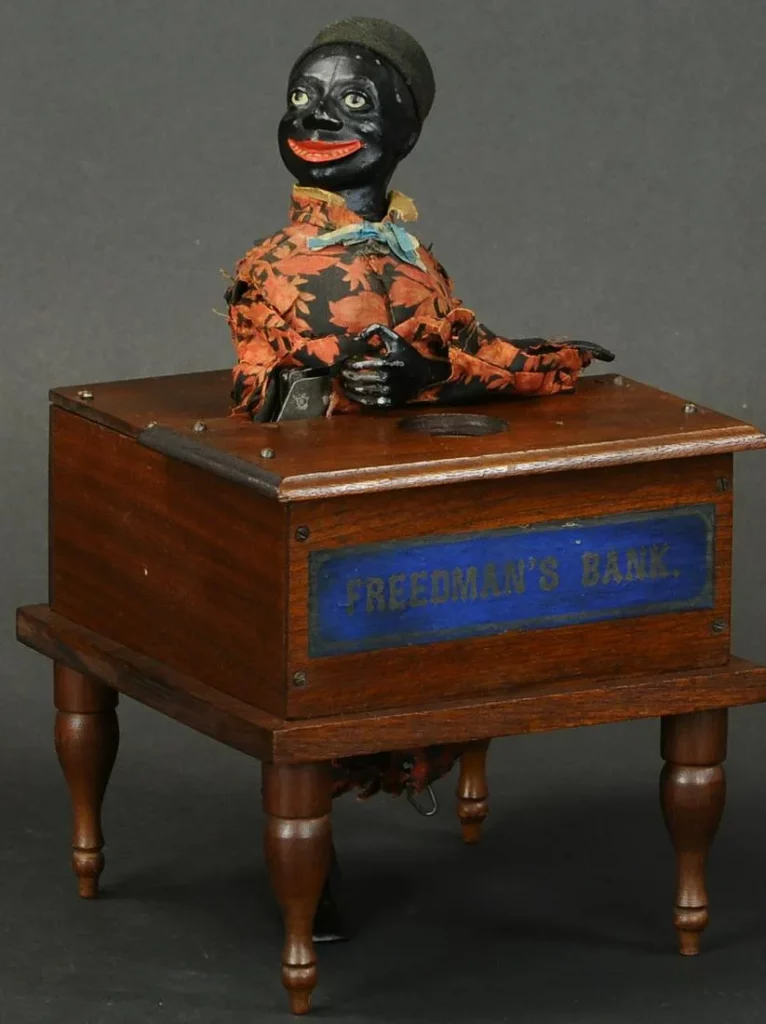 The year's most talked-about collections included Aaron and Abby Schroeder's spectacular American and European toys; and Paul Cole's awe-inspiring Marklin trains and classic American toys, which were sold in a series of dedicated single-owner sales. In April, collectors reveled in bidding on rarities from dozens of high-quality collections in the Annual Spring Auction, whose new hybrid format introduced a section of toys with price points that were especially attractive to new collectors. But how else would Bertoia's conclude a record-setting year than with the 2021 edition of its popular Annual Fall Sale, which totaled $2.32 million, inclusive of 20% buyer's premium.
Held on November 18 and 19, the auction included more than 200 European tin toys, 50 Lehmann and Martin windup toys, American tin and clockwork toys, 75+ Schoenhuts and roly polys; figural cast-iron including banks; cast-iron automotive and horse-drawn toys; and pressed-steel trains. To the delight of those who collect nautical toys, the auction also featured a formidable lineup of antique American boats from the collection of author and toy boat authority Dick Claus.
The top performer from the Claus collection was a rare 14-inch clockwork version of the Monitor made in the 1870s by legendary American toymaker George Brown. All original, in pristine condition and presenting as pictured in The George Brown Sketchbook, it sold for $66,000 against an estimate of $35,000-$45,000. Others that landed in the upper reaches of prices realized included: an Althof Bergmann Columbia ferry boat, $34,800 (estimate $25,000-$40,000); and two boxed George Brown toys, a paddle-wheeler that sold for $20,400 (estimate $10,000-$15,000); and a Victory side-wheeler that realized $26,800 (estimate $4,000-$7,000).
The highest-priced item of the entire two-day sale was an all-original circa-1880 Freedman's mechanical bank made by Jerome Secor of Bridgeport, Connecticut. One of fewer than 10 known examples, it was discovered in a New Jersey attic two years ago. The bank was offered fresh to the market with a pre-sale estimate of $60,000-$100,000 and commanded a very healthy $174,000.
Pleasing prices were recorded in the train category, as well. A large Marklin Central Station estimated at $15,000-$25,000 ended its journey at $40,800; while coveted Carlisle & Finch accessories consistently exceeded expectations. They included an elevated railway $13,200 ($5,000-$8,000 estimate); a 171 switcher, $10,200 (estimate $3,000-$4,000); and an "Electric Railway" trolley trailer, $9,000 (estimate $700-$1,000).
There was no end to the number of bidders chasing the blue-chip trove of holiday antiques. The expansive array consisted primarily of early German Christmas and Halloween productions, with a number of choice lots coming from the collections of Ed and Brenda De Garbolewski; and Kelly Verhelle. A circa-1880 Santa Claus on a chimney figure estimated at $8,000-$12,000 made a surprise landing at $30,000; while a large, circa-1870 German belsnickle with lamp fixture lit up the room as it, too, reached $30,000, more than doubling its $15,000 high estimate. Another impressive piece, a Santa on a sleigh surmounted on a wheeled platform, knocked down $28,800 against an $8,000-$16,000 estimate.
Bewitching Halloween collectibles were led by several elusive candy containers. The leading entries included a turnip-head woman, $25,200 (estimate $2,500-$4,500); a second veggie woman, $18,000 (estimate $3,000-$5,000); a tall standing witch $15,600 (estimate $2,000-$3,000); a veggie policeman, $13,200 (estimate $2,500-$4,500); and a veggie figure climbing a turnip, $12,000 (estimate $2,000-$3,000). An irresistible Easter highlight, a 2ft-tall Uncle Sam Easter Bunny candy container ended its bidding run at $15,600 against an estimate of $6,000-$9,000.
"From a toy collector's perspective, and certainly from Bertoia's perspective, 2021 was a memorable year that ended on a high note," said Michael Bertoia. "Our November sale drew 700 bidders, with very active online participation through Bertoia LIVE! and LiveAuctioneers. The final total surpassed the overall high estimate by $25,000, which speaks to the strength of the toy hobby worldwide."
To contact Bertoia Auctions about consigning a toy or entire collection to one of their future auctions, call 856-692-1881, email [email protected] or visit Bertoia's online at www.bertoiaauctions.com.
Media Source
Follow
More in the auction industry