Artsy Announces Christine Layng Aschwald As Senior Director, Head of Artsy Advisory
Appointment Marks Artsy's Continued Investment In Its Growing Secondary-Market Business and Senior Art Industry Talent
Artsy, the largest global online art marketplace, today announces its appointment of Christine Layng Aschwald to the newly created role of Senior Director, Head of Artsy Advisory. Aschwald will oversee Artsy's art advisory practice and a team of senior private sales directors across Artsy's global offices. She will be based in New York City, and joins Artsy following a 15-year career at Christie's where she most recently worked with the auction house's top clients as a leader on their Client Advisory team.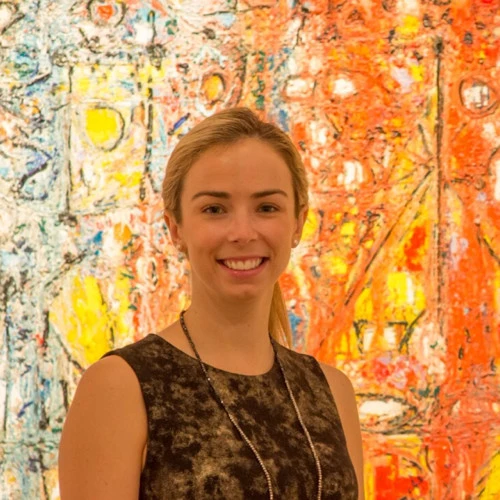 Artsy Advisory sits within Artsy's Collector Services & Private Sales team, led by Alexander Forbes, and provides both new and established collectors with a bespoke service and a single point of contact through which to purchase and sell works via private sale, Artsy auctions, and 3500-plus gallery partners. Together with Artsy's broader secondary market organization, it has more than doubled in size over the last year as collectors have continued to engage heavily in online art sales—even as pandemic restrictions have receded—and demanded more seamless options to buy and sell works for their collections.
Commenting on Christine Aschwald's appointment, Alexander Forbes, Head of Collector Services & Private Sales, said: "I am delighted to welcome Christine to Artsy. Her extensive experience working with the world's leading collectors, her loyal client base, and her poise will be an incredible asset, as we continue to grow our private sales and advisory team, increase liquidity in the secondary market, and connect more collectors with more art they love."
About her appointment to Senior Director, Head of Artsy Advisory, Christine Layng Aschwald commented: "I have long admired Artsy for its unique vantage point within the art ecosystem and its innovative culture. I am particularly excited to be a part of Artsy's transformation of the art world. Our goal is to set the standard for Advisory and Private Sales and deliver the highest level of service and access to Artsy's collectors."
In addition to its investment in Private Sales & Advisory services, the company is also expanding its auction offerings. In November 2021, Artsy strategically acquired social impact auction platform Greenhouse Auctions and appointed its founder and CEO, Shlomi Rabi, to VP of Artsy's auctions business. Additionally, Artsy recently welcomed Adam McCoy as Head of Prints & Multiples, who joined from Christie's, further growing the marketplace's team of art specialists. Across its secondary market business, Artsy has hired several other impactful new team members who previously held roles at Sotheby's, Christie's, and Gagosian, among other premier art businesses.
Discussing Artsy's growing investment in its secondary-market division, Dustyn Kim, Artsy's Chief Revenue Officer, commented: "By investing in our secondary-market business and growing Artsy's pool of art industry talent, we are continuing to expand and democratize the art world. A more liquid secondary market benefits our international collectors—who want to easily reinvest the funds from works they sell into other artists—and ultimately drives more sales for our thousands of art business partners with whom we're committed to partnering with and driving value for."
Artsy's investment in its secondary-market division and match-making services has driven solid successes:
Artsy's inaugural auction this year, held in March, attracted 720 bidders, achieved a record number of pageviews for Artsy, set five new world auction records—including a new artist record for Szabolcs Bozó—and achieved the highest sell-through rate by lot for a various owners sale of its kind on Artsy. The sale also established exceptional results for artworks by Eddie Martinez, Wayne Thiebaud, and Alex Katz, among many others. Artsy's next marquee auction will take place from June 14 until June 28, 2022 and will feature important and highly desirable works by Matthew Wong, Issy Wood, Yoshitomo Nara, Jonas Wood, and Andy Warhol, among other notable and in-demand artists.
Artsy's Private Sales have more than quadrupled over the last year, with buyers and sellers from several continents, including North and South America, Europe, and Asia for works ranging from the mid-five figures to well into the seven figures.
# # #
ABOUT CHRISTINE LAYNG ASCHWALD
Christine Layng Aschwald is Senior Director, Advisory and Private Sales where she will be leading the Senior Advisors and building the Advisory and Private Sales practice. Christine spent 15 years at Christie's, most recently as Vice President in the Client Advisory, Chairman's office in New York where she advised many of the firm's top clients as well as emerging collectors on buying at auction and private sale across a variety of categories. Christine also spent time in Christie's San Francisco office cultivating relationships with collectors across the West Coast and was a member of the Christie's Art+Tech Summit steering committee. Christine studied Art History and Political Science at Williams College.
ABOUT ADAM MCCOY
Adam McCoy joined Artsy in 2021 as the Senior Specialist and Head of Prints & Multiples. He oversees consignments for four auctions per year as well as private sales. He began his career in museums, serving at the Hirshhorn Museum, McNay Art Museum, and as an Assistant Curator of Contemporary Art at the Cheekwood Museum in Nashville. In 2008, Adam joined Christie's Prints & Multiples department, where he rose to Vice President, Senior Specialist. He holds a graduate degree from the University of Chicago and undergraduate degrees from the University of Kansas.
ABOUT ARTSY
Artsy is the largest global online marketplace for discovering, buying, and selling fine art by leading artists. Artsy connects 4,000+ galleries, auction houses, art fairs, and institutions from 100+ countries with millions of global art collectors and art lovers across 190+ countries. Artsy makes purchasing art welcoming, transparent and low-friction with industry-leading technology that connects supply and demand safely and securely at a global scale. Launched in 2012, Artsy is headquartered in New York City with offices in London and Berlin.
Media Source
Follow
More in the auction industry