A Hidden Trove of Drawings and Prints by British Caricaturist Thomas Rowlandson Back on iGavelAuctions Block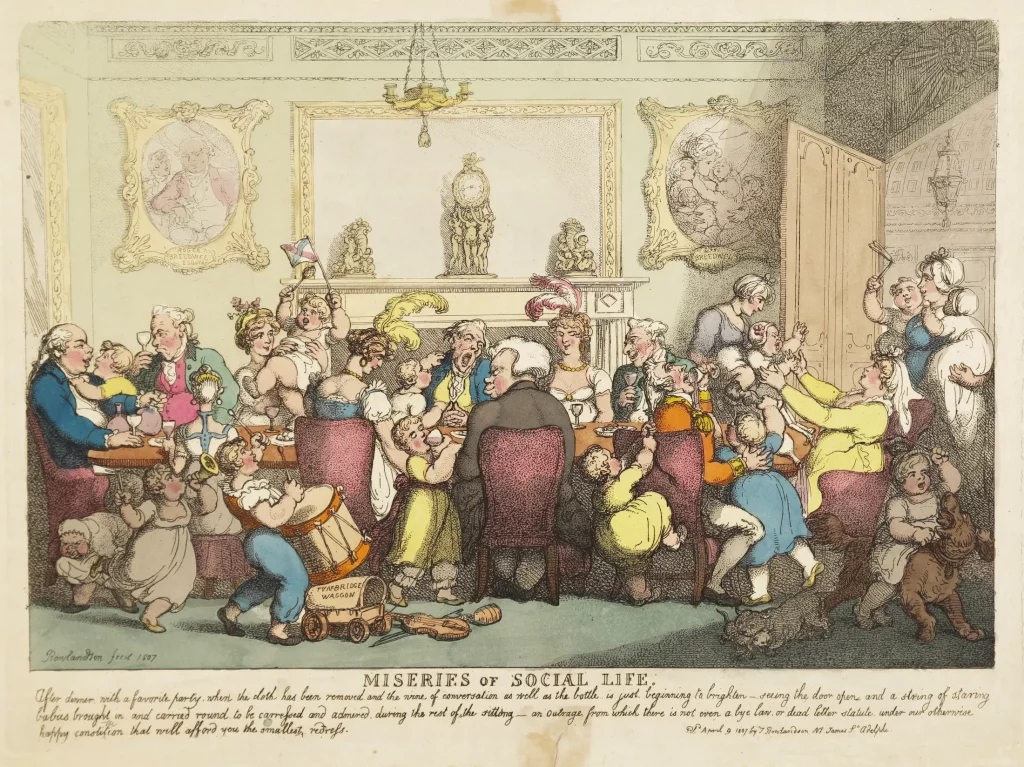 New York: Originally scheduled to take place last February, Lark Mason Associates announces that the Works by Thomas Rowlandson from an American Collector will open for bidding on iGavelAuctions.com starting September 6h through September 28th.  Over 300 drawings, prints and books by Thomas Rowlandson comprise 70 lots.  Rowlandson is celebrated for ushering in the golden age of British caricature art at the turn of the 19th century. 
Rowlandson produced sardonic illustrations in ink and watercolor that skewered powerful political figures such as the Duchess of Devonshire, William Pitt the Younger and Napoleon Bonaparte and depicted contemporary events in a humorous robust and bawdy style. Rowlandson's drawings of life in Georgian England exposed human foibles and vanity with sympathy and rollicking humor and he achieved success selling these prints and watercolors to wealthy collectors. However, for much of his life he was an inveterate gambler and had to produce a flood of his comic prints to stay ahead of financial losses.
Among the highlights are True Love, Older Man with a Younger Lady, Watercolor and Ink on Paper (Estimate: $10,000/15,000); Miseries of Travelling, Watercolor and Ink on Paper (Estimate: $10,000/15,000); Robbers Surrounding Mother and Child, Pen and Paper, and two related etchings (Estimate: $4,000/6,000); Caricature Magazine, Hand-colored Etchings Bound in Original Brown Printed Cover (Estimate: $1,500/2,500); and Six Hand-colored Etchings in Miseries Series (Estimate: $300/500).
"We are delighted to offer this recently discovered cache of satiric drawing and prints by the renowned British caricaturist Thomas Rowlandson," says Lark Mason. "Underscoring the adage 'the more things change, the more they stay the same', Rowlandson's drawings reflect many of the same issues we confront today–whether it's sitting through a long boring dinner, observing an older gentleman with a younger woman, or dealing with overcrowded public transportation.
According to Mason, the sale was delayed at the last minute because of some issues with the artist's estate.
The prints and drawings will be on view, by appointment only, at Lark Mason Associates, 229 East 127th Street, Monday through Friday, 10:00 a.m. to 5:00 p.m.  For more information, visit www.igavelauctions.com.
About Lark Mason Associates
With locations in New Braunfels, Texas and New York City, Lark Mason Associates, the eponymous, auction house specializing in Asian, ethnographic, and ancient works of art, was founded by Lark Mason after many years as an expert at Sotheby's New York.
Mason served as a General Appraiser from 1979 until 1985, and as a Senior Vice President and specialist in Chinese art with Sotheby's Chinese Works of Art Department from 1985-2003. From 2000-2003 he concurrently was a Director of Online Auctions for Sothebys.com. He also served as a consulting curator at the Trammel and Margaret Crow Collection of Asian Art in Dallas, Texas from 2003-2009. He is a generalist in American and European works of art and paintings, as well as an expert in the field of Chinese art and has valued and advised many private collectors and institutions.

Lark Mason Associates regularly hosts auctions on the iGavel Auctions platform and has an established history of record sales of Chinese and other works of art and holds the record for the highest price achieved for any work of art in an online sale, for a painting sold in May 2014 that realized close to $4.2m. Mason, the owner and CEO of iGavel Auctions, is noted for his regular appearances on "The Antiques Road Show."  For more information visit: www.larkmasonassociates on www.iGavelAuctions.com.
Media Source
Follow
More in the auction industry