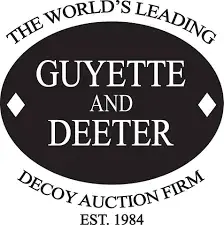 Sporting Decoys From Jim and Pat Doherty's Collection Featured at Guyette and Deeter
Nov 21, 2020 11:00 EST
Updated on
Before their respective deaths in 2013 and 2020, Jim and Pat Doherty built one of the finest collections of decoys in the United States. Much of the collection was devoted to regional specimens out of New Jersey. In the upcoming November Decoy & Sporting Art Auction, offered by Guyette and Deeter, there are many selections from the Doherty collection, including notable works by New Jersey carvers.
One such sample is a rare pintail hen from the late 19th century. The decoy was hollow carved by John English of Florence, New Jersey and hand-painted by John Dawson of Trenton, New Jersey. The piece is believed to be one of just two examples from this particular artistic collaboration. Another New Jersey lot up for bid is a rigmate pair of redheads, hollow carved by Harry M. Shourds of Ocean City, New Jersey. The hen is the only decoy attributed to Shourds, and this exact pair is the one pictured in the book Classic New Jersey Decoys by James R. Doherty himself.
Other decoy lots in the sale include an Ira Hudson merganser hen, a rare Walter Brady curlew, a Ward Brothers swimming brant, and more. View any of these lots and register to bid on Bidsquare.
Price Range:
$400 - $90,000
Interesting lots include:
| Item Image | Item Name | Estimate |
| --- | --- | --- |
| | Excellent Merganser Hen, Ira Hudson, Chincoteague, Virginia | Estimate: $60,000-$90,000 Starting Bid:$30,000 |
| | Rare Curlew, Walter Brady, Oyster, Virginia | Estimate: $40,000-$60,000 Starting Bid:$20,000 |
| | Exceedingly Rare and Important Swimming Brant, Ward Brothers, Crisfield, Maryland | Estimate: $35,000-$55,000 Starting Bid:$17,500 |
| | Rare English/ Dawson Pintail Hen | Estimate: $15,000-$25,000 Starting Bid: $7,500 |
| | Very Rare Rigmate Pair of Redheads, Harry M. Shourds, Ocean City, New Jersey | Estimate: $15,000-$25,000 Starting Bid:$7,500 |
Contact Info
Guyette & Deeter

PO Box 1170, St. Michaels, Maryland 21663
410-745-0485