Updated on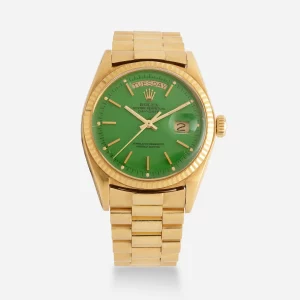 Colored dial Rolex wristwatches, known as Day-Date Stellas, were introduced in the 1970s. These were an extension of the brand's flagship Day-Date model. A Chatelaine-based company called Stella provided the dyes and veneers for the dials, giving the model its name. The upcoming Rago timepieces auction presents a rare Rolex Day-Date Stella gold wristwatch, reference 1803. The 18-karat yellow gold and green enamel watch features the signature pip-pan form and a president bracelet.
Another highlight is an Élegante 48 Titalyt titanium wristwatch by F.P. Journe. The fluorescent blue and black dial watch is by notable watchmaker François-Paul. Its battery lasts for ten years if worn daily, while its occasional use extends the battery life to 18 years. If the watch does not detect usage for 35 minutes, its hands stop working. However, the movement continues tracking the time in the background. This enticing functioning is due to its electro-mechanical movement, motion sensors, and eight years of extensive research. The present Élegante watch with Côtes de Genève finish features a flat Tortue case, rubber turquoise strap, and a transparent back.
The auction also showcases a Chopard LUC Classic GMT white guilloche dial wristwatch. The watch is notable for its slim construction. It displays two time zones and a perpetual calendar, making it popular among travelers. In addition, this dedicated timepiece auction features examples by Audemars Piguet, Patek Philippe, Omega, Harry Winston, and Jaeger-LeCoultre. Interested collectors can explore the entire catalog and register to bid online on Rago.
Price Range:
$400 - $60,000
Interesting lots include:
| Item Image | Item Name | Estimate |
| --- | --- | --- |
| | Rolex Day Date Stella gold wristwatch. | Estimate: $40,000 - $60,000 Starting Bid:$35,000 |
| | F.P. Journe 'Élegante 48 Titalyt' titanium wristwatch. | Estimate: $30,000 - $50,000 Starting Bid:$30,000 |
| | Chopard 'LUC Classic GMT' wristwatch. | Estimate: $15,000 - $20,000 Starting Bid:$12,000 |
| | Magellan '1521 Northern Hemisphere' wristwatch. | Estimate: $8,000 - $10,000 Starting Bid:$7,000 |
| | Blancpain 'Fifty Fathoms' wristwatch box. | Estimate: $1,000 - $1,500 Starting Bid:$75 |
| | MB&F 'Robodog' watch stand | Estimate: $200 - $400 Starting Bid:$200 |
Contact Info
Rago

333 North Main Street, Lambertville, New Jersey 8530
609-397-9374