Irving Ramsey Wiles Painting and Joan Miró Lithograph Available in Upcoming Old Kinderhook Auction Company Event
Mar 29, 2022 12:00 EDT
Updated on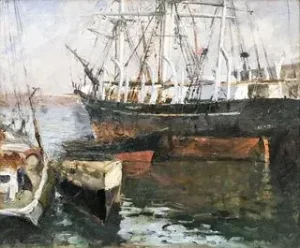 Irving Ramsey Wiles was an American portraitist famous for his grand manner artworks. He became famous for his portraits of American elites. However, in the second half of his career, the painter started working on plein-air paintings. He would often paint landscapes and seascapes from his New York home. The upcoming event by Old Kinderhook Auction Company presents an Irving Ramsey Wiles painting. The available artwork portrays a docked whaler at New Bedford harbor. Another highlight is a lithograph by the award-winning printmaker Joan Miró. The artist created most of his lithographs with print expert Fernand Mourlot. His lithographs are notable for their child-like and whimsical portrayal.
The auction features a gilt and ebonized frame by frame-maker Walfred Thulin. During the 19th century, gilded and hand-crafted frames became a popular accessory to complement artworks. Thulin was a part of the notable Boston studio specializing in custom frames. His frame designs were famous for their Renaissance and Gothic adornments. The auction also presents a Carrig-Rohane Studio frame– the same studio Thulin worked before becoming its president.
Showcased are Marilyn Monroe serigraphs from her last photoshoot with photographer Bert Stern. The serigraphs feature glimpses of Bert's famous series, The Last Sitting, with images of Monroe a few weeks before her death. Other notable offerings include a Henredon four-cornered oak flip top table, a Heriz carpet, Tiffany and Murano glass articles, and Indian silk paintings. Interested collectors can explore the entire listings on Bidsquare and check out other online auctions.
Price Range:
$30 - $16,000
Interesting lots include:
Contact Info
Old Kinderhook Auction Company

3350 US Highway 9, Valatie, New York 12184
518-912-4747