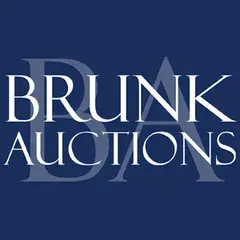 Impasto Grid Painting by Alfred Julio Jensen Highlights Upcoming Brunk Auctions Sale
Jun 10, 2021 09:00 EDT
Updated on
Concrete abstract art painter Alfred Julio Jensen is famous for his grid-like paintings with vibrant colors. The artist was fascinated by numbers, patterns, and color theory. Encouraged by Saidie Alder, his patron, Jensen refined his work during the 1950s. He started to incorporate his knowledge of philosophy and systems into his conceptually organized artworks. The upcoming Brunk Auctions sale presents an impasto grid painting by Alfred Julio Jensen. Titled Tun, the 1959 oil painting features 360 mini squares colored using the impasto-thick layer painting technique. The 360 squares in the painting reflect Jensen's knowledge of the Mayan chronological calendar, in which a tun indicates 360 days.
A texture-rich wood bowl by Philip Moulthrop is another highlight. The piece emphasizes how flaws in wood can become beautiful. The Moulthrop family first introduced these subtle modernist bowl designs in 1986. The locally-sourced wood requires months to process and involves wood selection, carving, and finishing.
The auction also highlights 20th-century designs, including a Bunny Williams painted palm form table. It has a carved and painted silver leaf pedestal base with an oval glass top. A set of chairs with a matching ottoman by Harry Bertoia is notable as well. The available Bird chair is a prime example of Bertoia's famous wire chairs. Works by Toshiko Takaezu, Andy Warhol, Howard Wilbur Thomas, Pablo Picasso, Marc Chagall, and Salvador Dalí round out the listings. Interested collectors can browse the entire catalog and register to bid online on Bidsquare.
Price Range:
$100 - $50,000
Interesting lots include:
| Item Image | Item Name | Estimate |
| --- | --- | --- |
| | Tun oil on canvas by Alfred Julio Jensen. | Estimate: $30,000 - $50,000 Starting Bid:$15,000 |
| | Untitled Abstract oil on canvas by Howard Wilbur Thomas. | Estimate: $20,000 - $30,000 Starting Bid:$10,000 |
| | Bunny Williams painted palm form table. | Estimate: $4,000 - $6,000 Starting Bid:$2,000 |
| | Spalted Oak Quercus falcata by Philip Moulthrop. | Estimate: $1,500 - $2,500 Starting Bid:$750 |
| | Harry Bertoia for Knoll, Bird chairs with ottoman. | Estimate: $1,200 - $1,800 Starting Bid:$600 |
| | Toshiko Takaezu ceramic bowls. | Estimate: $400 - $600 Starting Bid:$200 |
Contact Info
Brunk Auctions

117 Tunnel Road , Asheville, North Carolina 28805
828-254-6846