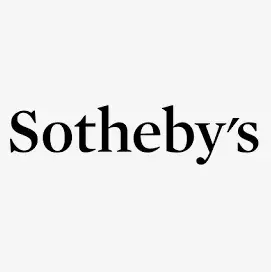 Contemporary Art Day Auction to Offer Works by Barkley L. Hendricks, Jean-Michel Basquiat, and More
Nov 17, 2020 12:00 EST
Updated on
Sotheby's Contemporary Art Day Auction presents late 20th-century fine art from around the world. That includes Barkley L. Hendricks' portrait Jackie Sha-La-La. Hendricks aimed not only to capture a person's likeness in his portraits but also their personality. Here, Jackie's eyes are covered by an elaborate hat as she makes herself comfortable on a couch. Like many of his contemporaries, Hendricks did not shy away from pop culture, represented here with the Coca-Cola can that Jackie holds just within view.
Representing Jean-Michel Basquiat in this sale is a drawing produced in 1988, the year of his death. In the drawing, Basquiat presents a busy marketplace offering salves, raw diamonds, and walkie-talkies. Buzzwords like "AUTHENTIC" and "EXTRA EXTRA" fly in different directions.
Also inspired by commodities is Wayne Thiebaud's painting of an ice cream cone, titled Single Triple Decker. Unlike his Pop Art contemporaries, Thiebaud depicts products like cakes and ice cream without cynicism. "[W]here Warhol was cool and ironic," the critic Cathleen McGuigan writes, "Thiebaud was warm and gently comic, playing on a collective nostalgia just this side of sentimentality." Register to bid in this sale on the Sotheby's website.
Price Range:
$150,000 - $3,000,000
Interesting lots include:
| Item Image | Item Name | Estimate |
| --- | --- | --- |
| | Jackie Sha-La-La (Jackie Cameron) by Barkley L. Hendricks | Estimate: $2,000,000 - $3,000,000 Starting Bid: |
| | Single Triple Decker by Wayne Thiebaud | Estimate: $1,500,000 - $2,000,000 Starting Bid: |
| | Leda and the Swan by Fernando Botero | Estimate: $1,200,000 - $1,800,000 Starting Bid: |
| | A Certain Trail by Ed Ruscha | Estimate: $1,000,000 - $1,500,000 Starting Bid: |
| | Untitled by Jean-Michel Basquiat | Estimate: $900,000 - $1,200,000 Starting Bid: |
Contact Info
Sotheby's

1334 York Avenue, New York, New York 10021
212 606 7000